Luca review (2021)
Dir. Enrico Casarosa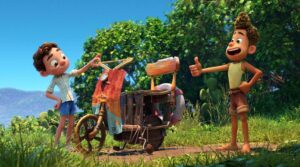 By: Steve Pulaski
Rating: ★★★½
Enrico Cararosa's Luca is the first Pixar film that feels both as simplistic yet universally resonant as one of their acclaimed short films. It's also the studio's shortest film since the original Toy Story, clocking in at 84 minutes sans credits. This makes it optimal summer viewing for both children and adults in need for an indoor recess due to weather or sensory overload. Luca provides a calming wave of measured fun for children with a powerful metaphor for adults to ponder.
Light on its feet yet as refreshing as an ice-cold lemonade, Luca is set in a seaside Italian village in the 1950s, where Luca (voiced by Jacob Tremblay, Good Boys) is a teenage sea-monster, living in the ocean with his overprotective parents (Jim Gaffigan and Maya Rudolph). They warn the impressionable Luca never to find himself on the surface. Eventually, however, he's brought to land by Alberto (Jack Dylan Grazer, Shazam!), a thrill-seeking boy around Luca's age. Alberto is also a sea-monster, but both him and Luca assume human form when they leave the sea and dry off.
Befriending his polar-opposite personality in Alberto allows Luca to experience such firsts as walking, basking in direct sunlight, and going through life without the constant supervision of his parents. The two boys spend hours in Alberto's tower, where he resides, and set their sights on obtaining a Vespa to travel the world. They later realize their best method of getting one is by helping Giulia (Emma Berman) win the village's annual triathlon. Giulia wants to stick it to the local town bully (Saverio Raimondo) who, like Giulia's father, prides himself on killing sea monsters in a community that abhors them. Luca and Alberto need to stay dry and act natural in order to keep their secret.
Although Casarosa has explicitly stated that Luca concerns a "platonic friendship" between Luca and Alberto, it's next-to-impossible not to see this film as an allegory for the LGBTQ+ community. This is a powerful yet understated take on "the closet" where two characters must pass as something they are not in order to seek out the people they can trust. It's an albatross for Luca and Alberto constantly to hide their true forms, but they must if they desire any sense of belonging.
Casarosa may not have intended such subtext, but screenwriters Jesse Andrews (who penned Me and Earl and the Dying Girl) and Mike Jones (who worked on Pixar's Soul) evidently had larger themes on their minds. Although the sea monster angle adds a degree of fantasy to Luca, Pixar's latest may indeed be its most humanistic work alongside Coco. It shows the studio doesn't need to exhaust their creative ingenuity nor delve deep into our subconscious in effort to make something so distinctly relatable.
Casarosa based the film loosely off of his childhood, where he was immersed in Italian culture, and the result translates gorgeously to screen. Light watercolor pastels, gentle lighting techniques, and big-eyed character designs are immediately captivating to the eye. The spirit of legends such as Federico Fellini and even Hayao Miyazaki are conveyed in mood and artistic design, respectively. Various elements of Italian colloquialisms and folklore are married ever-so-naturally to a film that doesn't feel bloated trying to contain it all.
My favorite moment came when Luca and Alberto are readying to ride their makeshift bike down a steep hill, with a slow-moving turtle precariously holding up a ramp on the water's edge of a cliff. Alberto is game on; Luca is unsure of the whole stunt. Alberto informs him that he's succumbing to the stupid voice in his head that tells him he's not good enough, this is a bad idea, or what-have-you. "Silencio, Bruno!," Alberto tells Luca to scream. "Silencio, Bruno!" Talk about a great exclamation for kids (and, quite frankly, adults) when they feel intrusive thoughts creeping into their minds. It's a potent message that isn't delivered with any kind of hamfisted approach — Pixar never lets us down in that department.
Some may find the "magic" lacking in Luca, especially considering six months ago, the studio was giving us a lesson in existentialism and jazz culture with Soul. I see nothing wrong with a simpler, more straight-forward story, especially when it's handled with the care Pixar routinely provides. Had Luca just focused on a nostalgic reminder of that pivotal summer in our childhoods, I might've been less impressed. It's a sum of gorgeous aesthetics with a message — intended or not — that's bound to resonant with many audience members.
NOTE: Luca is now streaming on Disney+, free of charge.