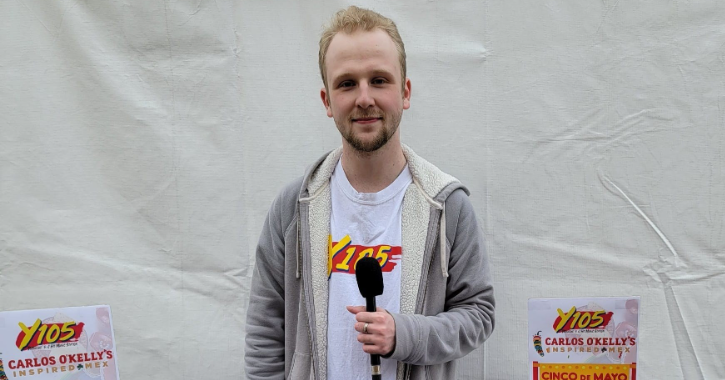 Pulaski is a full-time on-air radio personality at Townsquare Media Dubuque. On this page, you will find a wide variety of his radio work. Pulaski currently hosts the morning show on Y105 (KLYV-FM).
In addition to being the morning show host, he is also the program director for KLYV-FM and WJOD-FM, the market's #1 country station. For both stations, he is responsible for live broadcasts, imaging, contests, content writing, and all things related to the station.

You can see Pulaski's written content for Y105 here.
Prior to his work at Townsquare Media, Pulaski worked for Studstill Media in Peru, IL, where he co-hosted The Morning Sizzle with Stove & Dani on WALLS 102. He also hosted an afternoon program on Classic Hits 106 from 3 – 7pm. His promotion came after he hosted Stove's Sizzling Afternoons on WALLS 102 from 2018 to 2021.
Alfonso Ribeiro ("Dancing with the Stars") interview:
Matthew Lillard interview:
Austin "Chumlee" Russell ("Pawn Stars") interview:
Jayme Schmitt and Dusty Meier ("Are You Dead Yet?") interview:
Rich Koz (Svengoolie) interview:
Dan Pompei (NFL Writer) interview:
Jann Mardenborough ("Gran Turismo") interview:
Steve Lemme & Kevin Heffernan (Broken Lizard) interview:
Steve Pulaski Talks Radio Career, Movies on "Guys Not on the Radio" Podcast:
Jayme Schmitt & Kati Tori ("Are You Dead Yet?") interview:
Jayme Schmitt ("Are You Dead Yet?") interview:
Robert Miller (Dubuque Fighting Saints President) interview:
Kirk MacDonald (Dubuque Fighting Saints Coach) interview:
Tim Breitbach (documentarian) interview:
Bill Kelly ("Where the Crawdads Sing") interview:
Paul Wahlberg (Wahlburgers) interview:
Cort Carpenter interview:
Don Reid (The Statler Brothers) interview:
Martina McBride interview:
Commercial for Shakers Lounge in Ottawa, IL:
Marlon Hargis (Exile keyboardist) interview:
Wes Hampton (Gaither Vocal Band) interview: