Fatherhood review (2021)
Dir. Paul Weitz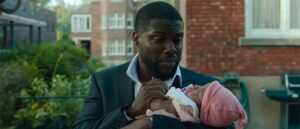 By: Steve Pulaski
Rating: ★★½
Paul Weitz's Fatherhood is worth watching for proof that Kevin Hart can indeed flex dramatic chops as an actor. Even after seeing masters of comedy such as Jim Carrey and Robin Williams add flavor to their filmography, I was skeptical of Hart's capabilities to do the same. He succeeds with Weitz's brand of taking stories that still find ways to interject comedic elements into a narrative that keeps its mind on the "meat and potatoes," as Woody Allen once referred to drama.
Fatherhood does have some flaws as a film, but Hart bears none of the responsibility. This is some of his best work yet as he plays father-to-be Matt, a well-intentioned man with a good personality but a loose grip on his responsibilities as an adult. He's forced to mature — and quickly — after his wife, Liz (Deborah Ayorinde), unexpectedly dies of a pulmonary embolism soon after giving birth to their baby girl, Maddy. Not only carrying the weight brought on by grief, he's got to assume the role of single parent.
Weitz and Dana Stevens' script is based on Matthew Logelin's Two Kisses for Maddy, which chronicled his life following the tragic death of his wife and his transition to being a full-time dad. It stemmed from Logelin's blog, Matt, Liz and Madeline: Life and Death, All in a 27-Hour Period, which racked up thousands of hits in the late aughts.
Fatherhood surprisingly has a lot in common with Instant Family, the Mark Wahlberg/Rose Byrne dramedy from a few years back, which revolved around two parents adopting three siblings. For the most part, Fatherhood avoids the same sort of mawkishness that film dodged simply by negating formula. Early on, the film sets up a potentially contrived plotline when Marion insists Matt promise to move back to Minnesota if he finds himself in over his head with raising Maddy.
Rather than have that possibility floating over the character's head the entire movie, Weitz and Stevens simply show Matt doing what he has to do. He stumbles, sure, but he's not inept. There are moments where despite overwhelmingly succeeding in doing what's right for Maddy, Matt tells himself and those around him that he's a failure; he's just doing the bare-minimum. That's not at all true, but when you hear from your own family that you're essentially useless and you see expressions of doubt in the eyes of your friends, you start to believe such things.
I would've liked more of those moments as opposed to ones featuring Howery and Carrigan, quite frankly. Howery merits a few smiles, but Carrigan is an annoyingly loquacious cartoon character. Fatherhood suffers from the same issue Weitz's underseen-drama Grandma did and that's the comedic elements almost consistently miss. The film works better when it sets its sights on the frequently frustrating realities of single parenthood. It falters in instances when Matt and his boss are discussing the consistency of a baby's bodily functions. I'm not sure if its Weitz's long history in straight-forward comedies (American Pie, Little Fockers) or a lack of confidence in audiences appreciating Hart in a serious film, but the humor here just doesn't land with any regularity.
The good news is the film's more dramatic elements — some understated some a tad overwrought — do, plus there's real chemistry amongst the cast. Fatherhood shows promise in Hart's ability to act against-type. I hope he continues to challenge himself and we the viewers reap the rewards of a second act in an already legendary career being just as good, if not better, than the first.
NOTE: Fatherhood is now streaming on Netflix.