The Ice Road review (2021)
Dir. Jonathan Hensleigh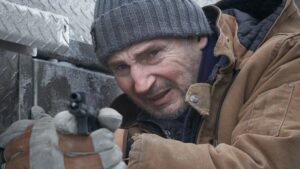 By: Steve Pulaski
Rating: ★★½
The Ice Road isn't even close to being Liam Neeson's best film in frigid temperatures. The 69-year-old Irishman has seen better days in subzero conditions in comparable works such The Grey and Cold Pursuit. No less, it's rather commendable that Neeson has been able to carve out a mighty fine second act for himself as a reliable action figure with a particular set of skills. Once again, the onus is on the filmmakers for not matching his commitment.
The Ice Road is as straight-forward of a film as the ice roads themselves. Neeson plays Mike, a lifelong trucker who finds himself spending his remaining years babysitting his brother Gurty (Marcus Thomas), a veteran suffering from PTSD. He won't stand for VA doctors and their proclivity of pill-pushing. The two lose their latest job after Mike gets in a fight with a coworker who makes fun of Gurty's issues (due to his indecipherable sentences, many assume he is mentally challenged).
Opportunity for the two to strike it rich arrives when a methane explosion at a diamond mine in Manitoba requires heavy equipment to be transported across rapidly thawing tundra in order to rescue trapped miners. It's April, however, and the ice roads — long stretches of solid ice on frozen waters that, on their best days, mostly support steady driving — are dangerously unstable. That doesn't stop the Canadian government from offering to pay a king's ransom to a crew capable of getting wellheads to the mine. So Mike, Gurty, the hot-headed Tantoo (Amber Midthunder, Roswell, New Mexico, and Jim Goldenrod (Laurence Fishburne) take the assignment. Also in tow is the mining company's claims adjuster Varney (Benjamin Walker, Abraham Lincoln: Vampire Hunter).
Neeson and Midthunder try admirably to turn their archetypes into human beings, while Walker and Matt Salinger, as the CEO of the mining company, settle on hitting the predictable beats. The Ice Road is a shockingly uncharismatic movie in terms of its characters and aesthetics. Editor Douglas Crise (The Beach Bum) and director Jonathan Hensleigh (The Punisher) try to liven up the visuals by featuring several shots from underneath the weakening ice. For the most part, this is linear stuff, with the usual gray and white color palette leaving little visual imagination whatsoever.
The film plays like a higher-stakes and more broadly drawn episode of the once wildly popular TV series Ice Road Truckers, although with more gunfire. In the ever-growing canon of Netflix actioneers, it's more competent than, say, Extraction, but it's a far-cry from being highlight-worthy of Neeson's late-career repertoire. I suppose when people ignore something Fargo-esque and different like Cold Pursuit, we get something as interchangeable as The Ice Road available to stream and promptly forget.
NOTE: The Ice Road is available to stream on Netflix.
Starring: Liam Neeson, Marcus Thomas, Amber Midthunder, Benjamin Walker, Laurence Fishburne, and Matt Salinger. Directed by: Jonathan Hensleigh.