The First Purge review (2018)
Dir. Gerard McMurray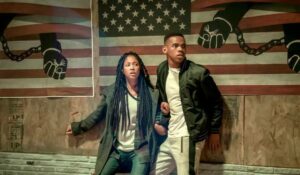 By: Steve Pulaski
Rating: ★★
In addition to complicating the way we colloquially refer to the *original* Purge movie, The First Purge, the dubiously titled fourth installment, also manages to be the franchise's weakest since the one that began it all. Its themes of socioeconomic inequality and state-sanctioned violence get lost in indistinguishable bouts of chaos that pummel significant attributes of the narrative into submission. The film's remarkable lack of subtlety goes against the wry tone set by the promising teaser posters, which showed nothing but the phrase "THE FIRST PURGE" in white thread sewn onto a red baseball cap. That and a few details within the story itself would've been enough for audiences to grasp the frightening parallels of the franchise's politics with the United States' current administration. Instead, the film doubles down on its worst convention: being too obvious.
As the title suggests, The First Purge is a prequel, set in 2014 when the concept of "the purge" was introduced as an experiment exclusive to the Staten Island region. The idea is proposed by the radical third party group known as the New Founding Fathers of America (NFFA), and the film sets the tone by opening with the president vocalizing that the fabled American Dream is indeed dead but will soon be revived with the help of this new social experiment. It might sound familiar: for 12 hours, all crime, even murder, is legal as police and emergency responders are disabled upon its commencement. To add to things, Staten Island residents are paid $5,000 to remain on-location with the option of coming into more money if they decide to participate (and, of course, survive). Some are even given special contacts to wear during the Purge so their activities can be monitored.
We follow Nya (Lex Scott Davis from the new film SuperFly) and her younger brother, Isaiah (Jovian Wade, EastEnders), who are at the center of the purge, living in the rundown projects of New York. Nya holds rallies in opposition of the purge, for she already knows it's not for the benefit of low-income individuals such as herself, but nonetheless tries to keep her young brother out of trouble and monitor her ex-boyfriend Dmitri (Y'Lan Noel), a local drug kingpin. While Isaiah's main plan for the night is to get revenge on the mentally ill yet violent "Skeletor" (played by Rotimi Paul, who still manages to find success playing a cartoonish character), that quickly shifts when he and Nya realize what's happening. Foreign mercenaries brought into the country by the government begin exterminating the Staten Island projects, in turn revealing how the 12-hours of lawlessness contributes to a significant drop in crime and unemployment — but if you've seen the previous films, and you likely have, you already knew that.
The Purge is one of the few successful franchises in terms of quality because it rebounded so drastically from its promising but ultimately underwhelming inception. It was a film that ostensibly promised to give us a glimpse of what an unpunished violent America could look like but instead opted for what was little more than a generic home-invasion thriller. The sequels, one subtitled Anarchy and one aptly billed as Election Year, in 2016, literally took to the streets and showed a nation that, for 12 hours, was consumed by their own id and the results were both very well-done.
Similar to Election Year, which revolved around an unapologetic nationalist presidential candidate clashing with a goody two-shoes liberal candidate who wanted to abolish the purge, The First Purge goes for broke in making its political undertones parallel with the controversial politics today. Screenwriter James DeMonaco, who has been the only constant of this entire series along with producer Michael Bay, stumbles when trying to connect the film's story with the events of the present in a manner that isn't superficial. Consider a scene where Nya trips and is attacked by a sewer-dweller, who tries to pull her down into the manhole, reaching for her legs and her pelvis. She manages to back away and call him a "pussy-grabber." Of course, the mercenaries dispatched by the corrupt president are revealed to be Russians with intentions of carrying out violent and disruptive acts on U.S. soil. Both Anarchy and Election Year were able to draw credible parallels while at the same time being entertaining, even deceptively deep films with some intriguing political science and sociological subtext. The First Purge all but trivializes things.
There's also a redundant amount of mayhem in this film that is so overwrought it infuriatingly shortchanges most of the cast. Nya and Isaiah are underwhelming characters due in part that the violence of the movie bleeds into the time we should be spending getting to know them and understanding their human qualities. Once the purge commences, most scenes from thereon involve individuals as a collective running from unknown perpetrators or engulfed in an ugly cacophony of gunfire and blunt force. Perhaps it's because this is the first installment not to be directed by DeMonaco, instead helmed by Gerard McMurray, whose directing credits are slight and his biggest credit prior to this was on Ryan Coogler's admittedly exceptional Fruitvale Station in 2013. Unfortunately, it greatly dampens the bite of the film, especially as it ends with cloying uplift that follows an incoherent brawl.
Last year, it was announced that The Purge franchise would persist on in the form of a TV show for the USA Network. It's set to premiere in September and focus on some of the other 364 days of the year, in turn highlighting a country whose citizens are affected by this violent night for long after it occurs. Going forward, maybe it's best that the television program take over, or at least have future film installments take on a new angle. How has no one conducted an elaborate bank heist during the 12-hour period and quite literally gotten rich quick yet?
Starring: Lex Scott Davis, Jovian Wade, Y'Lan Noel, Marisa Tomei, Rotimi Paul, Lauren Velez, and Steve Harris. Directed by: Gerard McMurray.