Bob Ross: Happy Accidents, Betrayal & Greed (2021) review
Dir. Joshua Rofé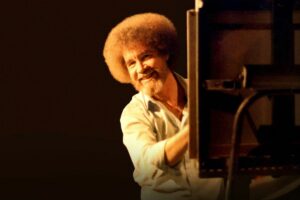 By: Steve Pulaski
Rating: ★★★
Behind nearly every popular, creative soul who pours his/her life into their craft, there are one or more bloodsucking, rat bastards willing to exploit their art and lick every dollar it earns. It's devastating to hear that even an invaluable, kindred spirit such as Bob Ross wasn't exempt from such treatment. Hearing the tribulations of his later life coupled with the ugly legal battle that ensued for both his son Steve and his longtime partner Dana Jester made me further admire Calvin and Hobbes cartoonist Bill Watterson, who fought tooth and nail to own every single cell and strip he created.
After one too many internet memes, coffee cups, and shirts using Ross' famous line "happy accidents" (instead of calling them "mistakes"), director Joshua Rofé gives the beloved personality/painter the human treatment he's so desperately needed. But unlike Won't You Be My Neighbor? — which humanized Fred Rogers in detail, confirming him to be the morally good human being we all believed he was — Bob Ross: Happy Accidents, Betrayal & Greed illuminates the darker elements of Ross' life. Rest assured, the more salacious details are hardly damaging. Ross is still a man you could believe was keen to live off of a bare-minimum salary so long as he had a platform where he could paint and dutifully inspire others to find the fledgling talent inside themselves.
On his popular public television program The Joy of Painting, Ross reminded us many times that the beauty of painting on a canvas is you can make the world how you want it. There's no right and wrong. The sad fact of the matter is that life is far more imperfect than one of his immaculate works. For the first half hour, Rofé's documentary explores Ross' persona, which Steve states wasn't far off from who he really was. Ross adopted a sultry, soothing voice in his program that resonated with his (predominately female) audience. Apparently, he was a bit of a flirt in public and on-set. His director, Sally Schenk, describes him as "ornery" at times with the jokes he'd rattle off in order to loosen up the crew.
In his early days, Ross' paintings attracted the likes of husband/wife Walt and Annette Kowalski, who happened upon Ross after suffering a tremendous loss. The Kowalskis had a business sense that seemed to balance Ross' creative methods, and the three (mainly Annette and Bob) went into business, successfully getting him on TV and then peddling painting supply products under the Bob Ross, Incorporated label. On top of shedding light on an alleged affair Bob had with Annette, which led to their soured relationship near the end, Rofé — in conjunction with Ross' surviving son and Jester — reveal how everything fell apart when Ross died in 1995 due to complications from lymphoma. The Kowalskis weaseled their way into profiting off of Ross' name, merchandizing the living hell out of it, which explains those aforementioned coffee cups and tacky shirts.
There's an artistry to Bob Ross: Happy Accidents, Betrayal & Greed. On its surface, it's your familiar documentary, merging talking head aesthetics with archival footage of The Joy of Painting. It enters a new dimension when it incorporates Ross-esque paintings that illustrate private events, specifically the Kowalskis' shady dealings. Often, the couple are depicted as shadowy figures in closed interiors. These are things Ross himself never painted; he stuck to images mostly inspired by the Alaskan wilderness, a place he grew to adore having spent over a decade of his life living there.
We see the toll the messiness of Ross' estate has taken on Steve, who would often appear alongside his father on his program. He looks and speaks very much like his father, only missing the trademark afro-perm, instead boasting a receding mullet and glasses. He has yet to receive any money from the Kowalski-controlled Bob Ross, Incorporated. He addresses heavy topics like his father's adultery, days of declining health, and emotional turmoil with an admirable level of bravery. All the more brave given that over a dozen subjects rejected the opportunity to appear in the documentary for fear of legal retaliation.
Bob Ross: Happy Accidents, Betrayal & Greed's only sin is in its pathos. This is a documentary that comes to embellish its many moods, be them somber or whimsical, largely through its score. What is it about the likes of Bob Ross and Mr. Rogers that activate our tear-ducts when nothing they did or said on their respective programs was remotely sad? I believe it was their genuine gentleness and unchecked belief in the individuals who happened upon their programs — two very different audiences, I'll add.
The documentary concludes on an inspiring note, as multiple people address how Ross helped them through a dark part of their lives. A man who attempted suicide three or four times says Ross' program compelled him to take up painting. A woman who had her pregnancy terminated due to severe complications found solace in his mannerisms and artistic talent. Beyond having an immensely enjoyable program for all ages, Ross' methods could be considered art therapy. His demeanor is pleasing in a manner similar to ASMR.
The sad fact is that there is a darkness to Ross' legacy one can only hope will see a resolution, if for nobody but his son, Steve. The happy part is that Ross will continue to inspire regardless.
NOTE: Bob Ross: Happy Accidents, Betrayal & Greed is now streaming on Netflix.
Directed by: Joshua Rofé.