The Addams Family 2 (2021) review
Dir. Conrad Vernon and Greg Tiernan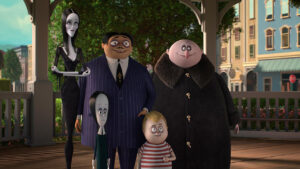 By: Steve Pulaski
Rating: ★★
I don't quite know what I expected from The Addams Family 2. Perhaps a sequel a little less scatterbrained and more plot-minded than its predecessor. However, there were many things I didn't expect to see. Time for a brief roll call: a soundtrack featuring both Gordon Lightfoot and Cardi B, Wednesday making a social distancing joke, Uncle Fester turning into a squid, Lurch belting "I Will Survive," a pageant scene with echoes of Prom Night, a Spanish remix of the Migos-led theme from the first film, a Little River Band song playing during an aside at a gas station, and finally, Flo from Progressive.
Where the first animated Addams Family film was brought down in quality by a disjointed narrative that played more like a compilation of skits, there is indeed more of a plot to this sequel. Despite that, it amounts to a hodgepodge of randomness that strains itself to be fiercely modern. The writing quartet (Dan Hernandez, Benji Samit, Ben Queen, and Susanna Fogel) hamfists a plethora of millennial jokes and hip-hop music, ultimately draining what should be the central attraction: the creepy, kooky charm of the iconic TV family.
The Addams Family 2 opens with Wednesday Addams (voiced by Chloë Grace Moretz) livening up her school's rather predictable science fair with an exciting discovery. She's figured out how to share personality traits between creatures by placing fragments of their DNA into a potion. It catches the attention of a wealthy tech mogul named Cyrus Strange (Bill Hader) around the same time her parents, Gomez (Oscar Isaac) and Morticia (Charlize Theron), burst through the doors and cause a whole scene.
Compounding Wednesday's frustration is the school's move to dole out a participation trophy to every child who took part in the science fair. It's the final straw as she proceeds to withdraw from her parents around the same time a persistent lawyer (Wallace Shawn) arrives at the Addams' doorstep to share news that Wednesday might not be their daughter after all.
In effort to maintain the family dynamic, Gomez impulsively decides the Addams clan needs a vacation. They travel everywhere from Salem to Niagara Falls, the Grand Canyon to Death Valley, simultaneously dodging the aforementioned lawyer and trying to boost Wednesday's spirits. Meanwhile, Pugsley (Javon Walton, replacing Finn Wolfhard from the previous film) is still causing mischief, but struggling to talk to girls. The silver-tongued Gomez nudges Uncle Fester (Nick Kroll) into helping him out. The dynamic between Pugsley and Fester merits some grins. One of the brighter moments in the film comes as Wednesday interferes with Fester helping Pugsley by making Pugsley's voodoo doll dance, much to the amusement of onlookers at Niagara Falls.
In lieu of Tim Burton's upcoming series Wednesday on Netflix, and now this sequel focusing so intently focused on Wednesday, it begs a serious question: why must the spotlight always be on her? Gomez and Morticia feel underutilized here, lacking the warm dynamic that makes them one of the most inimitable couples a sitcom has ever seen. Lurch (Conrad Vernon) and Fester get sprinkled-in moments to shine, but this family isn't the same when they're at odds.
This is where one truly appreciates something like The Mitchells vs. The Machines. One of the year's best animated films, it crafted a story of father/daughter conflict that was sturdy and relatable. It didn't need Cousin Itt voiced by Snoop Dogg nor an obnoxious soundtrack of trap and reggaetón. The Addams Family 2 will cater to a child's short attention span, but will do nary in leaving any impact.
NOTE: The Addams Family 2 is now playing in theaters and available to rent on a variety of streaming platforms.
Voiced by: Oscar Isaac, Charlize Theron, Chloë Grace Moretz, Javon Walton, Nick Kroll, Conrad Vernon, Bill Hader, Wallace Shawn, Bette Midler, and Snoop Dogg. Directed by: Conrad Vernon and Greg Tiernan.