The Addams Family (2019) review
Dir. Conrad Vernon and Greg Tiernan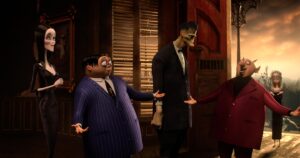 By: Steve Pulaski
Rating: ★★½
It's been over 25 years since both The Addams Family and Addams Family Values hit theaters, and over twenty since Addams Family Reunion went straight-to-VHS (the less said about that film, the better), so it shouldn't come as that much of a surprise MGM and Nitrogen Studios thought it wise to revive the property. Surely, most would've slept soundly and contently with the litany of Addams Family reruns, adaptations, and spinoffs conceived since Charles Addams' recurring New Yorker comic series made its debut in the 1930s. However, an animated film this harmless and inconsequential shouldn't muster any serious ignominy. I think The AV Club beat me to the punch with their analysis: "it's all together okay."
Acting as an origins story and more-or-less a compilation of situations taken from the beloved 1964 TV series, the film opens with the unholy union of Gomez (voiced by Oscar Isaac) and Morticia (Charlize Theron), which is quickly overtaken by townspeople angry at the presence of monsters in their community. This prompts the lawfully wedded Addams to find a new home; they settle on an abandoned asylum well off the beaten path, just how they like it. 13 years later, they're a real family with young kids Wednesday (Chloë Grace Moretz) and Pugsley (Stranger Things' Finn Wolfhard), Uncle Fester (Nick Kroll), Thing, the disembodied hand, and their mannered butler Lurch (director Conrad Vernon). I won't dare spoil how Lurch came to be part of the family.
The household is busy as Pugsley prepares for the Mazurka, a rite of passage for males of the Addams' clan that consists of a complex knife-dance, and Wednesday grapples with her own tween ennui. On the outside of the doomy Addams' estate is Margeaux (Allison Janney), a TV icon who hosts a home-rehabbing program on the Home and Garden network. Margeaux is so influential she's in the process of creating a town known as "Assimilation," where homes will all look the same and people will fall in line accordingly. Wednesday befriends Margeaux's preppy daughter Parker (Eighth Grade's Elsie Fisher), and soon convinces her parents to let her attend public school as opposed to "cage-school," as the Addams call it, which causes a rift in the family. Pugsley, on the other hand, is inept when it comes to learning the ins and outs of the cockamamie Mazurka, instead taking an interest in explosives. This goes above the head of Gomez, who fears his son will be ousted by the family for failing to carry on the age-old tradition.
There are many plot-threads in The Addams Family. Too many, in fact, as this assembly of activity makes it difficult to be truly invested in any one of the many goings-on throughout the film. Rising to the surface is the evident coming of age friction between Morticia and Wednesday and Gomez and Pugsley, but much of that feels overshadowed by the obnoxious, hamfisted villain that is Margeaux, who feels out of place (if purposefully). The best episodes of the John Astin/Carolyn Jones TV series were the ones that focused on the internal happenings of the family, and by venturing out beyond the cold gates of the estate, some of that dynamic energy between the Addams is sadly lost.
The project is given a bit of a boost thanks to a wickedly talented ensemble. Oscar Issac and Charlize Theron would be ideal actors to play Gomez and Morticia, respectively, in a live-action adaptation due to the capabilities of their appearances alone, but their voices bring life to their characters. Uncle Fester effectively steals nearly every scene he has thanks to Nick Kroll's touch of vocal fry and the inherent jester-sensibilities of his character, and I was primed to see Elsie Fisher continue to have longevity.
Directed by Conrad Vernon and Greg Tiernan (who also brought us Sausage Party), The Addams Family will likely work for young kids seeing as it's kinetic and doesn't masquerade as the kind of condescending parable kids often see right through. For adults, it provides a happy bit of nostalgia. Alas, the film doesn't put its best foot forward in marginalizing its own characters by way of too many subplots, nor does it entirely justify a Migos/Karol G/Snoop Dogg/Rock Mafia theme song that interpolates the tune of the classic theme song (it's cute, sure, but it reeks of existing for spur-of-the-moment popularity only). That's the vibe I get from so many animated films outside of Pixar, Disney, and the occasional DreamWorks gem: here today, gone tomorrow.
Voiced by: Oscar Issac, Charlize Theron, Finn Wolfhard, Chloë Grace Moretz, Nick Kroll, Allison Janney, Elsie Fisher, Snoop Dogg, and Conrad Vernon. Directed by: Conrad Vernon and Greg Tiernan.