Army of Thieves (2021) review
Dir. Matthias Schweighöfer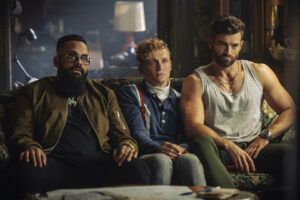 By: Steve Pulaski
Rating: ★★½
Who would've believed Zack Snyder kickstarted the next immersive, spectacle-laden franchise in 2021 and it had absolutely nothing to do with "The Snyder Cut" of Justice League?
Army of Thieves arrives not even six months after Army of the Dead whiplashed us with 148-minutes of colorful zombie chaos. A prequel to Snyder's film — which will also see a direct sequel and an animated series in 2022 — it revolves around the character who served as spirited comic relief and the one in the group ultimately worthy of more development.
Before he was known as "Ludwig Dieter" (reprised by Matthias Schweighöfer, who also serves as director and co-producer), he was Sebastian Schlencht-Wöhnert, a nebbish German working a dead-end cubicle job who made safecracking videos on YouTube. One day, his routine is thrown for a loop when he's recruited by a free-spirited jewelry thief named Gwendoline (Nathalie Emmanuel, F9) for an underground safe-cracking competition. Indeed, those exist, I guess.
When Sebastian stuns the crowd with his prowess, Gwendoline realizes she's made the right decision.
Sidebar: the film opens with Sebastian filming his latest YouTube video. He tells the story of a legendary locksmith, who crafted four immaculate and sophisticated bank-vaults, each one named after an opera in Richard Wagner's "The Ring of the Nibelung." Gwendoline and her team of scruffy burglars are plotting to break into the quartet of themed-safes, steal the riches, and ride off into the sunset. Her crew is comprised of the spunky Korina (Ruby O. Fee), the toxically masculine "Brad Cage" (Stuart Martin, who is just asking to play Wolverine in some to-be-greenlit streaming series), and driver Rolph (Guz Khan). The only ingredient they're missing is an experienced safecracker.
Hot on their tails is a scorned Interpol agent named Delacroix (Jonathan Cohen) and his subordinate, Beatrix (Noémie Nakai), who table the threat of the zombie apocalypse brewing in Las Vegas to try and stop the team as they clean out one safe at a time.
Army of Thieves has personality thanks to this rag-tag group of criminals who grace the film with lively banter. Sebastian is the odd-man out from the jump, but Schweighöfer has had enough time to marinate with this character. As he did in Snyder's film, Sebastian makes his perpetual awkwardness a likable contrast to the stone-cold seriousness of his new mates. The treat is watching him crack these biblical safes, and witness some intense sequences as he finagles the locks. The safes' gears are animated through meticulous CGI-work, which posits them as a cross between works of Rube Goldberg and Hugo Cabret.
Tis a slight pity that the artistry of these safes is often explained with a stressful tone, most notably when a pressured Sebastian tries to explain to Gwendoline that all of Wagner's works touched upon love, even in the subtlest sense. Some of that should've been reserved for the prologue as opposed to just mere moments before security catches onto the robbery taking place.
Army of Thieves is annoyingly in love with its prequel-approach. There are far too many scenes that foreshadow the events of Army of the Dead; a copious amount of zombie nonsense thrown into what should've been a straight-forward heist movie. A TV in the background showing "breaking news" footage of what's taking place in Las Vegas would've been enough, quite frankly. Screenwriter Shay Hatten, working off a story conceptualized with Snyder, overplays these moments as if those going into this aren't already familiar with one of the most-watched Netflix original movies of the year. The constant referencing is distracting.
Also distracting is the characters' desire to make some external references to heist movie clichés while abiding by those very tropes. Nothing is more eye-rolling to me than when characters in a movie must shout "this isn't a movie!" to their peers when something preposterous is proposed. Army of Thieves does it to an incessant degree. When Sebastian is introduced to Gwendoline's team, he says, "are we like those crews in a movie-film where each one of us has a different skillset?" Please.
A solid cast and frequently entertaining heists do their best to combat the restlessness brought on by such flaws on top of an obnoxiously long runtime at just over two hours. If you're already bought into the Army of the Dead universe, as I am, you don't need much more convincing as to why you're here in the first place. What does stand up to scrutiny, however, is Schweighöfer's ability to direct on a larger scale than anything he's done in the past, along with suspense just notable enough to make this whole production marginally satisfying. Like Sebastian, it just could've used some more confidence.
NOTE: Army of Thieves is now streaming on Netflix.
Starring: Matthias Schweighöfer, Nathalie Emmanuel, Stuart Martin, Ruby O. Fee, Guz Khan, Jonathan Cohen, and Noémie Nakai. Directed by: Matthias Schweighöfer.