House of Gucci (2021) review
Dir. Ridley Scott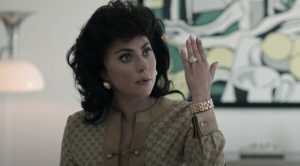 By: Steve Pulaski
Rating: ★★½
For a production so opulent, and a family so shamelessly gaudy, Ridley Scott's epic on the Gucci dynasty needed more showiness. This is camp without much of a personality. It's capable of holding your interest, sure, but it doesn't captivate with its plot structure nor humor nearly as much as it should. This is considerably more disappointing when you account for the fact that this film has something for every generation: Al Pacino for the grandparents, Adam Driver for the parents, and Lady Gaga for the teens.
Adapted from the novel The House of Gucci: A Sensational Story of Murder, Madness, Glamour, and Greed by Sara Gay Forden, House of Gucci relishes in soapiness that's sudsy enough to make you grin despite suffering from serious shortcomings. Scott's second outing this year (following the largely ignored The Last Duel), the film revolves around the ruthlessly ambitious Patrizia Reggiani (Lady Gaga). Her assertiveness is so apparent it's convinced her she's destined for greatness, albeit by taking the direct route to amorality. She falls in love with and marries Maurizio Gucci (Adam Driver), scion of the Gucci fashion empire. While not making much of an impression on the tradition-bound father Rodolfo (Jeremy Irons), Patrizia is embraced by Uncle Aldo (Al Pacino), his brother. He's all about pushing aside concerns that the Gucci image is flailing in the face of flea market knockoffs while letting himself and the family ride high on their wealth deep into the 1970s.
Also in the mix (and complicating matters) is Paolo, Aldo's son, played by an outrageous Jared Leto, the actor who can overdo any performance put in front of him. Paolo is the idiot cousin hellbent on realizing his own dream as a fashion designer, but he's incompetence personified. Whatever he lacks in taste, he doubly lacks in talent and finesse. Overtime, Patrizia becomes increasingly annoyed by a family keen on dragging their feet while their brand flounders. She muscles her way into the family operation, pitting Maurizio against nearly every relative, while aided by a psychic named Pina (Salma Hayek), who tries to juggle Patrizia's nasty mood swings and her personal prophecies.
Make no mistake. Lady Gaga and Adam Driver have strong, "opposites attract" chemistry that's sustained throughout the 150-minute runtime. Driver, in perhaps his most understated role yet, is reticent in his own emotions, even when his Maurizio comes to take over the empire. His bookishness becomes the bane of Gaga's Patrizia in no time, for she's so loud and assertive she simply can't deal with passiveness. Gaga gives the kind of seductively evil performance that's timeless; a mix of Old Hollywood with a dash of mania. When she gets mad, your eyes simply cannot leave her.
The rest of the cast can't seem to decide what movie in which they find themselves. Pacino still has the ability to shake windows with both his classically Italian humor and silence-producing scowl. Meanwhile, Hayek and Irons are way too thinly veiled to be called characters, which is problematic when Hayek's Pina becomes integral to Patrizia's dastardly third-act plot. She helps put the plan into motion, but there's nothing to her presence whatsoever. And then there's Leto, who yet again distracts more than dazzles. His elongating Italian drawl comes across like a cliched impression of Mario. Once more, he grates despite how hard he's known to grind.
I'll concede in saying had the tone of the overall production took on that of Leto's performance, I might come away with a different opinion. The issue is Becky Johnston and Roberto Bentivegna's script is defiant in pursuing virtually any comedy outside of Paolo's too-dumb-to-function archetype. This is a story dripping with sensationalism yet the approach feels calculated as Scott arrives at every plot-point with a sense of perfunctory obligation. House of Gucci could've used some Wolf of Wall Street excess and edge. Instead, the climax is rendered flat when it should be rife with Maurizio's increasing arrogance coupled with a looming sense of dread.
Appropriately released over the Thanksgiving holiday, House of Gucci was set to be a full-course meal. It's a feast for the eyes with some appetizing sides, namely Gaga and Driver, but as such, it's a lot of empty calories.
NOTE: House of Gucci is now playing exclusively in theaters.
Starring: Lady Gaga, Adam Driver, Al Pacino, Jared Leto, Salma Hayek, Camille Cottin, Jeremy Irons, Revee Carney, and Jack Huston. Directed by: Ridley Scott.