The Tender Bar (2021) review
Dir. George Clooney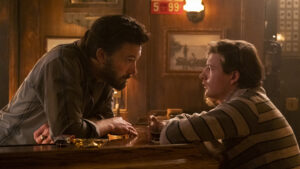 By: Steve Pulaski
Rating: ★★½
As a writer and barfly myself, I have to say that The Tender Bar is too sanitized to be great. George Clooney continues his streak of directing interesting stories rather unremarkably, with a lack of directorial flare. Here, the acid-washed color palette at least provides some character to go along with a crop of people who are just trying to do the best they can under the given circumstances. While not much in the long run, The Tender Bar is good for a few brushstrokes of greatness.
The film is based on reporter J. R. Moehringer's memoir of the same name. Initially played by Daniel Ranieri as a boy and then Tye Sheridan as a young man, JR is the son of a cash-strapped single mother (Lily Rabe) in the 1970s. With nowhere else to go, the two must move into the home of JR's gruff grandfather (Christopher Lloyd), where much of the extended family hangs around. While mom is disappointed in herself and the choices she's made, JR is happy being surrounded by family. It reminds him that despite his absent father, he's not alone.
However, his father isn't completely absent. He's a radio DJ known as "The Voice," who occasionally phones JR for a quick conversation. He does the absolute bare minimum a father could possibly do.
This is where Uncle Charlie (Ben Affleck) comes into play. A bartender at a local dive called The Dickens, he's a surrogate dad who always makes time for his nephew. Charlie teaches JR about the "male sciences" as a young boy, which include driving, drinking, and women, although not in that order. Overtime, his admiration for the boy grows as he shows an aptitude for words. At the bar, JR would much rather breeze through one of the Charles Dickens books that sit behind the counter as opposed to engage in rambling discussions with the local boozehounds. It doesn't take long for him to make up his mind: he wants to be a writer.
JR grows up to be a Yale student, infatuated with the wealthy Sidney (Briana Middleton). The two develop an on-and-off relationship over several years. He still finds himself returning home; that home being The Dickens, where Charlie does his best to offer advice on his first love. The scenes of JR and Sidney aren't nearly as compelling as those set during his younger years. The college moments feel as if they've been clipped from other, better movies. When JR lands a gig at The New York Times, Charlie's tidbits of wisdom become exceedingly rare, with screenwriter William Monahan sidelining his best possible ace in an unwed uncle raising his nephew as a son simply because somebody has to.
Affleck is the standout here with one of the most nuanced performances in his entire career. The slight irony is that he probably would've played Sheridan's role some-20 years ago. Here, he's witty yet subtle. A strongpoint in the movie comes when JR receives a letter from Yale regarding his application. The whole family is paralyzed by anticipation and fear. It's Charlie who takes a knife to the envelope and reads the letter, but not before exhaling some cigarette smoke as he sits by in frustration at the family's dawdling. It's these moments that give The Tender Bar some life.
Disappointingly, The Dickens pub seldom feels like a transformative establishment so much as a recurring location. The aesthetics of the bar are never truly defined. The banter amongst the locals is mostly relegated to an arsenal of drunks offering to get next for Charlie when he's of legal drinking age. Charlie's dojo needed more humanization beyond looking like any and every New England watering hole.
Backing up Affleck's reserved performance is cinematographer Martin Ruhe (The Midnight Sky), who favors subtle over showy in regards to the period ambiance. The visual palette is muted. Clothes and interiors have that distinct 70s softness. Clooney and Ruhe don't draw attention to classic cars nor make time for corny callbacks. It's nearly enough to feel lived-in. However, Monohan's screenplay lacks the same texture.
I will conclude by saying this otherwise middle-of-the-road movie is bolstered by a tremendous ending. Ron Livingston's narration (as the adult JR) says a couple thoughtful musings about being a writer as Charlie and JR have one final discussion at The Dickens. Cue Steely Dan's timeless song "Do it Again," which thank goodness is played in its entirety over the end credits. While far from being in the upper echelon of great movies about writers, The Tender Bar does have one excellent scene — which comes at the right time as if to make its flaws slightly more forgivable.
NOTE: The Tender Bar is now streaming on Amazon Prime Video.
Starring: Tye Sheridan, Ben Affleck, Lily Rabe, Briana Middleton, Daniel Ranieri, Christopher Lloyd, and Max Martini. Directed by: George Clooney.