Gilbert (2017) review
Dir. Neil Berkeley

By: Steve Pulaski
Rating: ★★★½
🕯️ Remembering Gilbert Gottfried🕯️
🕯️ 1955 – 2022 🕯️
When we first see the man, whose voice we all know, he's so shy that it's awkward. He's clearly uncomfortable with a camera rolling in his apartment. He's dressed in a bathrobe and slippers, and when he's face-to-face with the camera, he hesitates as if this is his first time speaking. He's Gilbert Gottfried. And this is the side of him we never see.
It wasn't until Gottfried passed away that I realized how little I knew about him. Thankfully, he opened up to documentary filmmaker Neil Berkeley and allowed him to make Gilbert, a sweet, moving tribute. It not only encapsulates Gottfried's enigma and charm, but broadens itself so elegantly as to show his background and the close circle he keeps.
Like most, the scenes involving his sisters and late mother were not ones I expected, but ones that ended up making the entire package that much more heartfelt.
However you think a comic whose schtick is comprised of absurd impressions, jokes with countless tangents, and a shrill vocal tone would behave in his private life is probably not what actually is that of Gilbert's. We see him reside in an upscale Manhattan apartment with his darling wife Dara and their two kids, Max and Lily, named after Gilbert's parents. "I feel like I still haven't woken up and said, oh, this is my life," Gilbert says, in utter disbelief that he himself, who never had a girlfriend prior, one day met Dara, dated her for 10 years, and then got married and fathered two beautiful children. "I feel like I'm living in the Twilight Zone."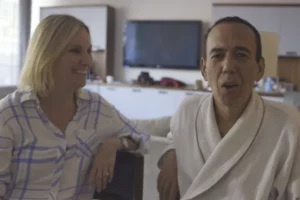 Berkeley delicately peels back the curtain, allowing Gilbert to open up rather slowly. Contextualizing his unlikely ascension in the world of comedy are numerous recognizable faces: Artie Lange, Bill Burr, Jim Gaffigan, Dave Attell, and Jay Leno to name a few. The private footage we do see is a mix of poignant and almost as funny as any given Gottfried standup routine. Frugal to the point of frustrating, Gottfried insists on taking the bus to the cities in which he performs. He packs lightly but messily. His first request at the hotel is not for room service, but for complementary toothbrushes and other toiletries; his collection spans numerous bins stashed under the beds in his apartment, as Dara later shows.
He's even got unused items from the now non-existent Pan Am Airlines. I hope Dara or one of his sisters informed him he could perhaps get good money on eBay for those.
Gilbert touches on all the notable points of Gottfried's career, most notably his famous 9/11 joke, uttered at the Hugh Hefner roast while the NYFD was still pulling bones out of the rubble. The ensuing gasps and "too soon!" exclamations prompted Gottfried to launch into him telling the now-famous "Aristocrats joke." Up until that point, it was mainly a backroom gag amongst comedians hoping to drop the jaws of their colleagues.
It also brings up a fairly big story that I completely forgot; how Gilbert was fired from being the voice of the Aflac duck after a series of insensitive jokes about the 2011 earthquake in Japan — again, while the tragedy was still taking place. Until then, Gilbert had mostly been defiant against backlash (including after his first nationally recognized fiasco, the Paul Reubens masturbation gag at the Emmy's in 1991). This time, as we learn, he was genuinely affected by it.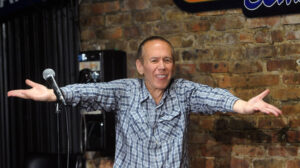 Gottfried's style might not be everyone's. It admittedly works best in small doses, such as roasts. The truth is that the unapologetically filthy comedian — who still somehow was offered a role in a Disney movie (Aladdin) and a PBS Kids show (Cyberchase) — has never been profiled like this before. I won't reveal the poignant insights into his childhood and his sister's respective career, as I want you to find out for yourself.
We have dozens upon dozens of movie, TV, and video game roles featuring Gilbert Gottfried the comic. It's wonderful to see that we have at least one work that shows us merely a glimpse at Gilbert Gottfried the person.
NOTE: Gilbert is available for free on Pluto TV, Peacock, Kanopy, and a number of other streaming services.
Directed by: Neil Berkeley.