Pleasure (2022) review
Dir. Ninja Thyberg

By: Steve Pulaski
Rating: ★★★½
Linnéa (Sofia Kappel) arrives in America with one goal: be the best porn star in the world. She's a 19-year-old Swedish woman who comes equipped with her closet of clothes, a small social media following, 25 tattoos, and the stage-name "Bella Cherry." We meet her as she's about to do her first scene. She's already so cognizant of her brand that after the shoot, before cleaning herself up, she takes selfies following her first facial.
Bella lives in a house with several other models under the loose guide of the older Ashley (veteran porn star Dana DeArmond). She befriends another nubile model in Joy (Revika Anne Reustle) and the two navigate the industry. While Bella intends to start slow, she quickly learns that she won't stand out from the crowd if she doesn't pursue more "extreme" shoots. The porn industry frequently rewards starlets who create a demand for anal and interracial shoots following simple boy/girl and girl/girl scenes. However, it's also not a patient industry in that respect. The body-count of women who have flamed out or have had unconscionable things happen to them before they gain any notoriety is a mile high and a mile wide.
Ninja Thyberg's Pleasure is a revelation in how it subverts our expectations for a movie centered on the porn industry. Rather than dial up the victim narrative or be a nasty piece of exploitation, Ninja Thyberg strips this world of its eroticism in favor of the business side, both the mundane and the networking aspects. STD tests, douches, butt plugs, pep-talks, safe words, and video recordings of IDs and consent are all part of the protocol. Thyberg (who cowrote the film with Peter Modestij) is more interested in the construction of arousal rather than actively arousing us. In one of many moves that might surprise you, there is far more male nudity in Pleasure than female, and when the sex finally begins, the movie becomes hyper-fixated on Bella's perspective, sometimes switching to her POV in the middle of the action.
Bella meets many on her journey, but maybe no one more friendly than Bear (Chris Cock), an African-American porn star. In a candid moment with the new actress, Bear explains that he's "more of a fetish" than a person, and informs her that most of his work is in interracial scenes, the most taboo act a porn actor can do — even more radical than double anal penetration. There's also Ava (Evelyn Claire), a gorgeous new model who pops up on occasion. She doesn't say much. She doesn't have to. And just like in her own professional scenes, Evelyn Claire has a gaze that could kill.
Thyberg remains intensely focused on Bella's ascent, which is catapulted by a positive experience provided by Aiden Starr and Small Hands, who shoot her in a BDSM scene for Kink.com. It's then when Bella believes she's ready for "rough sex" shoots, leading to a disturbing sequence where her consent is repeatedly violated on-set and her decision to back-out is met with guilt tactics and hostility.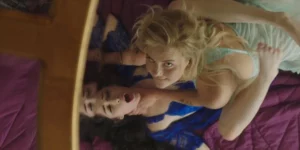 Pleasure is not only Thyberg's directorial debut (working off her short film of the same name from 2013), but the very first credit for Sofia Kappel. It may be the acting debut of the year. Kappel is sensational in a performance that's both transgressive and physically intense. It also adds a stronger layer of realism with both Kappel and Bella being innocent newcomers into an industry that transcends life itself. If the mainstream awards circuit had any nerve still inside of them, they would seriously consider Kappel for a Best Actress/Best New Actress nomination.
The clinical presentation Thyberg employs for the entirety of Pleasure gives it the look of a documentary; the antiseptic offices of agents and the neatly manicured McMansion porn-houses only further add to the authenticity. Because Thyberg isn't trying to arouse us with the sex, it allows more significant themes to surface. With time and experience, Bella learns how to navigate the male-controlled porn industry, even if that means betraying the closest thing to a friend she has in a new city, let alone country. Such moves afford her the opportunity to shoot with acclaimed director Axel Braun and her own booth at the AVN Awards. When gets her shot to work with Ava, during the unexpectedly explosive climax, she takes out her aggression on her co-star in the same way agents, moguls, and male talent have done to her.
Pleasure's road to release has been complicated. The film was shot in 2018, drew rave reviews from Sundance in 2021, and got picked up by A24, who wanted to release both R and NC-17-rated cuts of the film, to the chagrin of Thyberg. The distribution rights ultimately got transferred to Neon and it'll finally see a release in the United States this year. All of this while porn stars and directors who participated in the film have publicly expressed their feelings of being "duped" by Thyberg with the narrative direction Pleasure took. Keep in mind too: this film was shot and released before the OnlyFans boom, which undoubtedly would've added another intriguing layer in a way similar to what it's done to the larger porn industry.
I kept tabs on Pleasure since its Sundance premiere. I had a Post-It on my crowded desk reminding me to do so. It didn't disappoint in the slightest.
NOTE: Pleasure is now available to rent on a variety of platforms.
Starring: Sofia Kappel, Revika Anne Reustle, Evelyn Claire, Chris Cock, Dana DeArmond, Kendra Spade, Jason Toler, John Strong, Lance Hart, Aiden Starr, Small Hands, Axel Braun, Mick Blue, Chanel Preston, Casey Calvert, and Abella Danger. Directed by: Ninja Thyberg.