The Bob's Burgers Movie (2022) review
Dir. Loren Bouchard and Bernard Derriman

By: Steve Pulaski
Rating: ★★½
FOX animated sitcoms need to be lambasted before they can be embraced. At least that's how it seems. The lashing Family Guy took (before it was cancelled and subsequently revived) helped make it the now-staple of the Sunday evening "Animation Domination" block. I swear everyone I knew trashed American Dad for its first three seasons, until one day, I apparently tripped into a multiverse where all my friends enjoyed it. Bob's Burgers took a similar path. I remember seeing three "Tinas" at the same college party after remembering the moot buzz around the show during its first couple seasons. Now, it's 238 episodes strong.
In fact, not only did Bob's Burgers run while other FOX misfires like Allen Gregory and Sit Down, Shut Up couldn't even find a way to walk, it beat Seth MacFarlane's creation to the big-screen. In a world where animated TV shows simply don't graduate to the theaters for a feature-length adaptation anymore, it is a real accomplishment.
I played a risky game and let The Bob's Burgers Movie serve as my introduction to a series I never spent a single minute watching. The result was overall positive. This is a sweet albeit low stakes leap to a screen much larger than you're used to seeing the Belcher family on. It functions as both a rewarding treat for die-hard fans and a potential entry-point for those like myself, as each member of the family gets their subplot to shine.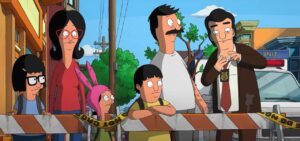 The first blessing is The Bob's Burgers Movie isn't a road movie. Instead, it takes place on a hellish week for the Belchers as the children — Tina (voiced by Dan Mintz), Gene (Eugene Mirman), and Louise (Kristen Schaal) — are all gearing up for a summer vacation while Bob (H. Jon Benjamin) and his supportive wife Linda (John Roberts) are fretting over a bank-loan that's due in a week's time. Just as they conjure up a plan to attract more customers, a massive sinkhole opens in front of their shop, making it impossible for customers to enter.
The Belchers' eccentric landlord Calvin Fischoeder (Kevin Kline) is non-committal about waiving this month's rent, which would help Bob and Linda pay the bank), and neither Calvin's brother Felix (Zach Galifianakis) nor lawyer nephew Courtney (David Wain) appear very trustworthy either. With the help of Terry (Larry Murphy), who still harbors an unsubtle crush on Linda, Bob decides to sell burgers at Wonder Wharf despite not having a street-meat license.
Meanwhile, in effort to prove to a school-bully she's not a "baby," Louise and her pink bunny ears climb down into the sinkhole. She discovers a skeleton in the most disgusting way, which leads to Calvin being arrested for murder. The Belcher children aren't convinced Calvin is the murderer, and their sleuthing leads them to finding an alley of carnies, an underground fortress, and a large conspiracy.
Apparently, business owners on Ocean Avenue don't have rights because why Bob and Linda don't just withhold their rent due to being unable to operate their restaurant because of one of those "Acts of God" is a mystery. Alas, the movie doesn't encourage you to ponder such loopholes. Just sinkholes.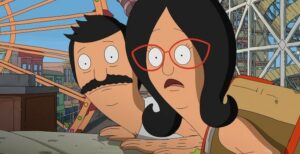 Instead, The Bob's Burgers Movie is something of a musical; it only has four original songs and most of them are good. The best number is "Sunny Side Up Summer," which gets its name and concept after Linda suggests Bob calm his nerves and make himself a burger with an egg on it. Gene also assembles a makeshift musical instrument using spoons, rubber-bands, and a napkin dispensers claiming his father has "been using this thing all wrong." The film isn't defined by these songs, and being they're sparingly incorporated, the approach feels more pleasant than derivative.
My sole complaint here would probably be shared with the show, should I ever watch it (and I just might). Nobody stops talking. Not even for two seconds. Bob's Burgers is predicated on lightly absurdist humor and characters vocalizing things that should stay in thought-bubbles. Sometimes they're irrelevant diversions; other times, they're downright juvenile. At worst, they're annoyingly random. These characters don't so much as have conversations, but a long, babbling string of interjections and interruptions. Some of their banter is quite funny; the dialog just moves at such a pace that you're liable to forget the zingers by the time the setting changes.
One thing that series creator Loren Bouchard (directing this feature with Bernard Derriman, a supervising director on the show itself) absolutely nails is the family dynamic. Unlike the Simpson or Griffin family, there's little-to-no infighting within the Belchers. No child is the metaphorical redhead. Louise might wear a pink cap like Meg Griffin, but she's not a family pariah nor the butt of the joke. The Belchers love each other unconditionally, flaws and all, and it's the glue that holds The Bob's Burgers Movie together for a mostly entertaining, 102-minute outing.
NOTE: The Bob's Burgers Movie is now playing exclusively in theaters.
Voiced by: H. Jon Benjamin, John Roberts, Dan Mintz, Eugene Mirman, Kristen Schaal, Larry Murphy, Kevin Kline, Zach Galifianakis, and David Wain. Directed by: Loren Bouchard and Bernard Derriman.