Elvis (2022) review
Dir. Baz Luhrmann

By: Steve Pulaski
Rating: ★★½
My relationship with Elvis Presley has always been a rocky one. The only song by the King in my phone is admittedly "Burning Love," which is an eternal banger. But I was raised on classic country music and a family that harbored little nostalgia for the crooner. It wasn't until I became a radio DJ and hosted a classic hits request hour that I grew dreadfully sick of "Suspicious Minds." A caller would request that song daily, and would get mad if she felt I didn't play it quickly enough. I could go my entire life without hearing that song and its phony-fadeout ever again and die a content man.
All that being said, Baz Luhrmann's Elvis immediately caught my attention; the film's first trailer might be my favorite trailer of the year. Beyond my excitement for Austin Butler's star-making performance, I was tickled at the thought that Luhrmann would helm a gaudy biopic about the rock and roll legend whose impact on American culture defies all adjectives. About an hour into Elvis, I realized it's indeed absence that makes the heart grow weary. After all, this is the auteur's first movie since The Great Gatsby in 2013 — which might as well be a century ago.
The unapologetically maximalist filmmaker, who never does something so much as overdoes it, directing a movie about the best-selling solo artist should've been a slam dunk. Instead, it's victim to the director's worst tendencies; less a film and more a clip-show caught in a trap in which it can't walk out long enough to run.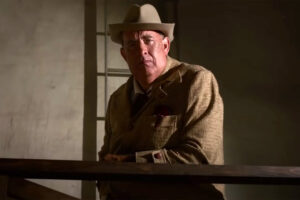 The four credited writers — let's be honest, this is Luhrmann's baby through-and-through — tell the icon's story from the perspective of Colonel Tom Parker (Tom Hanks), Elvis' longtime, slimeball manager. The film opens with Parker collapsing in his office before awakening in the hospital, where newspapers have outed him as the crook he is. Then commences the narration, with Parker intent on setting the record straight. We flashback to Elvis' (Austin Butler) humble upbringing in a predominately black Memphis neighborhood. We see how he essentially became an overnight sensation emulating the musical stylings and full-body gyrations of Black blues singers (such as his friend and mentor, B.B. King, played by Kelvin Harrison Jr).
Soon after, Parker dumps most, if not all, of his clients, including the great Hank Snow (David Wenham) and his brother, Jimmie Rodgers Snow (The Power of the Dog's Kodi Smit-McPhee) to focus his attention on Elvis. The crooner makes the girls shriek in pleasure, gets rewarded with their panties, and even as a relative unknown, can't walk without being mobbed. As the film progresses into the tumultuous 1960s, racial unrest permeates the culture, and with Elvis blatantly appropriating Black musicians (whether or not the public was aware is irrelevant, especially in his mind), he becomes caught in the crosshairs.
It cannot be overstated how exceptional Butler is in his breakout role. I remember taking note of Butler in the final season of Nickelodeon's Zoey 101 some-15 years ago. Even as a kid, he had more refined acting chops than most of the cast, and it was only a matter of time before his star got to shine. Butler has revealed he put his life on pause for two years in order to sink into the role. His commitment pays off in spades. He lost his mother at the tender age of 23; the same age Elvis did. His empathy reflects that connection in a tearjerking scene in the aftermath of her passing when Elvis can't even pick himself off the closet-floor.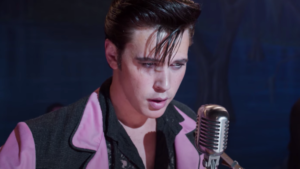 Butler is so damn great that he might make you overlook the rampant flaws that render Elvis one of the year's biggest disappointments. The first mistake Baz Luhrmann made with his predictably opulent epic was framing it around the King's hack manager. Parker's narration contributes to the film's tendency to tell more than show, or at least capture significant moments in the Elvis' life in hastily paced montages.
The second mistake — infinitely more shocking — was casting Tom Hanks, who gives a downright brutal performance. Hanks moves like a Bond villain, unable to pick an accent for "the man with no country." The veteran actor being buried under a pound of makeup and prosthetics leads one to ponder if Kevin Spacey's performance as J. Paul Getty would've been this bad if it remained in Ridley Scott's All the Money in the World. In his defense, Hanks is miscast; a phrase I have never even thought would apply to America's (New) Dad.
Elvis' first and third acts are structured like clip-shows. Fragmented scenes bleed into one another; an IV-drip in a hospital suddenly fades into a Las Vegas skyscraper; montages stifle any momentum the film looks to build. This is Elvis' life by way of DJ Screw, chopped and screwed to the point where the life-raft is Butler, anchoring the movie with a dynamic performance despite all the waffling. Humanized adequately at least to be memorable are the scenes on Memphis' iconic Beale Street, which housed many a blues club and helped make Elvis the sensation he was.
It's the second act where the film gets its sea-legs and somewhat stabilizes itself. During this time, we see how Dr. Martin Luther King and Bobby Kennedy's deaths deeply pained Elvis. Also articulated is Elvis' flirtations with another pair of managers, who interfered just enough to breed life back into his stagnant career following his military stint and Hollywood pictures.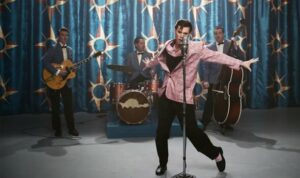 The production value of Elvis, as with all Luhrmann films, cannot be denied. Mandy Walker's cinematography shimmers with stylistic beauty. The costume design is the kind of thing that not only wins Oscars but richly characterizes the fleeting decades. The only major misstep here is the music — and I'm not talking about Presley's golden oldies. Whomever made the decision to include music from Eminem, Kacey Musgraves, Swae Lee, Måneskin, and Denzel Curry in a period piece should be barred from important meetings for at least a year. What a horrendous miscalculation that at times undermines an otherwise immersive experience.
When I think of Elvis going forward, I'll undoubtedly remember a star-making performance in Austin Butler. The sad part is I wanted to recall so many other things as well.
NOTE: Elvis is now playing exclusively in theaters.
Starring: Austin Butler, Tom Hanks, Olivia DeJonge, Helen Thomson, Richard Roxburgh, Kelvin Harisson Jr, David Wenham, and Kodi Smit-McPhee. Directed by: Baz Luhrmann.