Where the Crawdads Sing (2022) review
Dir. Olivia Newman

By: Steve Pulaski
Rating: ★★
Where the Crawdads Sing is what you end up with if you handed Nicolas Sparks a manuscript by William Faulkner and asked for revisions.
While the movie is not another adaptation from the man who has done to the romance genre what Michael Bay has done to action filmmaking, it still harbors the same glossy, impossibly beatific sheen of its contemporaries — and somehow makes murder, romance, sex, reclusiveness, and the story of a woman's rejection of Western norms and legal problem an absolute slog.
I would've rather listened to Taylor Swift's evocative song "Carolina" — which I'm convinced spawned this movie and the allegedly bestselling book by Delia Owens out of thin air — for two hours.
The story revolves around Kya, also known as "The Marsh Girl" (Daisy Edgar-Jones), an innocent young girl who grows up in the marshlands of North Carolina amidst a crowded and uncared for household. It's the 1950s, and by the 1960s, her four older siblings have all escaped their abusive father; their mother left long ago. From a young age, Kya is enamored with nature, but her illiteracy prevents her from capitalizing on any of it. She lasts mere hours on her first day of school before she bolts for the door due to unrelenting torment from her peers.
She's at peace when she's on her boat, fishing and studying the creatures that live in the marsh. The only people in town who extend her any shred of kindness is a Black couple, Jumpin' (Sterling Macer Jr.) and Mabel (Michael Hyatt), who run the general store. Well, there's also Tate (Taylor John Smith), whom she meets as a young boy and watches him blossom into a hunk before her very eyes. He's the one who teaches Kya her ABCs, which permits her to pursue her dreams a writer once her father bolts.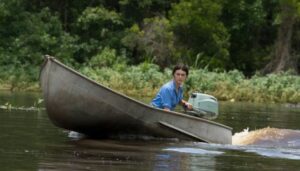 The story is split into two timelines, opening with two sheriffs investigating the death of a college quarterback named Chase Andrews (Harris Dickinson). Immediately, Kya becomes the prime suspect, as the two became romantically involved once Tate left for college. The consummate professional veteran actor David Strathairn is Kya's appointed attorney in the murder trial. Strathairn has the best scene in the movie during the trial's closing arguments, which lets you know how weak both of the movie's romances are.
While Where the Crawdads Sing might not be taking the route of so many other romance movies in making a death-sentence illness look like a "no makeup day," the simultaneous beautification and oversimplification of Kya's story does her character (and Edgar-Jones) a woeful injustice. Of course Kya, who lives in the humid, skeeter-ridden marsh, just so happens to be the sexiest girl within 50 miles. Of course neither her nor Tate nor Chase ever have a speck of dirt on their faces, let alone their clothes. And of course the PG-13 rating leads to two of the most awkward and laughable sex scenes I've seen in quite some time.
Yet the worst sin is Where the Crawdads Sing doesn't quite know what story it wants to tell. Between juggling Kya's trial — and the ensuing, multi-layered predicament she faces having been romantically involved with an abusive star quarterback and defending herself to a town that hates her guts — her two romantic interests at two separate points in her life, and her career as an aspiring writer, Lucy Alibar's (Beasts of the Southern Wild) screenplay is overstuffed with plot. Despite a lion's weight of the movie revolving around Kya, the script shortchanges her plight and makes her into an impossibly pretty, broken object.
At least cinematographer Polly Morgan (A Quiet Place: Part II) and director Olivia Newman (First Match) — amidst what is predominately a female-centric production crew — strike the right notes in capturing the marshlands. The film was shot in Louisiana, for the record, but that doesn't make the shots of shallow creeks, tall grass, and homey interiors any less gorgeous. The title refers to the local slang for crayfish, and how Kya's mother implored her to go "where the crawdads sing" when she felt unsafe.
While the crawdads sing a pretty song, the movie more often than not hits the wrong notes, and both don't come close to Taylor Swift's vocals on "Carolina."
NOTE: Take a listen to my interview with actor Bill Kelly on my radio show:
Starring: Daisy Edgar-Jones, Taylor John Smith, Harris Dickinson, Sterling Macer Jr., Michael Hyatt, David Strathairn, and Bill Kelly. Directed by: Olivia Newman.