Good Burger (1997) review
Dir. Brian Robbins

By: Steve Pulaski
Rating: ★★★
Rewatched and re-reviewed in honor of Good Burger's 25th anniversary and the release of the limited edition Blu-Ray steelbook.
It is so difficult to remove nostalgia from the equation when reviewing a movie from my childhood. I can't be the only critic who struggles with such a thing. One of the first movies I ever watched front-to-back was the forgotten Matthew Perry/Salma Hayek romance Fools Rush In, and there's a reason I have yet to revisit and write about it.
But alas, I'm not a journalist. Objectivity isn't necessarily in my metaphorical contract. I can only write about Good Burger in one way: from the heart.
"Good Burger" was one of a handful of memorable recurring bits from the Nickelodeon sketch comedy series All That. At the center of it was Kel Mitchell's Ed, the raspy-voiced, instantly lovable dork whose crowning purpose in life was to say, "Welcome to Good Burger, home of the Good Burger, can I take your order?" with delirious enthusiasm. The brains behind the bit (and the show itself) was Dan Schneider, who'd go on to make Kenan & Kel, Drake & Josh, Zoey 101, and other television staples of my (and probably your) childhood.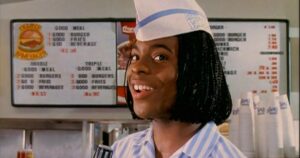 Commissioned to shoot concurrently with Kenan & Kel, Good Burger can reasonably be considered a spin-off movie of that particular show. Kenan Thompson and Kel Mitchell are such a classic pairing of types: the competent but admittedly oafish straight-man who links up with a ne'er-do-well. Cue the laugh track. Their chemistry was always palpable during the show's four-year run, and Good Burger found the two young men on-point like a cactus when it came to striving for a laugh.
On the first day of summer, Dexter Reed (Thompson) recklessly takes his mom's car for a joyride and plows into his school teacher, Mr. Wheat (Sinbad). The damage is a couple thousand dollars, forcing him to spend his summer jocking the register at Good Burger, the local fast food joint. His coworkers are a band of misfits, galvanized by the roly-poly Mr. Baily (Schneider). Enter Ed (Mitchell), a total maroon who would be categorically insufferable if he weren't so damn smiley.
In a moment of vulnerability, Dexter reveals to Ed that he doesn't even remember what his own father looks like. Ed responds by saying, "I don't remember what my dad looks like, either. But at least I get to see him everyday."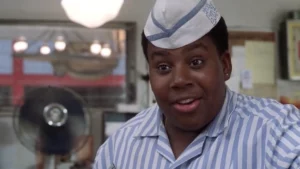 That's the kind of humor we're dealing with here. In addition, there's a new burger metropolis called Mondo Burger opening up across from Good Burger. Run by the callous Kurt Bozwell (Jan Schweiterman), its mission is to destroy Good Burger by offering super-sized meat patties. The Good Burger crew — which includes Abe Vigoda, who has some of the funniest one-liners in the entire film — must stave off Mondo Burger's thinly veiled attempts to swindle them out of their recipe for "Ed's sauce," which allows them to compete against the burger giant.
A product of its time, Good Burger might be one-of-one in existing as a stoner comedy for kids. While there's no mention nor use of marijuana, it's Mitchell's Ed's good-natured silliness and blissful ignorance to the world around him that elevates this quality. Not to mention, his life mantra, encapsulated in his still-rockin' collaboration with Less Than Jake, boils down to: "I'm a dude, he's a dude, she's a dude, cause we're all dudes."
In addition, Schneider's talent for having the pulse on a generation's love for randomness and ensuing weirdness simply clicks on most comedic cylinders here. Good Burger's writing is high-energy, and it doesn't take itself too serious. 25 years later, it still entertains even as many of us have gone on to judge our fellow "dudes" and perhaps become too caught up in the world of insurance and adult responsibilities to remember how much we laughed at "Grape Nose Boy" the first time we saw it.
NOTE: About this newly released Blu-Ray steelbook of Good Burger too. Despite a sleek and sexy presentation, there is nary a special feature on the disc aside from one of the original "Good Burger" sketches. Granted, I didn't expect former-director-now-Paramount-CEO Brian Robbins to record a commentary track, but it's shocking that after multiple re-releases, not even a compilation of outtakes of Good Burger have seen the light of day. And probably never will.
Starring: Kenan Thompson, Kel Mitchell, Jan Schweiterman, Sinbad, Abe Vigoda, Shar Jackson, Dan Schneider, Linda Cardellini, and Carmen Electra. Directed by: Brian Robbins.