Easter Sunday (2022) review
Dir. Jay Chandrasekhar

By: Steve Pulaski
Rating: ★★
In an era where stand-up comedy has had to navigate a minefield of social changes and political correctness, Jo Koy has emerged successful by finding a happy medium. His warm, down-to-earth delivery and emphasis on situational humor amongst tight-knit, if combative, Filipino families has resonated globally. Despite some coarse language, you'd feel comfortable showing his routine to your teenager, if for no other reason than to feel your upbringing and foibles represented in relatable fashion.
Easter Sunday is Koy's first film as a headliner, and perhaps the pressure of being one of the first major motion pictures to feature a predominately Filipino cast caught up with him in the process. Koy and screenwriters Ken Cheng and Kate Angelo try admirably to humanize the messiness brought on by catty, overbearing relatives and children caught in a tug-of-war between Fil-Am cultures. Yet, thanks to a needless subplot involving cartoon crime villains and long-stretches of broad antics that undermine the relatability integral to Koy's appeal, Easter Sunday winds up falling short of its intentions, as well-meaning as they are.
Koy doesn't have to strain to play his first leading man, at least. He's Joe Valencia, a fictionalized version of himself who is trying to pivot from stand-up to sitcom acting. When an audition ends with the casting director imploring him to use an exaggerated Filipino accent, he calls his agent (the film's director and Broken Lizard alum Jay Chandrasekhar) with the hopes he can throw him a bone. But things get complicated when Joe's audition conflicts with an important school meeting involving his son, Junior (Brandon Wardell). And then get even more complicated when Joe's mother (Lydia Gaston) begs him to attend her Easter Sunday dinner.
The annual dinner is one that commands a crowd of Joe's extended family, including his sister (Elena Juatco) and several titos and titas (Melody Butiu, Joe Guila, and Rodney To). However, always nudging themselves into the center of attention are Joe's mom and her sister Theresa (Tia Carrere), who have been fighting for years for reasons they can't even adequately explain.
This is already enough meat for a zany yet mostly wholesome comedy. But naturally, either due to studio pressure or a complete miscalculation, Cheng, Angelo, and Koy incorporate an incredulous conflict involving Joe's cousin Eugene (Eugene Cordero). Eugene took the funds Joe gave him to invest in a taco truck and instead turned the project into a "hype truck." As a result, Joe is roped into a costly scheme involving a luxury goods dealer named "Dev Deluxe" (Asif Ali). The silly subplot involves a stolen pair of Manny Pacquiao's boxing gloves and a desperate need to scrounge up $40,000 in order to avoid getting a bullet in the temple.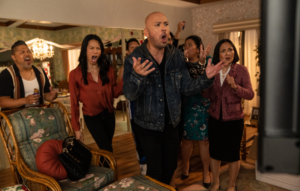 Supporting characters turn up in the form of a well-utilized Tiffany Haddish, playing Joe's ex-girlfriend-turned-cop, and Jimmy O. Yang as, literally, an underground goods dealer. The strongest of them all is probably Eva Noblezada, who plays a smart young woman whom becomes Junior's love interest, but also the necessary strong force in his life. Junior's been coddled since he was a child, and it's made him become aloof and snarky towards his father. She gives him a much-needed kick in the ass. The two have a sweet chemistry together.
The cast is largely charismatic enough to elevate the writing which treads dangerously close to making this the "Filipino Madea" at times. Carrere clearly loves her role as the petty, feisty tita. Meanwhile, Cordero shares a great moment with Koy's Joe where he tells his cousin that sometimes, paradoxically, it's their separate mothers who see the sterling qualities in their nephew.
But much of this is lost once the criminals return to hijack the third act just as the winsome cast cuts loose with a karaoke rendition of the Black Eyed Peas' "I Gotta Feeling." Prior to that, the laughs are still a little too inconsistent (Koy sometimes feels like he's straining to be the cool leading man), but the interpersonal banter between the cast is kept genial even when it turns combative.
This is the case where a movie about an underrepresented group of people tries to be everything to its target demographic as opposed to nailing one strong concept.
Easter Sunday didn't do as much for me as I wanted, but I suspect its target audience will enjoy it all the more, if for nothing else than the representation. My mother was a nurse, and thanks to her coworkers, I got a crash-course in how loving Filipino families could be at a very young age. She even learned how to make pancit good enough that her coworkers wanted more. Two of my closest friends are Filipino; I swear one of them has family members that like me more than some of my own. The fact that Chandrasekhar's film is able to intermix a needless subplot yet still retain the warmth of a very particular family dynamic isn't nothing, at the end of the day.
NOTE: Easter Sunday is now playing exclusively in theaters.
Starring: Jo Koy, Lydia Gaston, Tia Carrere, Eugene Cordero, Brandon Wardell, Eva Noblezada, Elena Juatco, Melody Butiu, Joe Guila, Rodney To, Asif Ali, Tiffany Haddish, Jimmy O. Yang, Jay Chandrasekhar, and Lou Diamond Phillips. Directed by: Jay Chandrasekhar.