Pearl (2022) review
Dir. Ti West

By: Steve Pulaski
Rating: ★★★
Pearl serves as a prequel to Ti West's retro slasher X from earlier this year. A brief recap is in order: set in the 1970s, X followed a ramshackle bunch of indie filmmakers who rented a cabin from an elderly couple. They wanted to film a pornographic movie starring Maxine (Mia Goth) without the couple knowing. One-by-one, when the cameras weren't rolling, the group was killed in gruesome fashion by Pearl (also played by Goth), an old, frail woman who saw in Maxine what she once was.
Or could've been, rather. Now it's time for her origins story. Rewinding nearly 60 years, back to 1918, at the tail-end of World War I amidst the Spanish flu — which killed over 615,000 people in the United States alone — we learn just how Pearl became a haggard relic that lived in total isolation, save for her husband Howard.
Goth reprises her role as Pearl, who is stuck living with her overbearing mother Ruth (Tandi Wright) and her wheelchair-bound father (Matthew Sunderland), a barely breathing corpse of a human. Pearl wants out of this monotonous life. She looks at her callous mother and worries that's the path for which she's destined. She harbors the belief she could be a dancer, practicing routines in front of what's left of the family's farm animals, and trying to find a way to make the local church's auditions. Landing a role could propel her to being in one of those pictures she's constantly watching.
Howard, Pearl's husband, is off fighting in the war. Consequently, Pearl is left sexually starved, to the point where after chatting up the cute projectionist at the movie theater (David Corenswet), who believes in her talents, she straddles a scarecrow in the middle of the cornfields. When she's not scrubbing floors or tending to other menial chores at the behest of her mother, she's performing before the aforementioned farm animals. But she has a pitchfork and isn't afraid to use it on one of them before subsequently feeding the mutilated carcass to an alligator, who lives in a nearby river.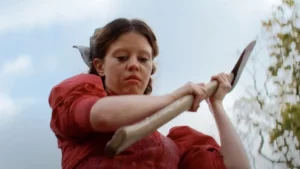 Pearl pays homage to the bygone era of Hollywood, where choreographed dancers, Technicolor landscapes, and cute farm girls singing before cutesy animals were all the rage. The fact that this pastiche is splattered with blood and invigorated with a macabre sense of misery only further delighted me. Ti West has been on his A-game since 2009 when he broke-out with The House of the Devil. He's since been a reliably consistent force with his love for gritty, gory genre exercises that do right by horror as an institution. Pearl expands upon X's universe. By enriching the backstory of one of the most interesting characters in that film, it elevates (not bloats) the project with added weight and context.
West never appeared to fancy himself as a horror filmmaker who wanted to convey heavy themes nor invite political messaging into his movies. What makes Pearl a noteworthy point in his evolution is the fact that the film (co-written by West and Goth) recognizes an era where the entertainment industry publicly denounced sexual content yet insidiously set women up for it to be their living. Pearl is fascinated with classic dance numbers from Hollywood films, which featured scantily dressed women. She's tickled when the projectionist shows her the infamous stag film A Free Ride. In that moment, she learns of the underbelly that exists and still pursues her perceived meal ticket.
Goth once again does exceptional work. She makes Pearl a tragic yet sinister character, capable of earning your pity and contempt within the same sequence. Pearl's closest friend is her cousin Mitzy (Emma Jenkins-Purro), a blonde lollipop who is conventionally beautiful, wealthy, and well-spoken — everything she isn't. No less, Mitzy is all Pearl has until she has nothing in pursuit of her star-crossed dream.
I had high expectations for Pearl ever since that surprising teaser trailer came on the theater screen following the end credits of X. Maybe my expectations were unfairly high. Pearl's burden is its slowburn pacing. Not so much the glacial pace at which the story moves, but the way the structure leads to heavy telegraphing. For us seasoned fans of the genre, it's very easy to tell where scenes are going because they spend an upwards of five, even ten, minutes all-but-outlining the direction. This does an extreme disservice to the suspense that should be baked into this premise in a similar way it was done to X. Everything goes so right for Pearl (the movie, to clarify) that it's unfortunate that one of the most integral elements goes left.
Nevertheless, let the X Cinematic Universe persist. I wouldn't mind a couple more of these movies.
NOTE: Pearl is now playing exclusively in theaters. As was the case with X, stay after the credits. Judging by the stylistic choices used in the latest teaser trailer for this universe, we're in for another treat next year.
Starring: Mia Goth, David Corenswet, Tandi Wright, Matthew Sunderland, Emma Jenkins-Purro, and Alistair Sewell. Directed by: Ti West.