Tár (2022) review
Dir. Todd Field

By: Steve Pulaski
Rating: ★★★½
Who doesn't love an epic character study of an unlikable intellectual? Well, a lot of people. Tár will be very polarizing for everyday audiences; a chore, even. Yet it's a treat for those of us who like our stories laced with unbridled obsession, intellectual musings, and razor-sharp insights into guarded worlds. Even when it gets lost in itself, another expertly crafted scene isn't far away.
The film is directed by Todd Field, his first in 16 years (he's only made three over the span of 21). He's not only been inactive but pretty much radio silent since his last feature, Little Children. He returns with a knockout punch of a movie in Tár, which begins with the closing credits (referred to as "Acknowledgements") flashing in reverse. Everyone, save for the cast, is recognized, and the curious open is germane to the story that follows. Field ostensibly wanted to acknowledge immediately the hundreds of talented people who brought this vision to life. Too often, those folks are unrecognized, or worse, thrown under the bus in favor of the one who receives top billing at the end of most movies: the director.
Or, in this case, a conductor, Lydia Tár, played with tenacity and conviction by Cate Blanchett. Following the opening Acknowledgements is an extended sequence of Lydia being interviewed at The New York Festival. It takes the interviewer about four minutes to list her resume, including being an "EGOT" (winner of an Emmy, Grammy, Oscar, and Tony) before the two dive into the machinations of what it takes to be a conductor — let alone perhaps the greatest living. Lydia's incredible talent for conducting defines her being. She's a manipulator, much like the leader of an orchestra. She demands total autonomy and authority when on the podium, everyone at the mercy of her precise gestures.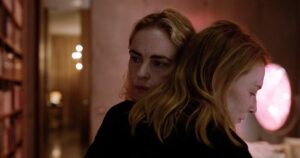 Lydia's work is her life and vice-versa. Her wife, Sharon (Nina Hoss), is a member of her philharmonic orchestra, and the two live with their young daughter. Even in her their steely Berlin flat, Lydia's stuff is segregated to one half of the space. Her assistant, Francesca (Noémie Merlant), is her closest friend, maybe her best because she does everything Lydia asks. Also in the fold is Eliot (Mark Strong), a fellow conductor who manages her fellowship program. We catch Lydia at the height of her career, but it doesn't take long to realize she's headed for a steep fall from grace.
Tár operates more like theater than a film, particularly in the first act. Field opts for a lot of long-takes — at the aforementioned festival, a ritzy dinner between Lydia and Eliot, etc. — that freeze us in the present. You'll likely know within the first 30 minutes if you're going to like this film, or even want to stick with it. Those who do will be rewarded, especially with a final 45-minutes that's far more cinematic; a climax where several swirling events form a tornado of chaos with Lydia caught in the middle. She keeps her composure, until at one point, she's unhinged, purposefully trancing around one of her apartments playing an accordion in mockery of a recent conversation.
Tár addresses "Cancel Culture," and lets the theme unfold in a circumventive manner. Early in the film, Lydia, teaching a class at Julliard, puts a young man on the spot when he says that he doesn't have much interest in Bach due to many misgivings in the legend's personal life. This prompts Lydia to put the spotlight on him, a person of color, wondering how he'd feel if people judged him not by his conducting abilities but by his very existence. Those who might think to cheer at that call-out might also be surprised by what comes around for our main character by the end.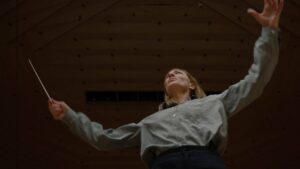 Field plays a dangerous game inviting such modernity into this epic yet contained character study. Beyond the Cancel Culture theme, there are multiple references to the pandemic and ensuing lockdowns, as well as social media conversations about race and gender. But where lesser filmmakers might strain to be hip and relevant, Field so deftly incorporates these ideas into a narrative predicated upon someone who has never been directly challenged by anyone in life. At that same festival where she's being hailed and interviewed, Lydia states that while she recognizes female conductors that paved the way, she doesn't really spend time thinking about the fact that white men still have the upper-hand in her profession. She herself has probably steamrolled a few of them in her ascension anyway.
Field wouldn't be who he is without making sure the production is just as accomplished as the storytelling. His camerawork is arresting in its deliberately careful movements that follow its characters (let's be real, Lydia) through this finely curated, porcelain world of music and art. Cinematographer Florian Hoffmeister favors the austere locations, capturing them with the coldness they so effortlessly exude. Nobody in this world seems the least bit happy, not even when they're eating at the finest restaurants. They expect such lavishness, and treat it with the blasé mindset they've come to adopt from being so casually enriched by it.
Hildur Guðnadóttir's score is immaculate. Tár is quietly talky, but the scenes that show Lydia conducting her orchestra explode with sound. It's no coincidence that while the conversations between characters frequently have a muted quality to them, the orchestration that occur are jarring for their sheer volume alone. Guðnadóttir hits all the right notes. I especially enjoyed the number that plays during the (actual) end credits. Just give her the Oscar now.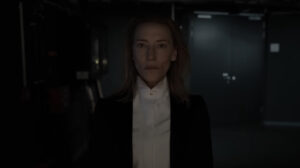 It's beyond difficult to say whether or not Cate Blanchett's performance as Lydia Tár is her best. She's an actress that's probably had four or five tour-de-force performances in her life. But I wouldn't argue with you if you said it was. Field has written such a complex and believably realized character that you'd be forgiven if you thought Tár was a real person. The film has a biopic quality due to its honest revelations and intimate focus on its titular character — and all the narcissism, vindictive, control freak qualities she possesses. As such, the film feels more revealing than most American biopics released in any given year.
At 158 minutes, Tár is in no rush. Field and Blanchett work as co-conductors in this oft-mesmerizing if sometimes impenetrable work, which all but demands a second viewing from those patient enough to let it breathe in the first place. I can't way to see it again. I might have more later. For now, I'll leave it to rest by saying it's one of the best movies of the year.
NOTE: Tár is now playing exclusively in theaters.
Starring: Cate Blanchett, Noémie Merlant, Nina Hoss, Mark Strong, Sophie Kauer, Julian Glover, Allan Corduner, Alec Baldwin, and Adam Gopnik. Directed by: Todd Field.