The Menu (2022) review
Dir. Mark Mylod

By: Steve Pulaski
Rating: ★★★½
A mouthwatering mix of macabre sensibilities and a deserved grilling of everyone who empowers the worst traits of an entitled industry, The Menu is a rousing thriller that caps off a banner year for the genre.
A black-as-night satire that has everything on its mind from (lam)basting more than the meal at hand — the chefs, critics, patrons, and foodies alike — The Menu revolves around twelve attendees who are invited to travel by boat to Hawthorne, an exclusive restaurant operated by a celebrity chef named Julian Slowik (Ralph Fiennes).
The island establishment is for the richest of the rich, quick to throw thousands of dollars at a place that offers morsels of food predicated on mouthfeel and umami moreso than actual flavor and familiarity. Slowik is as much of a legend as the dishes he and his crew of automaton chefs routinely fuss over. His obsessive attention to detail results in a "story" connecting all six courses. "Don't eat," he tells his guests before the meal begins. "Taste".
Time for the attendee roll-call: Richard (Reed Birney) and Anne (Judith Light) are making their twelfth visit to Hawthorne; a trio of egocentric Silicon Valley types (Arturo Casto, Rob Yang, and Mar St. Cyr) sit down begging to be wined and dined beyond their wildest imaginations; a highly respect food critic named Lillian (Janet McTeer) is joined by her long-suffering editor, Ted (Paul Edelstein); a washed up actor (John Leguizamo) and his equally tortured assistant (Aimee Carrero) discuss a contentious parting of ways over their meal; Slowik's mother (Rebecca Koon) guzzles wine in a corner too. Then we have Tyler (Nicholas Hoult), a foodie with the entitlement levels of a trust fund baby, accompanied by Margot (Anya Taylor-Joy), his date who doesn't understand the appeal of the whole operation.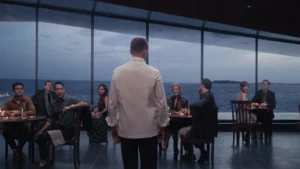 It doesn't take a trained eye to notice that Margot is the odd woman out in this gathering of elites. Her presence unnerves Chef Slowik, who wasn't aware of her arrival (Tyler switched dates at the last minute). She's easy for us viewers to latch onto given the fact that she's the least contemptible soul amongst a swath of unlikable cads and crabs. None of whom seem to be the least bit grateful for the experience at hand. You can bet that Slowik notices it all, and puts each of them on the spot as he serves up one minimalistic and downright unenjoyable course after another.
As engaging as the narrative is, it's mostly made successful thanks to the performances. Ralph Fiennes is caustically brutal as a chef disillusioned by his increasingly blasé and ungrateful clientele. Anya Taylor-Joy is a worthy protagonist; a conduit into a world most of us cannot begin to fathom. How could we? Most of us are happy with a hot plate of biscuits and gravy, complemented by bottomless coffee and a waitress who calls us "hon."
Destined to be unrecognized but absolutely worthy of praise is Hong Chau (Downsizing), who makes every moment count. Chau plays Elsa, the restaurant's maître d'. She spends much of the movie tending to the guests and keeping Stowik's rules in place. Chau's best moment comes when she's forced to deal with the trio of millennial tech bros who balk at one of the prepared dishes. Her passive aggressive rapport has all the slithery delight you want when witnessing someone whose uppance has come.
Despite a crowded ensemble, writers Seth Reiss and Will Tracy make sure almost everyone in attendance is afforded adequate characterization — not merely at the hands of Fiennes' Slowik, but by during their own allotted screentime. Upon some reflection, everyone — save for maybe Carrero's assistant archetype — leaves something of an impression. You can't help but cackle at Hoult's Tyler, who eagerly awaits and devours everything Slowik serves, so focused on each course that he can't bother to bat an eye when the horror of the situation begins to unfold.
You probably can't relate to anyone in The Menu. Nor would you want to. Seeing them suffer at the hands of a chef pushed past the point of no return makes for delightful entertainment during a time when you should be counting your blessings, expressing gratitude for what you have in life.
NOTE: The Menu is now playing exclusively in theaters.
Starring: Ralph Fiennes, Anya Taylor-Joy, Nicholas Hoult, Hong Chau, Reed Birney, Judith Light, Janet McTeer, Paul Edelstein, John Leguizamo, Aimee Carrero, Arturo Castro, Rob Yang, Mar St. Cyr, and Rebecca Koon. Directed by: Mark Mylod.