Strange World (2022) review
Dir. Don Hall

By: Steve Pulaski
Rating: ★★
Strange World recalls an era in the late 90s/early 2000s where Disney took risks in its animation and narrative approach. It led to such gems as Atlantis: The Lost Empire, The Iron Giant, Titan A.E., and Treasure Planet, distinctive works of creativity that stood apart from the studio's princess fare. Middling box office returns cut that period way too short, and on the surface, Don Hall's Strange World looks to recapture it. Only this time, the box office returns aren't the only thing that will be lacking for this one.
Strange World wears its influences on its sleeve. It's cut from the same cloth as those paperback pulp mags that transported us to unforeseen worlds with just a few fleeting pages. Early serials like Fantastic Voyage and Journey to the Center of the Earth are just some of the serials Hall (Big Hero 6), co-director/writer Qui Nyugen (Raya and the Last Dragon), and the animators use as the basis for the world of Avalonia.
Avalonia is a city at the center of vast mountain rages. The only two who dare excavate such impassable terrain are renowned explorers Jaeger Clade (voiced by Dennis Quaid) and his son Searcher (Jake Gyllenhaal). But it's on one fateful quest when Searcher discovers an electrical plant called Pando, which he believes could serve as Avalonia's long-term power source. Dad is disgusted by his son's passion for plants as opposed to the adventure at hand, causing a rift that leads the two to go their separate ways.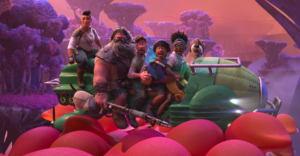 25 years later, Searcher is a successful Pando farmer, living with his pilot wife, Meridian (Gabrielle Union), and their teen son, Ethan (Jaboukie Young-White). But there's a problem: Pando is becoming unsustainable, and Avalonia could be rendered uninhabitable because of it. Searcher is pressured to join an expedition into the deep underworld of the Earth in order to find out what's killing Pando at such an alarming rate. Ethan rejects his father's warning and decides to come on the trip with him, where he befriends a multi-limbed gelatinous blue blob — yet another cute, cuddly, and merchandize-able Disney sidekick. Meanwhile, the trip predictably gives Searcher an opportunity to find and reconnect with his long-lost father. It's then we realize this is going to be another kids movie where Family™ is the overarching takeaway.
The entire experience of Strange World feels strangely automated; as if the movie is on a track, guiding its characters through a streamlined sequence of events. Nguyen's writing so frequently negates opportunities for them to interact with this bold new world. There's so little time to appreciate or absorb anything you're seeing because the pacing shuffles this band of misfits along as if they're late to the next plot-point.
Sure to be yet another needlessly controversial topic is Disney's inclusion of a same-sex relationship. Ethan is dating a fellow teen boy in the film, but it's the kind of flaccid representation that is just present enough to cause a stir and not meaningful enough to leave an impact. Ethan and his boyfriend are seen together in one brief sequence, and he's only passingly referred to in name once or twice thereafter. This sort of tokenism helps nothing. It offends the LGBTQ community with its shortchanged character development, and gives mouth-breathing homophobes something to bitch about.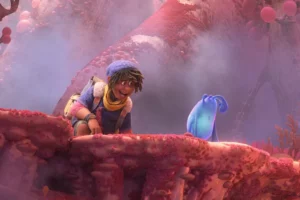 Strange World's humor mostly falls flat as well. Its quips seem to come at the worst possible times, such as when an earnest moment finds its way into the screenplay. Usually, it's Jaeger who spouts out some comedic zinger that stops the moment from feeling warm as it should. The humor and aforementioned pacing problems certainly do no favors to the film's other themes. Ideas of environmentalism and the perils of an idyllic utopia are lost in a jumbled screenplay.
It would appear Disney's contemporary renaissance of enjoyable, original films — Big Hero 6, Frozen, Wreck-It Ralph and its sequel, and Zootopia— has run out of gas as of late. The film promises a "Strange World" but gives us a bland and unsatisfying one instead.
NOTE: Strange World is now playing exclusively in theaters.
Voiced by: Jake Gyllenhaal, Dennis Quaid, Jaboukie Young-White, Gabrielle Union, and Lucy Liu. Directed by: Don Hall.