Menashe (2017) review
Dir. Joshua Z Weinstein

By: Steve Pulaski
Rating: ★★
I can still remember the summer of 2017. High on excitement after seeing both It Comes at Night and A Ghost Story within a couple of weeks, I saw a trailer for Joshua Z Weinstein's Menashe in theaters. I made a mental note to see it. That was the last I ever heard of it. It never came to any theaters near me, and I never heard anyone — even my friends who claim to be A24 zealots — mention it. Thankfully, my brain is an iron-cage when it comes to movies, so the title "Menashe" never left my mind. Finally, on a lonely, bitterly cold winter afternoon, I decided to watch it.
Perhaps there was a subconscious reason I didn't press "play" on Weinstein's film until today. Better fit for a 25-minute short film than a 78-minute feature, Menashe succeeds the same way a documentary would in dropping us into a community that seldom sees itself profiled on-screen. And then it fumbles on most of its other opportunities to resonate.
The community in focus is that of New York's Hasidic Jews. Weinstein — a documentary filmmaker, with this being his first scripted feature — drops us into all the customs and practices of the devout believers. Yet when it comes to offering up a story of greater human interest, well, that's where his documentary roots might've been better suited in giving us a film with a stronger takeaway.
The story centers on Menashe (Menashe Lustig), a newly widowed Jewish man desperately trying to regain custody of his plucky ten-year-old son, Rieven (Ruben Niborski). Rieven is living with his aunt and uncle Eizik (Yoel Weisshaus) following a ruling by the local Rabbi (Meyer Schwartz). In order to gain full custody of Rieven, Menashe is told he must remarry and provide a proper home for his boy. Menashe works for a local fish market, and badly, I'll add. He's always in a haste, he can't be trusted with a simple order, and after his first unhappy marriage, he's extremely resistant to the idea of going through that whole charade again.
Menashe is also a bit of a schlimazel himself. His brother, Eizik, is far more successful than he could hope to be. Eizik harbors serious doubts that Menashe can pull off the memorial service for his late wife without something going wrong. He'd much rather have it be at his more equipped and spacious apartment, but the Torah states that the service must be held in the home of the deceased. Menashe accepts the challenge, as if he doesn't already have enough on his plate.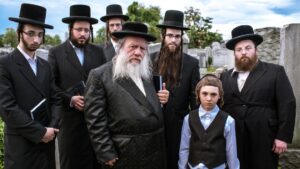 I think the first problem with Menashe is its inability to make its titular character anything more than a putz. Menashe isn't a terrible person by any means, but his apathy began to irk me early. His relationship with Rieven struck me as the strangest focal point of the film. It's clear Menashe is determined to get his son back, but for what? The two don't have much of a bond with one another, much less a pronounced affection. There are more scenes of Menashe getting frustrated at the boy than there are of them sharing anything resembling an intimate moment together. It appears that his only motivation for bringing his boy home is out of obligation to his faith and to smite his brother. If that's the case, the screenplay would've been better off making that point clear.
One gem of a moment comes when a defeated Menashe spends an evening slugging malt liquor with his two Hispanic coworkers. They offer him obvious life advice, but what's necessary for the poor bloke is the playful camaraderie, something he doesn't experience much. As someone who has enjoyed many an evening slugging beers with coworkers past and present — especially coworkers of different creeds — that is, dear reader, the ultimate form of male-bonding and therapy.
Weinstein's documentary background shows in the way his camera likes to linger on his characters. This allows us some observational opportunities inside the practices of Hasidic Jews, even if it often doesn't amount to much in the realm of ironing out a rough narrative. The frequently ugly, dimly lit visuals lack personality, much less warmth. The anti-climatic resolve doesn't satisfy even if our time investment is less than 90 minutes. Once more, Menashe feels like a short film that was stretched into a feature. Why it didn't even register on the radar of even the most ardent A24 loyalists is hardly a surprise.
NOTE: As of this writing, Menashe is now streaming on Showtime, and on Hulu and Paramount+ with a Showtime subscription added to your plan.
Starring: Menashe Lustig, Ruben Niborski, Yoel Weisshaus, Meyer Schwartz, and Hershy Fishman. Directed by: Joshua Z Weinstein.