I Saw Mommy Kissing Santa Claus (2001) review
Dir. John Shepphird

By: Steve Pulaski
Rating: ★★★½
It was a frosty winter evening in Chicago. I was seven-years-old. Maybe eight, on break from school, spending a December Friday night in, upstairs watching TV by myself. I flicked through the channels until I came across channel 38 (PAX Network, now Ion Television). A movie called I Saw Mommy Kissing Santa Claus was on TV. This was how I discovered a litany of films I still hold dear to my heart to this very day. I had nothing better to do than watch it. I was captivated by a little blonde boy who looked like me, who came from a family similar to mine, and who completely misinterpreted something so innocent as the seeds of infidelity.
I Saw Mommy Kissing Santa Claus is almost impossible for me to review without wearing my metaphorical rose-colored glasses. As an adult with rent, health insurance, and a plethora of other responsibilities, I see why this humble TV movie from 2001 never became canonized during the holiday season, save for the occasional airing on ABC Family (now Freeform — time marches on). It doesn't stop me from watching it almost every single year. Just take a look at my years' worth of Letterboxd diary entries to prove it.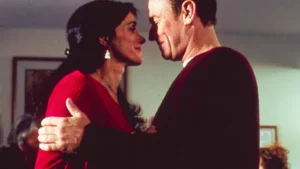 The film opens with the Carver family hosting Thanksgiving: mother Stephanie (Connie Sellecca in one of her final film roles before retirement) is making dinner, father David (Corbin Bernsen) is screaming at the football game on TV, and young Justin (Dylan and Cole Sprouse) is playing space commandos with his friend Bobby (Eric Jacobs) upstairs. But when dinnertime comes, Bobby's bickering parents (David Millbern and Shauna Thompson) make things uncomfortable by announcing they're getting a divorce — after "grace" is said, no less! This leaves everyone at the table feeling sorrowful, particularly Justin, who fears for his friend's feelings and is now hypersensitive of his own parents' dynamics.
Not long after, David and Stephanie get into an argument about money. Justin overhears it from his room, including when dad walks out to get some air. David reenters the house dressed as Santa a few minutes later, in effort to lift his stressed wife's spirits. When Santa David leans in for a kiss from his wife, Justin snaps a photo. It's not the fact that his mom might be cheating on his dad that has him stressed; it's that Santa is cheating on Mrs. Claus. After all, what else is a kid to worry about?
But Justin is concerned that his father might soon be out of the picture. After a talk with Bobby — who is already anticipating a good haul of presents in lieu of his parents' impending divorce — the two come up with an arrangement. While Bobby will tone down his rebellious antics in efforts to see if Santa can save his parents' marriage, the normally well-behaved Justin will turn into a downright devil child, with hopes Santa won't come to his house. And hopefully leave his mother and their family alone. Justin goes on a terror: he harasses a Salvation Army Santa, whose promotion as a mall Santa is later ruined by Justin, pulls the fire alarm at school, and rigs traps in his front-yard on Christmas Eve ala Kevin McCallister.
The whole thing is silly, but think about the fragile psyche of a child. At that age, if you're impressionable enough to believe with conviction that Santa Claus does exist, the logic of Justin and Bobby's plan is honestly a pretty intuitive one. John Shepphird's unassuming holiday slice of comfort food is aided by the fact that there's not a single unlikable character in the bunch. The Sprouse boys are cute as buttons (just a few years shy of stardom, with The Suite Life of Zack and Cody's debut); Bernsen and Sellecca play a believable, middle class couple; and supporting performers Tony Larimer (Justin's charming grandfather) and Sonny Carl Davis (the Santa who is victim to Justin's vengeful acts) liven up the screen with their personalities.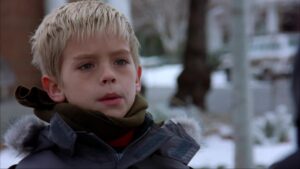 A childhood favorite sequence of mine is one that still holds up today. Grandpa takes Justin to the mall to visit Santa, along with Major Titanium (Craig Clyde), one of his TV heroes. When grandpa goes shopping, Justin calls out Santa for being "a dirty rat" on the mall PA system, throws a pie in his face, and then engages in an enormously entertaining chase throughout the whole mall. The spirit of a prepubescent boy is nigh, fully on display as Justin sends Santa and the security officers up the escalators and around support beams.
Making the film all that more engaging is its soundtrack of all things. I Saw Mommy Kissing Santa Claus doesn't opt for the usual Burl Ives and Brenda Lee ballads. When the internet wasn't nearly as populated with music sites, I remember frustratingly trying to find songs from the film on YouTube and the like. Never have I ever heard them on the radio.
It wasn't until recently did I finally put a name to the film's beautiful opening number: "Waiting Up for Santa" by Perry Novak. I contend that "Rock Santa Rock" is one of the best Christmas songs nobody's ever heard, and dammit if Billy Martin's "Jingle Bells" isn't a rollicking reimagining of one of the most overplayed numbers during the holiday season.
The boundless nostalgia and good tidings I have for I Saw Mommy Kissing Santa Claus probably cloud my judgement. No. They certainly do. I'm not one to argue with anyone who has helped make Shepphird's film a poorly reviewed work of yuletide fluff on various movie websites. I'll continue watching it every year. And I hope I gave you enough reason to give it a watch this season.
NOTE: As of this writing, I Saw Mommy Kissing Santa Claus is now streaming on Amazon Prime Video.
Starring: Dylan Sprouse, Cole Sprouse, Connie Sellecca, Corbin Bernsen, Eric Jacobs, Tony Larimer, Sonny Carl Davis, Joan Mullaney, Jeff Olson, and Craig Clyde. Directed by: John Shepphird.