The Banshees of Inisherin (2022) review
Dir. Martin McDonagh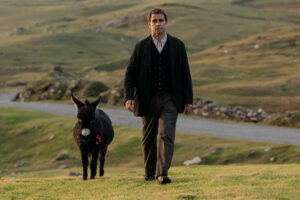 By: Steve Pulaski
Rating: ★★★
There are no banshees to be seen in The Banshees of Inisherin. Like many figures in Martin McDonagh's latest, the banshees serve as a metaphor. In Irish folklore, banshees forebode the death of a family member by letting out an ear-splitting cry late in the night. In the case of McDonagh's blackly funny tragicomedy, we spend nearly two hours examining the sudden death of a friendship.
The titular Inisherin is a tiny island on the west coast of Ireland, and the film takes place in 1923, at the end of the Irish Civil War. On any average day on this unassuming isle, Pádraic Súilleabháin (Collin Farrell), a lowly milk farmer, looks to do what he does every afternoon: meet up with his best friend Colm Doherty (Brendan Gleeson) for a pint at the local pub. Before he leaves his cottage, however, Pádraic's sister, Siobhán (Kerry Condon), extends a thought about Colm's feelings toward him that proves to be prophetic: "maybe he just don't like you no more."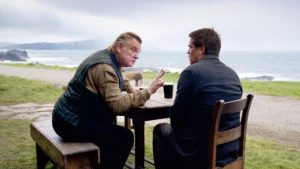 That would be correct. Colm gives Pádraic the cold shoulder upon entering the pub, and tells him that he wishes to end their friendship. Colm finds his drinking buddy too dull for him, and prefers to spend his remaining years doing things for which he'll be remembered, like playing the fiddle and composing music. Colm is deeply troubled, revealing his despair in church confessions and grappling with what the final, say, 12 years of his life will bring. Pádraic isn't merely stunned by this; he's determined to change his friend's mind.
It doesn't take an English professor to see that the two friends are metaphorical vessels for Ireland's Civil War. Things turn grisly when Colm tells Pádraic that if his former friend continues to talk to him despite his repeated insistence he no longer wants to be his friend, Colm will cut off one of his fingers. With Colm aspiring to be a renowned fiddle player so late in life, his threat definitely takes the idea of cutting off one's nose to spite his face quite literally. Let's just say, Colm isn't feckin' bluffing neither.
Also in the mix is Dominic (Barry Keoghan), who becomes Pádraic's new part-time sidekick in lieu of Colm's absence. Dominic is the troubled son of a local policeman. Dad abuses his son, but Dominic is somehow still chipper in his encounters with the lonely Pádraic. He's also unapologetically vulgar, with a brash sensibility that challenges Pádraic's comparative reticence. In a film underscored by two seasoned actors reteaming 14 years later (after McDonagh's acclaimed In Bruges) to do some of their finest acting yet, Keoghan weasels in to remind audiences that there might not be a better actor when it comes to playing disquieting, uncomfortable roles in already-offbeat films: see The Green Knight, The Killing of a Sacred Deer, and American Animals for further confirmation.
Following Seven Psychopaths and Three Billboards Outside Ebbing, Missouri, British-Irish playwright-turned-director Martin McDonagh revisits the setting of one of his earliest, unproduced plays. He uses Inisherin the way he uses so many of his notable movie settings: as an atmospheric backdrop that is equal parts beatific and isolating. Inisherin is a lonely place to be, rife with green fields, cold stone walls, and wandering cows; the only life it exudes is in the form of pubs with equally isolated individuals. Gently paced, with more than a few quiet interludes, The Banshees of Inisherin is in no rush to show you where this story leads.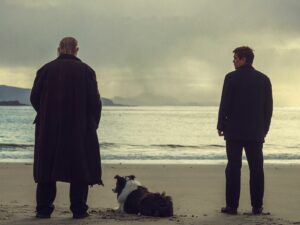 It's truly a sight to behold when a trifecta of talents converge and know each other's rhythms and intentions so dutifully. Farrell and Gleeson are so privy to McDonagh's conversational beats that the scenes of Pádraic and Colm are as delightful as any rising action could be. The subtle humor in their usually coarse discussions made me wish we could've at least been treated to a scene or two where Colm at least tolerated Pádraic enough to belly-up to the bar and get drunk with his lad. McDoangh's intentions go far beyond the usual pow-wow brought on by a gab and chatter: The Banshees of Inisherin slowly reveals itself to be an elegiac meditation, one specifically targeting male loneliness and the purpose of life largely being defined by friendship.
No better scene exemplifies such a thought than when Pádraic confronts Colm at the pub, accosting him of throwing away a "nice" existence for an ostensibly emptier one that suddenly means the world to him. Pádraic keeps using the phrase "nice" to define himself, his donkey (now his closest companion), his life with his sister, and his existence as a whole. Colm brushes off his former friend's diatribe, suggesting that niceness doesn't translate to a lasting legacy. Maybe he's right. But there's something to be said about people who actually knew you missing you when you die, sharing stories to the surviving at any given function.
I confess to having enjoyed the first half of McDonagh's film more than the second. The final hour takes an increasingly dark turn; not unwelcome, and certainly anything but barren from a metaphorical angle, but not nearly as enjoyable as the tragic comedy that preceded it. The Banshees of Inisherin is the kind of film I see resonating more the older one gets: one that could perhaps reveal more details about a person's self if viewed once every "x" number of years. Time will tell. Like Colm's, its lasting legacy is being written at the moment.
NOTE: The Banshees of Inisherin is now streaming on HBO Max.
Starring: Collin Farrell, Brendan Gleeson, Kerry Condon, and Barry Keoghan. Directed by: Martin McDonagh.