You People (2023) review
Dir. Kenya Barris

By: Steve Pulaski
Rating: ★★
In Kenya Barris' You People, Jonah Hill stars as Ezra Cohen, a 35-year-old Jewish broker and co-host of "The Mo & E-Z Show," alongside his best friend, Mo (Sam Jay). The subject of the podcast? Black culture, in which he plays the role of a token white boy who grew up on N.W.A. and speaks empathetically on black issues, while taking the jabs thrown by his partner. Meanwhile, Ezra's overbearing mother, Shelley (Julia Louis Dreyfus), just wants her son to find a doting wife and begin a life of domesticity.
Enter Amira (Lauren London), or… more accurately, enter Ezra in Amira's car, accidentally mistaking her for his Uber driver. The mistake turns into a meet-cute, a relationship, and then engagement, with the only thing standing in the way of their love is both of their insufferable families. Ezra is not who Amira's father Akbar (Eddie Murphy) envisioned her daughter marrying, and Shelley nor her husband Arnold (David Duchovny) can go two minutes without saying something offensive in front of Amira, a Black fashion designer, intentionally or not.
That is the essence of You People, a Netflix original comedy to its very core. What do I mean by that? This film has all the required ingredients: recognizable, consistently good-to-great actors doing material that is beneath them; a glossy, modern sheen; sitcom-level writing; and all the subtlety of a sledgehammer when racial politics come into the fold.
The film was co-written and directed by Kenya Barris, the creator of black-ish, the ABC sitcom that recently concludes its eight-season run. With that in mind, the sitcom nature of You People's setups and comedies isn't entirely surprising. But it's often far from effective. There's no better example than an early scene when Ezra brings Amira to his parents' affluent Brentwood home. "I love your hair. I love your fingernails," Louis-Dreyfus' Shelley says adoringly, with enough inflection that you'd be permitted to perceive it as snark. Later, she says, "I want to put this out to the group and see how it lands. I think the police are and always have been fucked up towards Black people. I, for one, hate it."
While Ezra escorts his mother out of the room to scold her for her uncalled-for discussion-point, Arnold tells Amira that her braids remind her of rapper Xzibit and references Pimp My Ride.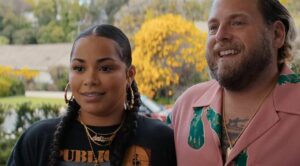 You can argue that people like Shelley and Arnold do indeed exist, and you'd be correct. Regardless, Barris and Jonah Hill's screenplay goes for the low-hanging jokes so frequently that it makes you yearn for the imperfect but still-miles better Guess Who, another film about an interracial couple's struggle to navigate their domineering parents. Of course, both that works are more comedic takes on Guess Who's Coming to Dinner, which worked well because both its performances and screenplay were tight, and wryly funny as opposed to broadly funny.
For one, both films at least had two leads with chemistry. Here, Hill and London are both serviceable on their own, but they don't adequately convey much affection for one another. They have a lot in common, but they don't exhibit that romantic chemistry you see in even middling rom-coms. Things got even stranger when co-star/comedian Andrew Schulz recently claimed that the pivotal "kiss" between Hill and London was the work of computer wizardry. No matter how much Ezra tries to love-up on Amira, he never seems as in-love with her as he does with his podcast. Hell, he shares more in common with Mo than Amira.
But whether or not you perceive Ezra and Amira to be the hallmark of supportive, faithful partners, the fact of the matter is the cast has to do a lot of heavy-lifting to make Barris and Hill's ham-fisted comedy/commentary palatable for two hours. Eddie Murphy is as stoic as we've ever seen. While that shows his range, it limits his dynamic comedy, which is at its best when he's kinetic and loose-lipped with his words. Mike Epps shows up as a late-in-the-game savior, playing Amira's undisciplined Uncle EJ (a role Murphy might've crushed). Nia Long isn't given a whole lot to do as Amira's mother, and Schulz — one of the funniest and most fearless young comedians today — suffers from the same problem, as he only allowed to give the film the kind of spunky comedy it's missing on a far-too-infrequent basis.
Louis-Dreyfus' "well-intentioned" missteps and blindness to Black culture should leave you cackling, but instead leaves you cringing. Duchovny tries to play it cool while being blatantly offensive, but like Murphy, he lacks energy whenever he becomes the focal point. It's almost as if Barris required every performer to be something they're not, or try something different with their brand when the material itself should've heeded that advice.
NOTE: You People is now streaming on Netflix.
Starring: Jonah Hill, Lauren London, Eddie Murphy, Julia Louis-Dreyfus, Nia Long, Sam Jay, Elliott Gould, Rhea Perlman, Mike Epps, Andrew Schulz, and Anthony Anderson. Directed by: Kenya Barris.