Cocaine Bear (2023) review
Dir. Elizabeth Banks

By: Steve Pulaski
Rating: ★★★
On September 11, 1985, a Kentucky-based drug smuggler named Andrew C. Thornton II dropped 40 containers of cocaine into the Blood Mountain region of Georgia's Chattahoochee National Forest. When it came time to evacuate, Thornton was killed when his parachute failed to open.
Months later, local investigators discovered a dead black bear that had ingested 75 pounds of blow ($2 million worth, at the time), although he was believed only to have absorbed merely a few grams before succumbing to his fate. What the bear did while high on someone else's supply is left to mystery. The taxidermized beast was nicknamed "Pablo Escobear," and is currently on display at the "Kentucky for Kentucky Fun Mall" in Lexington, Kentucky.
While the bear likely died shortly after ingesting such an unfathomable amount of coke, the mystery behind it fuels Elizabeth Banks' Cocaine Bear like a writer who just got a hold of some of the good stuff. It's fair to approach any movie that tells the whole story with its title with skepticism — see The Hurricane Heist, Sharknado, or The Incredibly Strange Creatures Who Stopped Living and Became Mixed-Up Zombies!!? for past examples that each proved disastrous.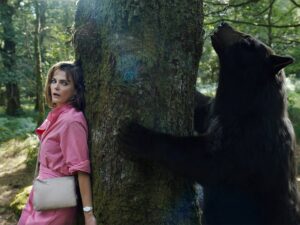 Blessed so, however, Banks, producers Phil Lord and Christopher Miller (21 Jump Street), and screenwriter Jimmy Warden fuel this mad-dash comedy-thriller with almost everything your heart desires and more.
The film begins with the aforementioned accident, which sets a local detective named Bob (Isiah Whitlock Jr.) and Syd (Ray Liotta in one of his final performances), a St. Louis drug mogul, into motion. Syd's got the Colombian cartel on his ass and dispatches Daveed (O'Shea Jackson Jr, Straight Outta Compton) to retrieve the cocaine from the wilderness. Daveed brings Syd's son Eddie (Alden Ehrenreich, Solo: A Star Wars Story) with him in hopes to get the poor bloke out of his grieving funk following the death of his wife.
But wait, there's more! Two young kids, Dee Dee (Brooklynn Prince, The Florida Project) and her friend Henry (Christian Convey, Playing with Fire), decide to cut school and go to the park, with Dee Dee's mom, Sari (Keri Russell), park ranger Liz (Margo Martindale), and putzy wildlife inspector Peter (Jesse Tyler Ferguson) eventually dispatching to track them down. All of these souls eventually end up lost in the woods, cornered by a gigantic black bear who has consumed several bricks of cocaine and is willing to kill to get his claws on more.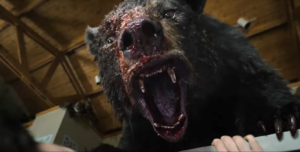 The bevy of talent in-front-of and behind the camera converges to get the most out of this material. Warden writes most of these individuals as functional dopes who, despite their sometimes-brazen incompetence, find ways to be funny more often than cloyingly stupid. Banks directs the hell out of this picture, keeping it kinetic and busy, yet simultaneously light on its feet. The first 30 minutes plays like a darkly comedic anthology, all while retaining suspense. We know the bear is coming. We know said bear is under the influence of a lot of cocaine. Yet, when he appears after an extended absence, we are giddy with excitement and primed for the ensuing lunacy.
Moreover, Mark Mothersbaugh has fun with a deliciously 80s score. Beyond that, the veteran composer has a knack for timing his synths to the events on-screen, also a credit to editor Joel Negron. John Guleserian's photography gifts the film the appearance of a wilderness-set family dramady (Camp Cucamonga, anyone?) infiltrated by a roaring monster. The production values all coalesce perfectly.
Movie-lovers will rejoice at seeing familiar yet all-too-infrequent faces like Ehrenreich, Jackson Jr, Prince, and the late, great Liotta exhaust themselves trying to outsmart the coke-addled bear. I was especially captivated by the chemistry between Prince's Dee Dee and Convery's Henry, two foul-mouthed youngsters who have a friendship built on one-upping one another, underscored by their mutual protectiveness. Prince disappears for a long-stretch of the film's midsection, maybe the only misstep with any of the characters.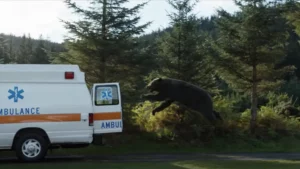 My favorite sequence in Cocaine Bear involves two paramedics and Liz, the park ranger. You saw it in the trailer, but you didn't see all of it. One of the medics is played by Scott Seiss, a TikTok celebrity known for his one-man videos that have him hurling sarcastic responses to your average, annoying retail customer. That extended bit encapsulates the best of this film: a decisive blend of comedy and tension inserted into dynamically funny setpieces that make you cackle and wince. If there's one real knock against the film, it's that it could've used more scenes that were firing on multiple cylinders, such as that one.
But when a movie about a cocaine-addicted bear is very good as opposed to great, I know damn well I should count my blessings and quit while I'm ahead.
NOTE: Cocaine Bear is now playing exclusively in theaters.
Starring: Keri Russell, O'Shea Jackson Jr, Alden Ehrenreich, Brooklynn Prince, Christian Convery, Isiah Whitlock Jr, Ray Liotta, Margo Martindale, Jesse Tyler Ferguson, Matthew Rhys, and Scott Seiss. Directed by: Elizabeth Banks.