Causeway (2022) review
Dir. Lila Neugebauer

By: Steve Pulaski
Rating: ★★★½
It's in Lila Neugebauer's Causeway that Jennifer Lawrence recalls the performance that made her a star. At 20-years-old, her breakout role as Ree Dolly in Winter's Bone earned her an Oscar nomination and catapulted her into movie-stardom. Lawrence would go on to headline the eminently popular Hunger Games movies, and sink her teeth into three roles in David O. Russell films where the opulent production values often encouraged her to be a louder, more boisterous presence. But even as she came-of-age in the limelight, Lawrence has always excelled at playing characters who are quiet and reticent; souls who are better at conveying emotions than they are talking about them.
In Causeway, Lawrence plays Lynsey, a young veteran of the Afghanistan War who returns home after an IED caused her to suffer a significant brain injury. The trio of writers — Ottessa Moshfegh, Luke Goebel, and Elizabeth Sanders — introduce us to Lynsey's obtuse new way of life through a sparse opening sequence, where Lynsey must relearn basic tasks like walking, brushing her teeth, and holding onto objects. She's aided by an in-home nurse played by Jayne Houdyshell, who, in merely a few scenes, establishes herself as a warm mother figure.
Lynsey's ultimate goal is to take enough of her "don't shoot yourself in the head" pills, as she calls them, and regain enough stability to redeploy. She begs her doctor (Stephen McKinley Henderson in one of the film's many strong supporting performances) to sign a waiver allowing her to go back to Afghanistan, but he won't be persuaded so easily. "Are you good to go back? Yes. Should you go back? Those are two entirely different questions," he tells her late in the film. It's not so much that Lynsey longs for the horrors of war, but she knows that returning to New Orleans is a dead-end destination — part of the reason she wanted to leave in the first place. Linda Emond is Lynsey's mom, and after initially meeting her, as she stumbles around her home wine-drunk, it doesn't take more than a moment to realize why Lynsey was hellbent to leave in the first place.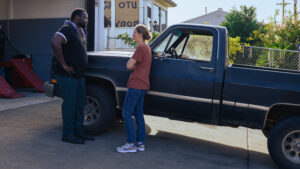 Lynsey takes a job cleaning pools in the meantime. When her truck breaks down, it leads her to a body-shop run by James (Brian Tyree Henry), a gentle giant who complements her quiet rhythms by being equally subdued. He can't be older than 30, but he has the look of a man who has experienced a lifetime of events and emotions. He's nursing his own injury, along with personal demons. The two spend a few nights swigging beers and enjoying the company of one another. As we know, misery revels in that.
Neugebauer's film is keen to move at the pace of Lynsey, unhurried and languid. During its long stretches of silence, Diego García's cinematography and Alex Somers' score give life to NOLA through shots that illustrate the stickiness of the summer humidity and the lush strings of some of the city's musical gems, respectively. Together, Lynsey and James' conversations are realistically paced. They're underscored by the kind of humanistic dialog that only has characters saying a sentence or two at a time. Too often do writers forget that people — especially broken, pained individuals such as these — do not speak with the eloquence of a written monologue. Here, the writers are in-tuned with the mannerisms and current state of their two main characters.
Lawrence conveys coldness and moves robotically through life. Henry is warmer by comparison, but spend a few minutes with him, and you know he's concealing a soul-crushing amount of pain. His eyes coupled with his gazes are simply arresting. Thus is Causeway, an understated movie about emotional trauma and two characters trying to trudge through life as their feet get stuck. The film gets its name from Louisiana's famous Lake Pontchartrain Causeway, two parallel bridges that were once cited as the longest stretch over water in the world at just under 24 miles.
Like Lynsey, Causeway occasionally keeps deep revelations and emotions too close to the vest, which might cost it the complete attention of some viewers. But the intimacy it achieves by focusing on two characters navigating trauma and loss, in one way or another, is the kind of integral element that will make it cathartic for just as many people.
NOTE: Causeway is now streaming on Apple TV+.
Starring: Jennifer Lawrence, Brian Tyree Henry, Linda Emond, Stephen McKinley Henderson, Jayne Houdyshell, and Russell Harvard. Directed by: Lila Neugebauer.