Ash and Bone (2022) review
Dir. Harley Wallen

By: Steve Pulaski
Rating: ★½
Ash and Bone is a horror film lost in translation. It finds itself sidetracked by family melodrama so much so that it forgets to deliver on the promises of its chilling premise. Imagine if Wes Craven's classic The Hills Have Eyes spent less time on the sinister actions of the cannibals and more time developing the interpersonal problems within the Carter family.
After a frantic opening scene featuring a young woman running from something, with the opening credits punctuating the chase, the film introduces us to a self-destructive young teenager named Cassie (Angelina Danielle Cama), whose family, comprised of her father (director Harley Wallen) and step-mother (Kaiti Wallen), ditches the big city in favor of rural Michigan. One too many missteps by Cassie has forced the move, but she remains a surly malcontent towards her parents.
The countryside should offer the nuclear family a scenic break, but an early blowup leads to Cassie leaving home, wandering into a bar, and meeting a young couple, Tucker (Mason Heidger) and Anna (Jamie Bernadette). Cassie craves to go somewhere abandoned, maybe even haunted. The two know a place but are extremely hesitant to venture out, especially so late at night. Cassie insists, and the three wander through an old, creaky home to find videotapes of local missing women beaten and tortured by a couple of goons, Clete (Jimmy Doom) and May (Erika Hoveland). They escape the home before the two catch them, but this rural enclave is so small that no one can hide for long.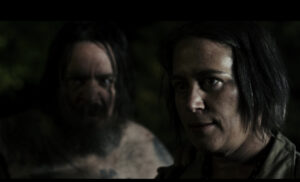 There's an honest attempt by cinematographer and editor Alex Gasparetto to gift Ash and Bone an appearance beyond its budgetary constraints. The presentation is sound; the visuals are clear and the lighting is optimal. Harley Wallen's film has a clean look to it, but also possesses that hollowness that occasionally plagues low-budget horror. There's not much involvement with the rural setting, and certain scenes practically beg for at least the faintest presence of music.
But plaguing Ash and Bone even more is its lack of chills. The film commits the cardinal sin of having most of its kills take place off-screen, as Wallen cuts from the bloodshed almost exclusively, as if he's trying to secure a PG-13 rating. The abundance of melodrama between Cassie and her parents usurps the suspense at several points, but there isn't enough humanization to make her plight feel anything but empty. Clete and May are cookie-cutter killers too. They're all grunts, groans, and backwoods dialog. They're the Devil's Rejects in search of a personality.
Ash and Bone admirably tries to make us care about the characters at hand, but fails to deliver the delightful promises of its paratext. Its meandering narrative and pedestrian presentation, along with its propensity to fade to black as the getting gets good, stop it from leaving an impact almost on sight.
NOTE: As of this writing, Ash and Bone is available on a number of streaming services, including Amazon Freevee, Tubi, and Vudu, free of charge.
Starring: Angelina Danielle Cama, Harley Wallen, Kaiti Wallen, Jimmy Doom, Erika Hoveland, Mason Heidger, Jamie Bernadette, and Calhoun Koenig. Directed by: Harley Wallen.