The Super Mario Bros. Movie (2023) review
Dir. Aaron Horvath and Michael Jelenic

By: Steve Pulaski
Rating: ★★★
The ignominious Super Mario Bros. movie from 1993 was such a critical and financial disaster that it resulted in Nintendo refusing to license its characters for film adaptations for 26 years. When the company finally let up and loaned Warner Bros. the rights that led to Pokémon Detective Pikachu and saw it generate over $400 million globally, they must've realized the quality standard had been raised to a level sufficient enough for them to trust Mario and Luigi in the hands of Illumination and Universal.
Their trust was warranted, as The Super Mario Bros. Movie is a mostly winning convergence of familiar faces, colorful backdrops, and kinetic energy that doesn't overstay its welcome at roughly 82 minutes sans credits. It's further buoyed by playing things safe in some regard, at least to the point where one hopes the inevitable sequel will take more narrative chances and ingratiate us into this labyrinth world at some point in the not-too-distant future.
Directed by Teen Titans Go! creators Aaron Horvath and Michael Jelenic, the film opens in Brooklyn with brothers Mario (voiced by Chris Pratt) and Luigi (Charlie Day) struggling to get their plumbing service off the ground (eerily similar to the opening of the 1993 film, but that's where the similarities stop, thankfully). Side-scrolling pans of Mario and Luigi interacting with this vibrant, Easter egg-laden city will inspire warm fuzzies inside the hearts of the same folks who stayed up way past their bedtime logging hours and finding fun glitches in the original Nintendo Entertainment System trilogy.
At one point, Mario even plays some NES himself, and his room has an Odyssey game console in the background. You could probably spot a little something in nearly every scene if you ignored what was happening in the foreground.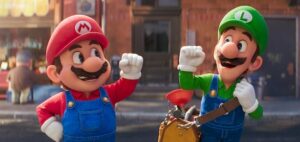 Back to the story: Mario and Luigi get sucked into one of Brooklyn's underground pipes and wind up in the Mushroom Kingdom, which is ruled by the iron fist of Bowser (Jack Black). He's gotten his mitts on the Super Star he needs in order to wed Princess Peach (Anya Taylor-Joy) and club the cute and cuddly residents of the Kingdom into submission. Soon after the Mario brothers fall into this wild and wacky world, Luigi is taken prisoner by Bowser, leading Mario to assume rescuing duties. Princess Peach takes a liking to the Italian-American plumber, and teaches him a thing or two about power-ups: some make him grow taller, some make him shrink, and others turn him into a cat or a raccoon.
Along the way, Toad (Keegan-Michael Key) and Donkey Kong (Seth Rogen) join their team in hopes they can dethrone Bowser before he destroys them. Also imprisoned alongside Luigi is Lumalee (Juliet Jelenic), a shiny blue star who waxes nihilistic and existential in a way that is so modernly cynical you cannot help but chuckle.
Punctuating The Super Mario Bros. Movie are two rip-roarin' sequences showing the power of animation and nostalgia all wrapped into equally electrifying bursts of energy. One of which involves Donkey Kong and Mario dueling in front of a packed coliseum, arcade-style. The tie-clad monkey hurls barrels at our favorite plumber as he strains to get power-ups that will be necessary in defeating his nemesis. Fear not, they do become fast-friends after a victor is declared, and we're treated to some seriously fun, even vertigo-inducing moments thanks to the fight being conducted on airborne rails. It's a thrill on the big-screen.
The other sequence is Rainbow Road, a course that used to piss me and my mother off every time we'd go head-to-head or form a duo on Mario Kart: Double Dash!!. As any Mario fan knows, Rainbow Road exists high in the sky, with no guard rails; just neon-colored hues blending together on a windy road where one false move will send you flying into the ether. Mario, Princess Peach, and Donkey Kong are cruising along when Bowser sends an army of Koopas after them, knocking them every which way and sending our heroes on a goose chase in the cosmos. This is a film that does so much with choreography, and gives you the immersive atmosphere of being high above the ground, with no real safety net other than your own wit. It slyly mimics a video game, and it's done well enough that you're content with the fact that you're not the one playing.
That being said, The Super Mario Bros. Movie is fairly inconsequential. The plot is threadbare, and at times, it seems as if the entire project is more of an excuse to hatch a plethora of Easter eggs. It's also a slight disappointment to note that the voice-acting is all over the place. Chris Pratt doesn't gift us a cartoonishly grating Mario voice, blessed so, but he also doesn't make much of an effort to distinguish himself as anyone other than Chris Pratt. Seth Rogen makes Donkey Kong suffer more-or-less the same fate. Both men just don't have a lot of vocal range. Charlie Day is a fine Luigi; Anya Taylor-Joy sinks into Princess Peach with a sensitive charm; and Keegan-Michael Key is a decent Toad.
In a class of his own is Jack Black, who finally gives us a Bowser worth showcasing on a theater screen. He's a conniving, vicious creature, and Black is up to the task of skewing his vocal personality darker in order to give King Koopa the menacing snarl that makes him such an iconic villain. It all leads to a showdown on a Brooklyn block that hasn't seen so much activity since perhaps that one miserably hot summer day in Bed-Stuy where all hell broke loose and lives were changed.
The Super Mario Bros. Movie should play to the children very effectively as well as nostalgic adults in search of not merely a dose of retro fun, but finally an adaptation of the iconic Nintendo franchise that has a clear vision for what it wants to be. The LEGO Movie this is not. A misguided trainwreck it isn't either, or else local funeral homes would be booked for memorials for many childhoods.
NOTE: The Super Mario Bros. Movie is now playing exclusively in theaters.
My review of Super Mario Bros. (1993)
Voiced by: Chris Pratt, Charlie Day, Jack Black, Anya Taylor-Joy, Keegan Michael-Key, Seth Rogen, Fred Armisen, and Juliet Jelenic. Directed by: Aaron Horvath and Michael Jelenic.