Air (2023) review
Dir. Ben Affleck

By: Steve Pulaski
Rating: ★★★
Here's your starting five: Matt Damon, Ben Affleck, Jason Bateman, Chris Messina, and Chris Tucker. A full court press of talent, all exhibiting their finest attributes in a strong rotation. Viola Davis comes off the bench to show that she deserves each valuable minute as Deloris Jordan, Michael's strong-willed and straight-laced mother. Marlon Wayans for Comeback Player of the Year? He handles his cameo with swagger and oozes personality.
All forces join to make Air rousing and smart entertainment in ways similar to how Moneyball made baseball analytics compelling drama. Like a championship-caliber basketball roster, the established ensemble functions both as a team and as individuals. They make the most out of a tight script by Alex Convery, who takes a story we all know and makes it the basis of a drama worth rooting for.
That story is how Michael Jordan, as a newly drafted player, prior to taking one step on an NBA court, was courted by the then-flailing Oregon-based athleticwear company Nike. In the present day, the Air Jordan brand has never been stronger nor more lucrative, so much so that the idea that Nike was the desperate one in the equation is a footnote somewhat lost to history. In reality, the company's basketball division was getting mollywhopped by the likes of Adidas and Converse, who also wanted Jordan wearing their sneakers.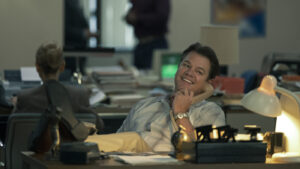 Set in 1984 — and looking every bit of it too — Air revolves around Sonny Vaccaro (Matt Damon), a straight-shooter with a plethora of out-of-the-box ideas that have mostly come up short in the eyes of his boss, Nike CEO Phil Knight (Ben Affleck). With a $250,000 budget to sign three, maybe four, players taken in the 1984 NBA Draft to a shoe deal, Nike Chairman Rob Strasser (Jason Bateman) leans on Sonny for his expertise. Sonny knows the expensive diamond in the rough is Michael Jordan, selected #3 overall by the Chicago Bulls, but everyone tells him the same thing: he's bound to sign with Adidas, the company with which he became affiliated during his time at North Carolina.
Not even Jordan's ruthlessly vulgar agent David Falk (a superb Chris Messina) stops Sonny from pushing forward with the idea. When he's met with scoffs from Knight, Strasser, and Howard White (Chris Tucker), another higher-up at Nike, he hits the road for Wilmington, North Carolina to meet with Michael's parents, Deloris (Viola Davis) and James (Julius Tennon), himself. His idealism impresses Deloris enough to the point that Knight gives Sonny the go-ahead to put together a blockbuster offer for Jordan and permission to be the primary voice in the room when Michael and his parents come by for their big meeting.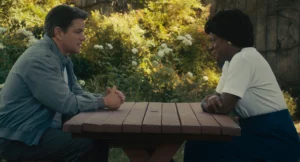 All together, the cast is outstanding. Most of the individuals portrayed are still alive, and many loaned their inside knowledge and expertise to director Affleck and writer Convery during production. In a crowded landscape of films claiming to be based, inspired, or related to true events, Air has the rare authenticity stamp that gives the story credence. Jordan and Affleck met several times as the film was coming together. One of Jordan's demands? Viola Davis play his mother.
By my estimation, Davis enters the film a little past the hour-mark. It's then where Air opens up both in its setting and humanistic wisdom. Prior to Sonny venturing all the way from Beaverton to Wilmington, we've mostly been in offices, conference rooms, and other corporate settings. When Davis shows up as Deloris Jordan, she's a stalwart reminder of the human capital Nike is pursuing. She and her family also have a demand for the potential Air Jordan brand: Michael gets a revenue percentage of each shoe sold, an unheard of idea.
Any filmmaker working to make a movie about a well-known story should consult with Affleck early in the process. He's done it many times now, with Argo being the most famous and acclaimed example. Affleck can muster up calculated tension from the bare-minimum, and he can juggle intersecting characters and storylines with ease — all while we know what is going to happen, yet can't help but be captivated. He also sees the value of grown-up dramas, something that can't be overstated.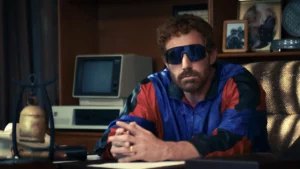 Air's steadfast commitment to its period might be its only fault. The score is stuffed with early-80s jams, to the point that the presence of Dire Straits, Cyndi Lauper, Bruce Springsteen, Dazz Band, and Chaka Khan, all in one movie, feels more like a game to include as many songs from the era as possible. At times, they fit, and at others, they risk distracting from the events on-screen. Convery's script makes few missteps too, but one of them is being too cleverly knowing at times (see executives questioning where Gonzaga is, or resisting a wink when they express some kneejerk opinion of the moment that is so obviously false in the present, even the ignorant are aware of it).
Thankfully, Affleck's film is so sure-handed, it bypasses whatever pitfalls the aesthetics and the occasionally cute screenwriting risk stumbling into. Air crackles with stakes, business economics, and personality, all things too often manufactured in modern cinema.
NOTE: Air is now playing exclusively in theaters.
Starring: Matt Damon, Ben Affleck, Jason Bateman, Chris Messina, Chris Tucker, Viola Davis, Marlon Wayans, and Julius Tennon. Directed by: Ben Affleck.