Mafia Mamma (2023) review
Dir. Catherine Hardwicke

By: Steve Pulaski
Rating: ★
Remember when Adam Sandler said the quiet part aloud regarding that many of his movies are just opportunities to vacation in lavish locales with his friends? It feels like Toni Collette, Monica Bellucci, and Catherine Hardwicke are all on a sabbatical with Mafia Mamma, a dour excuse for a comedy.
What has the potential to be a commentary on middle-aged women searching for a change of scenery is instead a witless trudge through sitcom clichés and poorly written dialog. The marriage of broad humor and gritty violence is uneven, and the editing suggests it was lobotomized in post — assuming it had a brain in its head to begin with.
The film's opening scene does its part to get your attention, as if teasing another, better movie. Gunshots ring out and the camera pans over several lifeless bodies lying on cobblestone ground with squashed tomatoes surrounding the corpses. A woman (Monica Bellucci) in stilettos appears, takes note of a man with a gun leaving the scene, and proclaims "this means war." The title-card appears and it's in the font of The Godfather.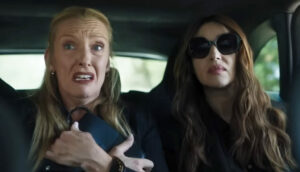 Cut to a meek and unremarkable American woman named Kristin (Toni Collette), who is struggling with being an empty nester with the departure of her son, Domenick (Tommy Rodger), for college and her unfaithful man-child of a husband (Tim Daish). Her job pitching eyelash extensions for female cancer patients is as depressingly unsatisfying as it sounds too. On a random afternoon, Bellucci's Bianca phones Kristin to inform her that her estranged grandfather, Don Guiseppe Balbano (Alessandro Bressanello), was assassinated, and that she is the heir to the family "business" (a vineyard, which serves as a front for mob activities). It take some convincing, but Kristin — who has always wanted to go to Italy — packs her bags and flies out to attend the funeral.
Shortly after nearly being gunned down at the service, Kristin's extended family informs her that she is the new Don and must oversee the Balbano crime family's operations. Her tenure starts amidst rising tensions with the rival Romano family. Meanwhile, her cousin, Fabrizio (Eduardo Scarpetta), is disgusted by the fact that this inexperienced American mom is taking over. All Kristin wants to do is make wine and see the sights of Italy, but instead she must try and massage the feud between the families and obtain some respect from her own inner-circle.
Of course, there's a half-assed love-story involving a suave-but-empty Italian caricature named Lorenzo (Giulio Corso), who literally sweeps Kristin off here feet mere minutes after she arrives in Italy. Seeing as her best friend (Sophia Nomvete) told her before she left that this trip should be her own "Eat, Pray, F**k" excursion, Lorenzo seems like the perfect beau for the job. However, she can't get a moment to herself to make the sparks fly and the magic happen.
That subplot is sort of germane to Mafia Mamma as a whole, as it's simultaneously so close yet so far from getting off the ground and out of its own way. The film tries to conjure up inspiration for middle-aged women insofar that they can still manage to carve out their own destiny even as society tries to kick them to the curb. But Michael J. Feldman and Debbie Jhoon's screenplay is short-sighted and underachieving in its aspirations, effectively rendering this film nothing more than the mafia with a girl boss aesthetic.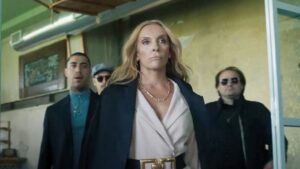 For a woman who has ostensibly longed for an Italian getaway for years — at one point remarking that she masturbates to Stanley Tucci's program Searching for Italy — there's a point in the film where a rival mobster has to explain to her what limoncello is. That's how much this film lacks in its details.
So much of the runtime is Kristin frantically reacting to violence, talking a-mile-a-minute, or stumble-bumming as she tries to pick up her new responsibilities. I don't need to tell you how great Toni Collette is as an actress, but I'm astonished to see the same woman who turned in such wildly successful performances in a range of films (Hereditary, Little Miss Sunshine) settle for a film so vapid. The same goes for Monica Bellucci, who disappears for most of the film's third act, as if she gave up on the project as it was still being filmed.
What a grave misfire this is for Catherine Hardwicke, whose career started with the audacious coming-of-age drama Thirteen and, more recently, showed another gear with the touching dramady Miss You Already (also starring Collette). Mafia Mamma doesn't even work as a competent travelogue, as very little of Italy is explored. Most of the film is confined to interior spaces. There's no humanization of the cuisine nor countryside. Here's hoping all involved got the vacay and the paycheck they were anticipating because the outcome for those of us who are less fortunate is as drab and dismal as any comedy sure to be released this calendar year.
NOTE: Mafia Mamma is now playing exclusively in theaters.
Starring: Toni Collette, Monica Bellucci, Tim Daish, Giulio Corso, Francesco Mastroianni, Alfonso Perugini, Giuseppe Zeno, Sophia Nomvete, and Alessandro Bressanello. Directed by: Catherine Hardwicke.