Are You There God? It's Me, Margaret. (2023) review
Dir. Kelly Fremon Craig

By: Steve Pulaski
Rating: ★★★½
Are You There God? It's Me, Margaret. covers a lot of ground in a briskly paced 100 minutes. It manages to tell the coming-of-age story of an 11-year-old girl, cycle through some defining moments of her adolescence, provide an in-depth look at her family and their dynamics, extend some scenes to her grandmother, and deal with the festering conflict of her religious identity — all while offering bright, whip-smart context on what it means to grow up as a young woman, regardless of your generation.
Where most films of this ilk struggle to do two of those things well, Kelly Fremon Craig's does so in such an effortless manner. However, there's a lot working to make this film a worthy adaptation.
After all, all those elements are integral to many Judy Blume novels. Writer/director Craig — the woman behind the similarly thoughtful film The Edge of Seventeen — deftly juggles a plethora of ideas, and remains true to its prepubescent subject. Published in 1970, Blume's novel was deemed controversial for its depiction of mensuration, as well as its depiction of a young woman wrestling with the concept of religion. Talk about missing the forest for the trees.
All of that doesn't matter. What matters is how the film's target audience — young women and older women who vividly know or remember being curious and confused young women themselves — will feel. And I think they're going to love everything about this one.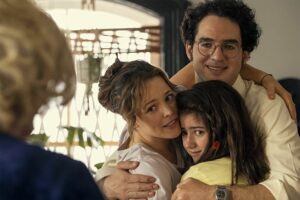 Early in the film, young Margaret Simon (Abby Ryder Fortson, Ant-Man and the Wasp) is blindsided by her parents, Barbara (Rachel McAdams) and Herb (Uncut Gems co-director Benny Safdie): they're moving from their New York City loft to the New Jersey suburbs. Left behind will be Margaret's adoring grandmother, Sylvia (Kathy Bates), whose hatred for cars, buses, and trains will not make her a candidate to visit any time soon.
When the Simons move to New Jersey, Margaret immediately makes a friend in Nancy (Elle Graham), a blunt and domineering young woman whose breasts are sprouting. She's also the leader of a secret girls club with her fellow schoolmates (Katherine Mallen Kupferer, Amari Alexis Price). Margaret is initiated into the club, and learns all sorts of new things from Nancy: bras, "exercises" to make her bust bigger ("we must, we must, we must increase our bust!"), periods, and about the cute boy in their class, Philip Leroy (Zackary Brooks).
As much as Margaret wants to fit in, she feels like a perennial outsider. She has a fledgling crush on a quieter, more reserved boy named Moose (Aidan Wojtak-Hissong). She doesn't have a place to go on Sunday morning, for her father's Judaism and mother's Christianity have caused nothing but bitter conflict amongst her grandparents; she's never met her mom's parents. Are You There God? It's Me, Margaret. follows Margaret as she tries to navigate it all.
Abby Ryder Fortson is delightful as the titular protagonist, executing the role with commendable emotional range while infusing personality into every scene, major or minor. Rachel McAdams is the heart and soul of the film. She plays a doting mother who tries her best, and is victim to her own domineering "friend" in Nancy's mom (Kate MacCluggage). McAdams' Barbara tries to adjust to her new life as a stay-at-home mom by taking on a slew of responsibilities with the PTA. A quietly sad scene comes when she finishes making several paper stars for a party, and stops dead-in-her-tracks to paint a bird she sees on the windowsill. She gets so close to finishing the painting, but the bird flies away when the doorbell rings. The pained look on McAdams' face is liable to wreck you, and the scene insidiously captures the fleeting happiness to which Barbara has become accustomed.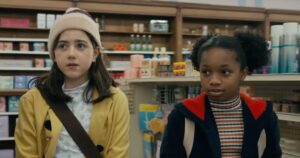 Meanwhile, the time spent between Margaret and her grandmother is as warm as a bowl of chicken noodle soup. One in particular — where the two ladies are getting ready for bed and Margaret mentions she wants to go to Temple — is moving for the unapologetic giddiness that ensues. Grandma is thrilled at Margaret's sudden interest in attending Temple, even if it is only out of pure curiosity. It also captures that often precarious situation many of us feel at a young age, where we work so hard to please our elders before we've even come to learn the ways in which we can please ourselves.
Kelly Fremon Craig has this beautiful ability of capturing the tribulations and awkwardness of a complicated age with human sensibilities. Are You There God? It's Me, Margaret. reminded me of The Diary of a Teenage Girl, another low-key coming-of-age charmer that offered a similarly old-fashioned look at growing up that transcended time and place by being universally understanding of young girlhood. It took more than 50 years for one of Blume's most cherished works to see the big screen, and according to the author herself, the end result is superior to the novel. I still need to read it, and will soon. No less, who am I to question the master of novelizing the real-life experiences of young people?
NOTE: Are You There God? It's Me, Margaret. will be released on April 28th, 2023, exclusively in theaters.
My review of The Edge of Seventeen
Starring: Abby Ryder Fortson, Rachel McAdams, Benny Safdie, Kathy Bates, Elle Graham, Aidan Wojtak-Hissong, Katherine Mallen Kupferer, Amari Alexis Price, Kate MacCluggage, Landon S. Baxter, Zackary Brooks, and Simms May. Directed by: Kelly Fremon Craig.