Midsommar (2019) review
Dir. Ari Aster

By: Steve Pulaski
Rating: ★★★½
After seeing Hereditary, and now Midsommar, what I admire about Ari Aster is not only his ambition, but his ability to take a slender story and layer it with complex emotions, decadence, and disturbing elements. He does all this while subverting more recent, commonplace cliches of the horror genre. What Midsommar amounts to is a ravishing, demented folktale about gaslighting and cleansing one's self of fear and mistreatment, woven together under the broader genre of cult-centered horror while positing itself as the ultimate post-breakup movie.
The eminently talented Florence Pugh — who made waves with her defiant performance in Lady MacBeth a few years ago — is Dani, a young woman in a clingy relationship with Christian (Jack Reynor), whose situation only worsens after a horrific family tragedy (which makes for a seriously despondent opening) leaves him as the closest person in her life. Christian had plans to break up with her, with his sentiments echoed by his group of graduate student friends (Will Poulter and William Jackson Harper), who are planning a trip to a remote community in rural Sweden for a secret festival known as "Midsommar." With their mutual friend Pelle (Vilhelm Blomgren) being from the area, he serves as the social lubricator for the group in the festivities. He's also the only one willing to take Dani by the hand and welcome her along on the trip, while the others, mainly Christian, are aloof in her presence.
Christian is still undecided on the topic for his thesis, but his pals want to use some of their findings at the Midsommar event for their papers on pagan rituals and cults, so they fly out to the commune, known as Hårga, hoping for some exclusive information. In many ways, they get it. They are greeted by a litany of individuals in gauzy white robes with floral crowns and strange customs that enchant Dani, who is pressured by the boys, namely Christian, into taking a shroom-concoction. What transpires is a hypnotic display of cultist rituals by the protective and rather domineering crowd of natives, who not only inform the students of their traditions, but force the five, including Pelle, into being a part of them as well.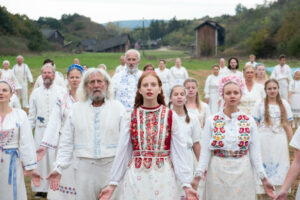 According to Aster, Midsommar was inspired by a real-life breakup, which is evident from the all-too-real discomfort the central relationship of Dani and Christian creates. Before we get into the more brazenly unsettling aspects of the film, it would be dishonest not to discuss how the frightening aspects of this film are multidimensional. At its core, you have Dani's lack of emotional support and you have Christian's rampant insensitivity, plus his caustic dismissal of Dani's limits and feelings. He talks negatively about her with his friends, pressures her to take hallucinogens, and in general, is a self-absorbed cad who fancies himself smarter than everyone else in the room. All that is enough for a nightmare, and I haven't even began to discuss the Swedish cult at the center of the picture.
The choreography of the rituals amongst the Hårga is quite frequently mesmerizing, partly due to the colors and eye-catching details. Aster, once again, taps the uber-talented and still largely unknown Pawel Pogorzelski for cinematography, who captures immaculately the clear blue skies, lush green forest, and colorful flowers of Hårga with impossible beauty. Aster and Pogorzelski collaborated and achieved a perpetually disquieting mood for Hereditary, and this time around, they find a contradictory balance of fear and release in this idyllic slice of seclusion. It's a balance that makes the gory bits of body horror and disfigurement that much more chilling.
Midsommar is operatic in the way it builds and keeps on building to a climactic finale. Its pacing is only offset by a third act that feels like its protagonist's macro-realization and newfound status is jarring and undeveloped, although the feeling of liberation is a release for the audience, as well. After 147 minutes, the crushing weight of absurdity and restlessness that suffocates us, and Dani, is thereby lifted and remains consistent with the rituals and customs we experience throughout the film.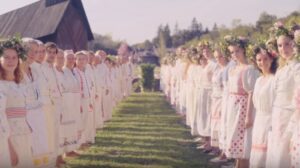 Finally, consider the ancestral commune of Hårga as a place where women hold more power than the men. The women appear to make the schedules, set the tone for the activities and dinners, and even coerce Dani, Christian, and their friends into being a central part in their routines. It's doubly dynamic in the way that you can consider how society disenfranchises women, which makes the concept of women prompting to create their own private space of law and order more practical. The insidious way Aster gets us to think about our (American) customs, such as treatment of the elderly and monogamy, is a testament to his giftedness as a writer. Although, I'll say, I would probably still take a nursing home over what the folks of Hårga do.
It's a bit cheap to compare Aster's sophomore effort with Jordan Peele's — this year's smash-hit Us — but there is a common ground. Both films have a plethora of ideas jammed into a concept perhaps a bit too large for one film to adequately handle, in addition to a handful of lofty themes that might not always get the depth of exploration they warrant. Nonetheless, Midsommar is quite unnerving and, frankly, bone-chilling because by the end it forces us to look inward and critique as opposed to look outward and judge.
NOTE: As of this writing, Midsommar is currently streaming on Showtime, and an available with a Showtime add-on through Hulu, Paramount+, and other streaming platforms.
My review of Hereditary (2018)
My review of Beau is Afraid
Starring: Florence Pugh, Jack Reynor, Vilhelm Blomgrem, Will Poulter, William Jackson Harper, and Liv Mjönes. Directed by: Ari Aster.