The Way (2023 re-release) review
Dir. Emilio Estevez

By: Steve Pulaski
Rating: ★★★½
NOTE: This is a review of The Way after attending the one-night only Fathom Event showing on May 16th, 2023. This is my original review of the film, published back in 2011. It also made my list of favorite films of 2011.
When I saw that Emilio Estevez's film The Way was going to be re-released in theaters via Fathom Events, I immediately bought a ticket. I couldn't imagine not being wowed all over again. Initially screened at Toronto in 2010, before seeing a limited release in just a few hundred theaters the following year, The Way deserved a chance to find a greater audience, or at least an opportunity for folks like myself to be reminded what an inspiring and low-key gem it is.
A passion project birthed from Emilio's son, Taylor — who drove the Camino de Santiago along with Sheen in the early aughts, which also led to Taylor meeting his wife — The Way opens by showing Dr. Tom Avery (Martin Sheen), a middle-aged ophthalmologist. His life is forever changed when he gets a phone-call from Spain alerting him that his estranged son, Daniel (Estevez), was killed during a storm while walking the Camino de Santiago, a nearly 500-mile network of pilgrims' ways that leads to the cathedral of Santiago de Compostela in northwestern Spain.
He flies to Spain to retrieve the body, but in recognizing the long, complicated road of grieving ahead, he decides to walk the very ancient spiritual trail to honor his late son's legacy and scatter his ashes.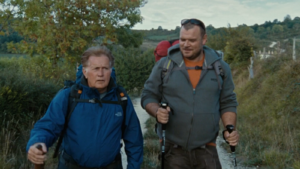 At first, Tom wants to walk the pilgrim trails at a brisk pace and be left alone with his thoughts. But this is an excursion best served by company, and whether or not he wants it, he finds it. His first walking companion is Joost (Yorick van Wageningen), an overweight man from Amsterdam who claims to be walking the trail in order to lose weight so his wife will again find him attractive. Joost's expedition is aided with a little chemical reinforcement. Tom declines his earnest invite to partake in a joint. Meanwhile, Sarah (Deborah Kara Unger) is initially prickly towards Tom, but soon offers breadcrumbs to him and his companion. She is walking to quit her addiction to cigarettes. If that justification seems too simple, it's because it absolutely is.
Later in their journey, they stumble upon a loquacious Irish writer named Jack (James Nesbitt), who hopes that his journey across the Camino rids him of ostensibly incurable writer's block. Together, they form this oddball quartet that butts heads, shares some fine moments of bonding, and indulges in some one-of-a-kind cultural experiences and cuisines. All in one great pilgrimage on foreign soil.
Some films encourage you to lean back, not in a passive sense, but in order to absorb the events unfolding and prompt a pleasantly glacial passage of time. At just a tick over two hours, Estevez's film slows down for more than a few separate beats, allowing you take in the scenery of the Camino. It takes most experienced hikers and backpackers roughly a month to complete, and attracts more than 200,000 "pilgrims" a year, most of whom set a-course on foot searching for something much larger than themselves.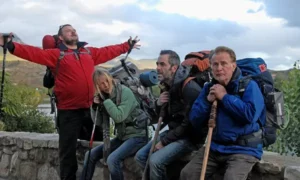 It's the perfect basis for a deeply sincere journey movie, and that's what Estevez serves up alongside his father, in what amounts to a touching father-and-son outing best seen on the big screen.
Estevez — who wrote, directed, financed, and marketed The Way — has always been an underrated actor and an even more under-discussed director. His work both in front of and behind the camera has an unmistakable earnestness that comes with both his appreciation for life and its small moments.
With The Way, some of its most captivating moments come when the conversation pauses, sometimes for several minutes, and long-shots soak in the scenery: they enjoy Spanish food, partake in delicious wine, visit towering cathedrals with centuries of history, and admire the natural beauty around them. As such, Estevez wants us to take in these moments as well. Juan Miguel Azpiroz's cinematography offers us explicit access to the Camino in a visual sense, and Tyler Bates' versatile arrangements allow you to get whisked away by the sights.
Although the film is conducted on a grand-scale, with several dozen on-location shots, Estevez knows when to hone in on the humanistic elements. The group's evolution is non-linear. Tom, Joost, Sarah, and Jack don't start off as curmudgeons only to become the best of friends. Like the stages of grief, it's no linear progression. Estevez structures this evolving companionship in a lifelike way that is underscored by long days of walking, calloused feet, varying conditions, and general frustration. There's an accidental altercation between Tom and Sarah at one point, and one-half of the film's climaxes involves a wine-drunk Tom lashing out at everyone for their foibles. It might all come together with the quartet sipping expensive, monk-made liquor in a posh hotel room, but one wonders if they'll even communicate beyond the Camino. Such is life.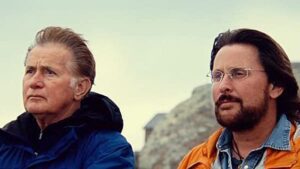 Faithful readers know I prioritize contemporary Christian cinema, and have more or less made it a focal point of my ever-expanding catalog of reviews. The Way is less a Christian film and more of a spiritual journey. An inferior, agenda-driven film would've underscored these elements instead of letting them linger for contemplation. An even more sinisterly minded flick would've followed-up Sarah confiding to Tom about her past-life decisions with some petty, tone-deaf moralizing. The Way has decisively larger things on its mind.
The few moments when Sheen's Tom imagines his son, Daniel, on the trail or in a room with him harbor a quiet powerfulness. Some filmmakers might've opted to have the two engage in some sort of conversation. Estevez doesn't have his characters even look at nor acknowledge one another. The scenes themselves prompted me to recall my original viewing of The Way in theaters, with my now deceased mother. She had no idea what I was dragging her to, but I remember her being moved by the picture, as was I. Just to clarify: the seat next to me in a theater is always reserved.
NOTE II: As of this writing, The Way is unable to stream, or even rent, on any platforms, most likely removed so as not to conflict with the film's theatrical re-release. Here's hoping it returns soon. For now, however, the DVD is the only option, as ludicrously expensive as it is. Here's also hoping for a home media re-release is in our future too.
Starring: Martin Sheen, Deborah Kara Unger, Yorick van Wageningen, James Nesbitt, and Emilio Estevez. Directed by: Emilio Estevez.