Inside (2023) review
Dir. Vasilis Katsoupis

By: Steve Pulaski
Rating: ★★½
Vasilis Katsoupis' Inside is a new personification of the age-old term "suffer for your art."
Bound to be a 105-minute endurance test for some, and a delicious feast of arresting agony for others, the Greek director's American film debut finds its place decisively down the middle. It captivated me at times and infuriated me at others. Far be it from me to be such an ingrate that I can't appreciate a movie in the ever-expanding genre that is "Willem Dafoe gone mad," but the best of Inside plays like an hour-long Twilight Zone episode. The worst of it suggests it's the product of a first draft in need of a revelation to reward its patient viewers.
Imagine, if you will, a man named Nemo (Dafoe), an art thief. The story begins with him getting dropped off at a New York penthouse by an unseen crew. Simultaneously obeying and relaying commands via a walkie talkie, Nemo disables the security alarm of one palatial loft and grabs three Egon Schiele works off the wall. Just as he's ready to leave, the advanced security system malfunctions and locks everything down. The voice on the walkie tells Nemo he's on his own; he might as well be in a multimillion dollar tomb. The windows are ostensibly plexiglass and the ornate door is airtight.
Despite the opulent décor and priceless works, it doesn't appear that anyone lives in this penthouse. The fridge is sparse — the freezer inexplicably plays "Macarena" whenever the door is ajar — and the plumbing and running water is off, with the only two water sources being a shallow pool and an automatic sprinkler system for an indoor garden. Not even the climate is optimal, as the broken system causes the temperature to vary from extreme heat (100°F) to extreme cold (40°F).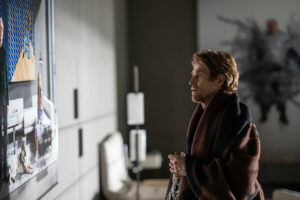 Nemo's fight instinct ignites to aid in his flight, but to little avail. He tries to escape by building a small tower out of the dwelling's furniture in an attempt to break the skylight. He soaks pasta in sprinkler water for 24 hours to make it somewhat edible. "Definitely al dente," he says to an audience of zero as he stages a fake cooking show in the kitchen. Thanks to distorted TV channels (like an antenna struggling with reception), his lone source of stimulation is watching a series of security cameras set up around the building. He becomes obsessed with a young female custodian, and makes up stories about other residents, none of whom are aware of his presence.
By this point, you should know if Inside is the movie for you. I relish films confined to a singular setting, and to Katsoupis' credit (he is doing double-duty here as writer and director), he effectively makes use of the penthouse as an entrapping location despite its spaciousness. Granted, he is working with a setting that goes beyond the realm of being considered claustrophobic, but there do exist scenes where Dafoe's Nemo discovers hidden rooms. When he starts experiencing hallucinations, Steve Annis' cinematography is natural in its segue from fittingly sterile to attractively weird.
By the hour-mark, however, Inside started to wear on me. Eventually, what I feared came to be true. When Katsoupis attempts to offer morsels of insight into the themes he's looking to convey, or the messages left, so to speak, by the unseen owner of this penthouse, the ambiguity is laid on thick and rendered opaque. There is something to be said about an art thief breaking into an interior setting to steal precious paintings, only to, like the works themselves, be trapped and unable to fulfill a purpose, that sparks contemplation, but it's a thread left hanging.
Inside is essentially a one-man show, and Dafoe is up to the challenge. With his angular facial structure, and subtly deteriorating body and mental state, there are few actors — Joaquin Phoenix, anyone? — that can devolve into insanity with such watchability. The cinephile in me was elated to see a close-up shot of Dafoe's face in a freezer as he licked the ice-covered walls while "Macarena" blared. Katsoupis' film is entertaining for those of us who love spending time testing our patience with the bare basics of plot progression. Yet, in the same way you shop for attractive yet marginally empty photos for your own abode, you tend to forget it's there after a long period of time.
NOTE: As of this writing, Inside is currently streaming on Peacock.
Starring: Willem Dafoe, Gene Bervoets, Eliza Stuyck. Voiced by: Andrew Blumenthal. Directed by: Vasilis Katsoupis.