Spider-Man: Into the Spider-Verse (2018) review
Dir. Bob Persichetti, Peter Ramsey, and Rodney Rothman

By: Steve Pulaski
Rating: ★★★
Producers Phil Lord and Christopher Miller (the same souls behind The LEGO Movie) stated they wanted viewers of Spider-Man: Into the Spider-Verse to feel like they were inside a comic book, immersed in the crispness of the action and the sharp contrasts of the respective world. On that basis alone, the latest Spider-Man film succeeds on a big level. With its dizzying, kaleidoscopic animation — some of the trippiest (for lack of a better term) I've seen in eons — and its immensely charismatic lead, this is a sensational picture. Although at times overwhelming both visually and with its story, this is can't-miss big-screen entertainment at its finest.
The film is based on the character Miles Morales, created by Brian Michael Bendis and Sara Pichelli under the Marvel umbrella. Morales' inception both continued the saga of Spider-Man post-Peter Parker and opened up and entire galaxy of possibilities with the idea of the "Spider-Verse." The latter is what happens when you put the concept of multiverses, quantum theory, and the existing Marvel Universe into a blender, as Into the Spider Verse follows shows several different Spider-Men (?) heroes existing at once.
But the main character at hand is still Miles Morales (voiced by Shameik Moore of Dope fame). He's a half-black, half-Latino teenager caught in the liminal position of making a choice to follow in the footsteps of his good-natured father Jefferson (Brian Tyree Henry) or his hip, free-wheeling uncle Aaron (Moonlight's Mahershala Ali). One night at Aaron's loft, Miles gets bit by a radioactive spider, and with that, I don't think I need to detail what happens next.
As Miles undergoes his transformation into the web-slinging hero, he makes the acquaintance of the "real" Spider-Man (Chris Pine). He sees him attempt to fight Kingpin (Liev Schreiber), a large crime-boss, but fails and succumbs to his injuries. Seeing Spider-Man die leaves Miles fearful of his own ability to handle the large responsibility bestowed upon him until he meets yet another Spider-Man by the name of Peter B. Parker (Jake Johnson). This Spider-Man is a rotund, heartbroken soul whose superpowers inadvertently destroyed his relationship. Miles thinks he has a new partner until he later meets Spider-Woman (Hailee Steinfeld), Spider-Noir (Nicolas Cage), Peter Porker/Spider-Ham (John Mulaney), the real-life "Spider-Pig," if you will, and Peni Parker (Kimiko Glenn) and SP//dr, a Japanese girl with an anime-like spider-machine. Rather than Miles taking on Kingpin alone, he has the help of these aforementioned "spider-people" as they attempt to combat his interdimensional machine that would render each of them without a respective universe.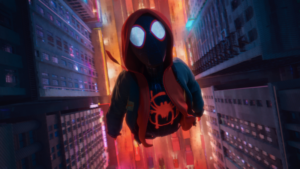 If this all sounds confusing, it's because it kind of is. Spider-Man: Into the Spider-Verse is the ultimate just-go-with-it superhero movie, somewhat predicated on your ability to grasp the idea that there are multiple people bitten by a similar radioactive spider who now possess unbelievable powers in their own universes. Screenwriters Phil Lord and Rodney Rothman (who is one of the film's three directors), however, retain their focus on Miles, but do their best to juggle this odd-ball assortment of likable characters with personalities that are made distinctive enough to appreciate on their own merits. The good news is they mostly succeed, though the one recurring issue with Into the Spider-Verse is how much it tries to cram into one film.
As with any Lord/Miller project, it seems, the goal is to cram as many characters, setups, and colors as possible while overstuffing the story with high-octane action that moves at whiplash-inducing speeds. At two hours long, Into the Spider-Verse gives us too much too fast. Even the battle-scenes are chaotic and disorienting in their attempt to annihilate our moviegoing senses. Make no mistake, it's often very enjoyable, say 75% of the time. The other 25%, especially by the third act, it's liable to wear you down.
The animation is absolutely glorious. Not since Keith Maitland's documentary Tower or Richard Linklater's A Scanner Darkly has such a uniquely animated film come to life on the big-screen in such a way. Sony Pictures Animation assembled a crew of 142 animators who tirelessly worked to recreate the aesthetic of a comic book, and the end result is a visual cacophony of colors that will be cherished for years to come. The complex nature of the animation is evident. Even the most casual viewer will likely stop and think, if only for an instant, how challenging it must've been to create such an explosion of rainbows and visceral images that excite in a way that only animation can. It's also in the way that each Spider comes with their own unique art-style and color palette that further colorizes (and complicates) the visual scheme. Co-director of animation, Patrick O'Keefe, stated that because of that, it was like "making five movies," especially considering how elaborate and different, say, Miles' universe is from SP//dr's and how Spider-Noir requires a darker, moodier palette that must co-exist in various scenes with other characters. The commitment to craft here is off the charts, and the film looks unlike any animated film that's been released in the last decade. It's supremely stylish, and so frequently gorgeous.
You can't say that everyone involved with this project, especially on the animating and screenwriting side, didn't give it their all. In a market saturated but still passionate about their superhero movies, Spider-Man: Into the Spider-Verse is another dose of adrenaline for the genre. Just when you thought Spider-Man was a linear series — or the potential had been drained through three franchises in less than 20 years — here is the ultimate curve-ball; the unpredictable, colorful, exhausting curve-ball.
NOTE: As of this writing, Spider-Man: Into the Spider-Verse is now streaming on Hulu.
My review of Spider-Man: Across the Spider-Verse
Voiced by: Shameik Moore, Jake Johnson, Brian Tyree Henry, Mahershala Ali, Hailee Steinfeld, Nicolas Cage, John Mulaney, Kimiko Glenn, Liev Schreiber, Lily Tomlin, and Chris Pine. Directed by: Bob Persichetti, Peter Ramsey, and Rodney Rothman.