Jelly Roll: Save Me (2023) review
Dir. Bari Pearlman

By: Steve Pulaski
Rating: ★★★½
I was only tangentially familiar with Jelly Roll when he released his single "Son of a Sinner" to country radio, the first time he'd ever attempted to make it in the genre, much less garner mainstream popularity. With a name like "Jelly Roll," and knowing his hip-hop background, I was expecting a song more in-line with the stylings of Colt Ford. What I, and the masses, got was something richer, more soulful, and maybe, contrary to what Jelly Roll himself might even believe, more universal.
Since the release of that single last year, Jelly Roll has gone from performing at backroads venues and dive bars to playing in front of tens of thousands. The new documentary, Jelly Roll: Save Me — named after the song that has now amassed more than 170 million views on YouTube and was recently rereleased as a duet with country/Yellowstone star Lainey Wilson — is effective on multiple fronts. In a micro-sense, it serves as a delightful companion piece for fans, such as myself, to his upcoming debut country album Whitsitt Chapel, set to release on June 2nd. In a larger sense, it invites those who might've been quick to judge a book by its cover some insight into his troubled background and against-the-odds success.
In the macro, however, Jelly Roll's candidness about his struggles with substance abuse and his powerful lyrics about such struggles could end up saving countless lives. If you need a reminder of why people look to music as a form of therapy, here's your 87-minute testimony.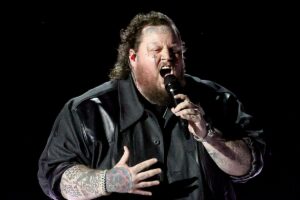 The documentary contextualizes the complicated, windy story of the 38-year-old rapper-turned-unlikely-country-star, whose real name is Jason DeFord. A native of Antioch, a working class/poor neighborhood of Nashville, Jelly spent his life in-and-out of juvenile correctional facilities when he was young. He never made it past ninth grade, got caught up in selling cigarettes and weed, and eventually cocaine, and experimented with every hard drug, including meth, by the age of 16. And he has no problem bearing his soul when it comes to the personal guilt he harbors about the lives he destroyed, nearly including his own.
His last prison stint was the wake-up call, when a guard knocked on his cell door and informed him his then-girlfriend, Felicia, had just given birth to their daughter. Jelly claims he had three plans in mind that night: plan A was to get sober and redirect his addictive personality into making a name for himself in music; plan B was to get his GED, then a degree from a community college, and carve out a life the hard way; plan C was "go back to the same shit I was doing."
It took sweat equity, sacrifices, and a lot of struggling, but after more than 10 years of merging the worlds of rap and rock into his music, Jelly Roll is now a CMA-award winner and one of Nashville's hottest artists. The documentary works its way towards Jelly's performance at the Bridgestone Arena, where he will perform before 20,000 and give $250,000 back to help kids in juvenile detention centers, eating the same meals and staring at the same walls he did.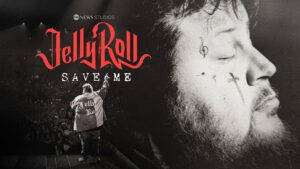 Jelly Roll: Save Me is comprehensive in its approach, and because of the colorful life its subject has led, it feels longer than 85 minutes thanks to the wealth of info coupled with emotional minutes that lie within. One is bound to make your eyes well. During a meet-and-greet with a trio of fans, an older woman is in tears before she even meets Jelly Roll. Then come her daughter and granddaughter, who tell him that their son/brother/father was killed by his wife — and they watched it happen. The late man's wife says that his song, "Save Me," felt as if the love of her life was singing the song for them. Jelly Roll tears up, gives all three of them a hug, and then launches into an impromptu message for them:
"There's an old phrase that says we are overcome by the power of our testimony. You have a real strong testimony. And you're going to do a lot of good for the world with it one day. You hear me? You never let nobody tell you how to grieve. You take your time. You talk about him every day if it's what it takes for you to get through it. Because one day you will talk about him with a smile, I promise. I promise."
Even those who have lost loved ones in less brutal and traumatic ways might find some comfort in his words, coupled with his soft eyes and heart-on-sleeve response to a delicate interaction.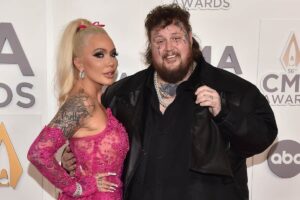 Also a significant part of this doc is Bunnie DeFord, Jelly's longtime wife. A former hooker, who makes no quibbles nor apologies for her past, Bunnie has seen Jelly at his lowest, and now sees him soaring sky high. She's gone from doing drugs with him to building a comfortable, loving home for both of them, as well as Jelly's daughter Bailey, who is effectively her stepdaughter.
Jelly Roll is not selfish with his success. He doesn't want to hog the limelight for himself. When you hear his passion for speaking to and working with kids in detention centers, you see his charity work not as actions designed for clout but as a noble effort to give back in any way he can. Jelly Roll: Save Me is a treat for fans, and it comes at the right time for an artist who has his lead foot on the accelerator, for once headed in the right direction.
NOTE: Jelly Roll: Save Me is now streaming on Hulu.
Directed by: Bari Pearlman.