Martin Lawrence Live: Runteldat (2002) review
Dir. David Raynr

By: Steve Pulaski
Rating: ★★★½
"RUNTELDAT!"
Just say it aloud and you almost shiver. It's hard to say it without inflection or cockiness. The word is a portmanteau of "run, tell that," which is exactly what Martin Lawrence wants you to do after he gives you the "truth in the raw" over the course of 95 side-splitting minutes that makeup his stand-up special.
Theatrically released in 2002 following Lawrence's hiatus after multiple publicized incidents of disorderly conduct and law-breaking, Martin Lawrence Live: Runteldat was one of the first stand-up comedy specials I remember watching. What an introduction for a young kid. I remember watching it when I was a kid, staying up till midnight waiting for the uncensored cut to come on Comedy Central, while my parents were asleep. Moral of the story: monitor what your kids watch.
"RUNTELDAT!"
This is an unapologetically filthy movie, and it's actually within the top 25 films to use the word "fuck" most frequently. With 311 uses over the span of 113 minutes, that's an average of just under three "fuck"'s a minute.
While Runteldat is obviously a vulgar movie, any fan of stand-up will likely find themselves desensitized to the coarse language. Having now seen it probably half-a-dozen times, I routinely find myself captivated by Lawrence's physicality and stage presence more than I do most of his bits. Of course, he offers pithy and humorous insights as to why he detests the "Cha Cha Slide" and why he doesn't want his elderly self to be put on the jumbotron of a basketball game when he's sitting courtside, but the humor is in the motions he uses to accompany these riffs.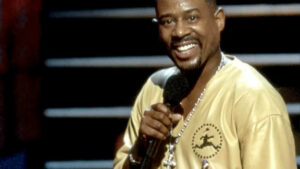 Runteldat is less a barrage of jokes you find yourself relaying to friends and more a celebration of the art of stand-up comedy. For artists who take the high of a comedy show one step further and physically throw themselves into it, it takes on the quality of a full-fledged experience for the audience.
The theatrical special — which was filmed at the DAR Constitution Hall in Washington D.C., where Lawrence grew up — served both as Lawrence's comeback from aforementioned incidents, like waving a gun on Ventura Boulevard and falling into a coma from heat exhaustion, and a response to members of the media who used his tribulations as fodder for entertainment news. Runteldat opens with several (staged) news clips detailing Lawrence's brushes with the law while the comic offers commentary and perspective. It's a mixed bag overall, contrived as it shows Lawrence displaying a fragile, misplaced anger. No less, it serves as the basis for the laughs to come.
Before Lawrence dives into what sparked most of those lowlights, he spends about 50 minutes warming up the crowd with musings about his divorce, post-9/11 America (with some era-specific xenophobia that has aged like milk), and old age. He later talks about his children being born, and the beauty and miracle that is within a woman. His reenactment of child birth and his reaction to it is worth whatever price you paid to see the film itself. It's anarchic in its wackiness, and Lawrence — who is already rocking an orange jumpsuit with the Runteldat Entertainment logo emblazoned on it — sweats and mimes his way through it.
Probably my favorite, lengthy bit involves Lawrence portraying the kind of mild-mannered man who turns into a bitter, tactless slob as soon as liquor hits his lips. The scene: a man requests a glass of Courvoisier cognac from his wife, who dutifully gets it for him. As soon as he feels the warm from the liquor hit his system, he goes from plucky and amiable to uninhibited and vulgar. Lawrence punctuates the man's change-in-mood by reciting the line "Can I ask you somethin'?", sounding like a man who is three sheets to the wind. Again, you have to see it. I can't do it justice.
Runteldat is a showcase of Martin Lawrence's energy, timing, physicality, and prowess for comedic rhythms. At times, he almost sings the material, and the slurred words, stutters, and occasional bouts of shouting all contribute to an operatic display of stand-up in its rawest, most lawless form. I don't proclaim this is one of the best stand-up specials ever made, but it will forever remain a personal favorite of mine.
NOTE: As of this writing, Martin Lawrence Live: Runteldat is currently streaming on Max (formerly HBO Max).
Directed by: David Raynr.