It: Chapter Two (2019) review
Dir. Andy Muschietti

By: Steve Pulaski
Rating: ★★★
A funhouse of grotesque creatures, latent childhood trauma, and red balloons, It: Chapter Two improves on the original miniseries in making a climax worth the sometimes taxing sit. At nearly three hours long, it's the Avengers: Endgame, to speak just slightly in hyperbole, of horror events this year. After an initial investment of a two-hour feature, this film's comprehensiveness in continuing to humanize its core group of "Losers" and give us more than the therapist-recommended dose of Pennywise shows just how committed writer Gary Dauberman and director Andy Muschietti were to adapting this story to the big-screen, where it ultimately deserved to be.
Like the second half of the 1990 TV miniseries, It: Chapter Two revisits the members of the Losers Clubs as adults, all contacted by Mike (Isaiah Mustafa) who implores them to return to the town of Derry, Maine. Mike has never left, but everyone else has gone on with their lives the best they could. Bill (James McAvoy) is a novelist, Beverly (Jessica Chastain) has become a successful fashion designer despite being married to be an abusive husband, the foul-mouthed Richie (Bill Hader) is still awkward but has paved his way as a stand-up comic, Ben (Jay Ryan) has lost a lot of his childhood weight and become an architect, and Eddie (James Ransone) is enjoying a career as a risk assessor.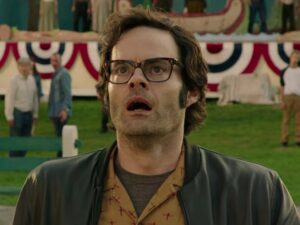 Mike contacts all of them after a brutal hate-crime on a gay couple in Derry turns deadly, believing Pennywise (Bill Skarsgård) is ultimately somewhat responsible. Muschietti and Dauberman greet us with an alarming, brutal opening sequence that shows the altercation in all its bloody detail, on top of Beverly's abusive marriage not long after. Within the first few minutes of this lengthy film, it sets its tone by being just as disquieting in its focus on bullying and the seeds of lifelong trauma, a theme that plays into this second half — and the overarching story — heavily. Once the Losers return to Derry, they begin to recall faint memories of their time together as pre-teens, and eventually get the confidence to take down Pennywise, even with his shapeshifting forms and general ubiquity.
It: Chapter Two revolves around characters learning to cope with traumatic childhood experiences as an adult, and while all have something weighing on their minds once their feet are, again, planted in Derry, Beverly's becomes a focal point. A transfixing sequence occurs when she revisits her childhood home, where she's greeted by an elderly woman (Joan Gregson) who invites her in for tea. Beverly becomes acquainted with the home that was once occupied by her and her abusive father, but there's something offputting and strangely robotic about the woman who now lives there. Once she leaves for the kitchen, Beverly finds herself trapped in a hallway with Pennywise at the end of it. Pennywise is applying his white and red face-paint while wearing Beverly's father's clothes, and if that's not enough, he speaks like her father while his maniacal laugh seems to make the paint bleed off his face. It's a definitive sequence that shows just how consuming past horrors can be, even many years later.
The most notable downfall here, at least for me, is that the actors do not have the strong, bonded chemistry the child actors did in the previous film. The abundance of flashbacks — which work to blur the lines of continuity by interrupting the present, showing the childhood versions of the characters appear in their current setting — handicaps the ability for Chastain, Hader, and McAvoy to mesh well with each other. The time they do have together, however, works on an individual level, giving every actor a solid showcase; Hader and Chastain give the most earnest performances as fragile, scared children operating in adult bodies.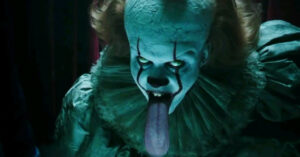 The intriguing detail to note is that both the miniseries and this two-part film do not follow the chronology of Stephen King's book. The book merged the timelines of the Losers Club as children and adults, whereas the films treat both timelines as mostly dichotomous. It: Chapter Two actually adheres more to the structure of the book, but it puts itself at a structural and character disadvantage as a feature film. Contrary, Dauberman's reliance on flashbacks and interjecting the children back into the story does add value because it revisits the trauma these characters are slowly remembering. It's a messy paradox when it comes to analyzing; it's a creative choice I can admire, but not without vocalizing my own grievances.
Moreover on the performances, it seems the one soul who doesn't get the recognition he deserves, especially from audiences, is Bill Skarsgård. He is phenomenal yet again in another visceral, physical performance. Pennywise turns into a shapeshifting demon, with a variety of different, frightening forms I won't dare spoil, and the element of surprise is in full effect, elevated by Skarsgård immersing himself in the role.
The issue with part two of the miniseries, for me, was the payoff felt slight given the time investment. The human interest was beautiful, if you could forgive some occasional wooden acting, but the climax felt haphazardly handled and visually and narratively cheap. It: Chapter Two negates that and really works to personify the pain all of the Losers have experienced before delivering a nightmarish climax that is filled with the scares and closure you expect. By telling a complete story and capitalizing on the engaging themes, Muschietti and Dauberman deserve to be lauded for a job well done, as they've told what should be regarded as the definitive adaptation of one of the most immersive horror stories ever written.
NOTE: As of this writing, It: Chapter Two is streaming on HBO Max.
My review of Stephen King's It (1990)
My review of It: Chapter One (2017)
Starring: James McAvoy, Jessica Chastain, Bill Hader, Isaiah Mustafa, Jay Ryan, James Ransone, Bill Skarsgård, Jaeden Martell, Sophia Lillis, Finn Wolfhard, Chosen Jacobs, Jeremy Ray Taylor, Jack Dylan Grazer, and Wyatt Oleff. Directed by: Andy Muschietti.