Barbie (2023) review
Dir. Greta Gerwig

By: Steve Pulaski
Rating: ★★★½
The hype train is a dangerous ride to hop aboard. When the speed picks up, and seemingly goes faster than anybody anticipated, the potential for things to go off the rails increases. Ultimately, it could lead to disappoint, regret, and the general feeling of foolishness. The hype train has made a sucker out of me before, and most of the time, it's to my own detriment.
Let it be known, dear reader, Greta Gerwig's Barbie — arguably the most anticipated film of 2023 — is not a case of overhype. I'm ecstatic to report that this film is the visual feast, technical marvel, and award-worthy display of exuberantly imaginative storytelling that so many of us hoped it would be. One wonders if during her mumblecore days as a freewheeling actress and sometimes-filmmaker, Gerwig had a vision for a movie based on the iconic line of toys that would subvert our expectations in the best possible way.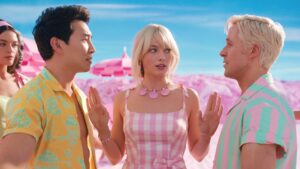 Since she made her mainstream directorial debut with Lady Bird several years ago, Gerwig has been committed to telling female stories with a unique spin. From examining the complicated dynamics between a mother and her teenaged daughter to digging beneath the surface of Louisa May Alcott's beloved novel, she has been one of the most interesting filmmakers working today. She takes on Barbie with an unshakeable confidence, a star-studded cast where not a soul feels out of place, and populates it with existential musings, goofy sendups of fish-out-of-water tropes, and a hell of a lot of humor sure to delight children and dazzle adults alike.
The narrative here is deceptively simple. Barbie (Margot Robbie) is the most popular of all the Barbies in Barbieland. Technically, she is known as "Stereotypical Barbie," for her impossible perfection. But she begins having her own existential crisis. "Do you guys ever think about dying?," she asks her friends while they are in the middle of having a dance-party to Dua Lipa in her open-air pink Dreamhouse. The question itself stops the music and causes all the Barbies and Kens alike to pause in horror. But it's the start of something even scarier for this archetypal Barbie.
When Barbie wakes up the next day and has seemingly lost the magic that makes her who she is, she pays a visit to "Weird Barbie" (an outstanding, perfectly cast Kate McKinnon), whose marker-laden face, ragged hair, and disheveled appearance suggests a child played with her a little too rough. "Weird Barbie" informs Barbie that she needs to go to the real, human world to see what child has been playing with her in such a terrible manner. Tagging along on her land/sea/sky excursion is Ken (Ryan Gosling), her sorta-boyfriend. The trip isn't the story, however. The two end up in the human world in the span of a brief montage.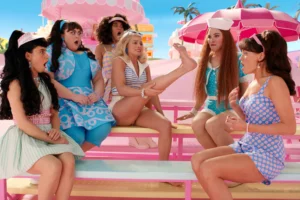 I shouldn't ruin too much of what happens in the human world, but it boils down to Barbie realizing that, unlike in Barbieland, women come second fiddle to men, and Barbie dolls themselves are seen as regressive and harmful to female beauty standards. This horrifies Barbie. However, Ken is delighted to see men holding positions of power typically reserved for women back home. He gets some books on the patriarchy, and then waltzes into corporate offices and hospitals requesting high-paying jobs. The whole bit is hilarious because screenwriters Gerwig and Noah Baumbach (longtime romantic partners in real-life) understand the art of satirical writing. Most, if not all, of the jokes in Barbie avoid the low-hanging fruit as well as an overreliance on references sure to age like milk in the coming years. They're predicated on age-old stereotypes that are still pervasive today.
There's also Will Ferrell in one of his funniest performances in many moons. Ferrell plays the CEO of Mattel, and earns huge laughs from a variety of comic styles. He dabbles into dry humor, his trademark loud and abrasive shouting, and even has a couple amusing moments that make use of his physicality. When Barbie is taken aback that the entire boardroom of Mattel is comprised of males, even the head of the Barbie division, he insists the company has "gender-neutral bathrooms up the wazoo."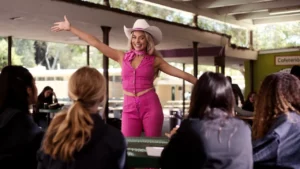 The diverse cast portrays real-life Barbies: Issa Rae is President Barbie; Hari Nef is Dr. Barbie; and Dua Lipa is Mermaid Barbie. The cast of Kens is equally colorful with Simu Liu and Kingsley Ben-Adir finding opportunities to flex on one another in a culture that subjugates men like the real world does to women. Michael Cera is disarmingly uncool as Allan, a real-life doll with no counterparts in contrast to Ken. Promising Young Woman director Emerald Fennell also plays Midge, the pregnant doll that was discontinued because… who wants a pregnant doll? That's obscene!
Margot Robbie's iteration of the iconic character is luminous yet progressively saddening. She finds the right balance in being a satirical sendup of Barbie yet also retains her inherently sincere, smiley persona. It's no secret that Robbie looks the part, yet she makes the role her own with humor that slowly transcends into darkness by the wonderfully weird yet poignant third act.
I feel validated for spending much of the last decade saying that Ryan Gosling can and should do more than just brood in sullen movies. Gosling shines as Ken, and doubles down on the character's macho façade. He challenges himself to release the most theatrical and exaggerated emotions he's ever displayed on-screen, and the result is highlight-reel worthy for an actor already armed with many memorable performances. Gosling even sings, delivering an absolute knockout of a song to kickstart the third act that has him assisted by the other Kens in the movie. He's a total riot.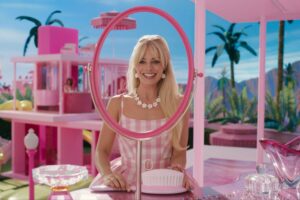 Cinematographer Rodrigo Prieto knows exactly how to capture this story too: lots of fuchsias and blues that give the film that distinctively summer feel that enhances the single best time of the year to see a movie on the big-screen. The plasticity of Barbieland is convincingly curated, right down to the hard-surface sand and frozen waves that make up the ocean. Then there's an avalanche of bangers on the soundtrack, thanks to the likes of Charli XCX, Ava Max, and the aforementioned Dua Lipa. Lizzo's song early in the film even turns diegetic at one point, with the multi-genre artist reacting to Barbie flopping all around her Dreamhouse after losing her spark.
Barbie is the joyful extravaganza you hoped it would be. It's hard to imagine anyone who has harbored excitement for this film since the first trailer dropped not emerging both giddy and maybe admittedly relieved. When leaving the theater, I heard a little girl tell her guardian that she wanted to see the film in theaters "20 more times before school starts." She talked about taking dad next time, and then grandma, and then her friends.
If there was ever a doubt that Barbie might run the risk of playing to the adults a little too much, there's a ringing endorsement for parents, who I'm sure won't balk at having to sit through this movie a few more times in the near future.
NOTE: Barbie is now playing exclusively in theaters.
OTHER FILMS DIRECTED BY GRETA GERWIG:
My review of Nights and Weekends
My review of Lady Bird
My review of Little Women (2019)
My review of Oppenheimer (2023)
Starring: Margot Robbie, Ryan Gosling, America Ferrera, Kate McKinnon, Dua Lipa, Issa Rae, Hari Nef, Rhea Perlman, Simu Liu, Kingsley Ben-Adir, Michael Cera, Emerald Fennell, and Will Ferrell. Narrated by: Helen Mirren. Directed by: Greta Gerwig.