Stephen Curry: Underrated (2023) review
Dir. Peter Nicks

By: Steve Pulaski
Rating: ★★★½
"I been Steph Curry with the shot, been cooking with the salt, Chef Curry with the pot, boy!" – Drake, "0 to 100 / The Catch Up"
Early into Stephen Curry: Underrated, we see the man who would be become arguably the greatest shooter of all-time brick and airball multiple threes and turn the ball over 13 times during one of his first games with Davidson. It's almost dystopian to see Curry so off and discombobulated.
Documentarian Peter Nicks knows that the world doesn't need another lengthy highlight reel of the undersized shooter's incredible resumé. Instead, he opts for an inside look at how Curry had to scratch, claw, and most importantly, practice in order to elevate both himself and a perennially downtrodden college program from the dregs of a weak conference. The result is a gripping underdog story, in particular because it shows a time in its subject's life when it looked like the NBA was a pipe-dream for him.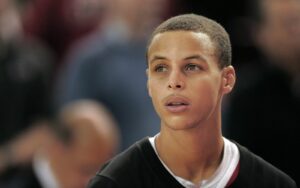 Produced in part by A24 and Curry's company Unanimous Media, Underrated strikes a parallelism between Curry's time at Davidson College and the 2021-22 Golden State Warriors season. J. D. Marlow's editing gets playful yet remains slick as it cross-cuts clips of Davidson Curry shooting a corner-three only to jump to Warriors Curry shooting almost the exact same shot from the exact same space. The result is usually the soothing sound of a basketball swish through the net. However, it wasn't always that easy.
The early minutes of the doc show Curry breaking the three-point-shot record in Madison Square Garden in December 2021 while, in voiceover, NBA Hall of Famer Reggie Miller reads Curry's scouting report. He shoots the ball too much. He's skinny and undersized at 6'2". He's liable to get bullied by big defenders. Miller finishes reading the scouting report, and the film segues to a shot of his face in disbelief.
Underrated isn't here to serve us a near two-hour clip-show of Curry's extensive NBA highlights, nor relive the glory of the Warriors' four championship runs. Instead, we go all the way back to high school, when Steph's father, former Charlotte Hornet Dell Curry, made his son rework his shooting motion by training new muscles in his body. His only college offer came from the mid-major Davidson when Coach Bob McKillop was floored by Curry's athleticism and fearless shooting prowess. After a turnover-laden debut, McKillop kept Curry in the second game's starting lineup against Michigan. Curry dropped 32 points and a legend was starting to come alive.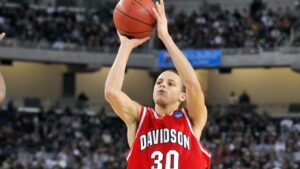 Underrated chronicles Curry's years at Davidson, which hit their apex during the 2007-08 season. Davidson had a 4-6 record at Christmas before running the table in the Southern Conference to advance to the NCAA Tournament. McKillop kept stressing to his team that all they needed was to play with cohesion and be ready for their moment. Davidson became the nation's Cinderella story that year, beating heavily favored teams like Gonzaga (after trailing by 11), Georgetown (down by 17 in the second half), and Wisconsin (with LeBron James and his posse in attendance).
Nicks' doc also highlights Curry's pursuit to earn his Bachelor's degree at Davidson. He spends hours in front of his laptop working on assignments, fueled by his own drive, his wife's, Ayesha, love and support, and his rambunctious children who marvel at the fact that dad is in school just like they are.
Fragmented moments give us insights to Curry that are both humorous and almost difficult to believe. There's one interaction between him and Kevin Durant that's hysterically funny. There's a note about how Curry nearly missed his chance to attend Davidson due to his mother taking away his cell-phone privileges, and another scene where McKillop is smiling wide while his team is down 17 points to Georgetown in the ultra-competitive, win-or-go-home setting that is a March Madness game. The short stories behind the larger stories are as big of a draw as the main arc.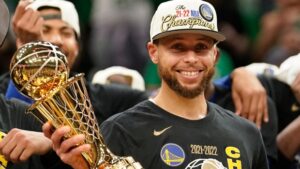 Amidst all the slickly edited footage, engaging interviews, and BTS looks at Curry's private life, Stephen Curry: Underrated reminds us that so many all-time greats weren't highly coveted prospects. Patrick Mahomes had to go to Texas Tech, where he had a losing record when he left for the NFL. Tom Brady didn't start right away at Michigan, and was drafted in the sixth round. Aaron Rodgers had to settle for community college before Cal. Damian Lillard went to Weber State; Ja Morant attended Murray State. I think an overlooked part of all of these players' successes was the fact that they were doubted and ignored in the recruiting process. They had to grind in order to obtain opportunities in college. When the pros came calling, it was that fear of being cut or washing out that motivated them to work even harder in the weight-room and at practice.
Just when you thought A24 was going to settle for making some of the best horror movies and adult-oriented dramas any given year, Stephen Curry: Underrated proves they're ready to infiltrate the documentary game. What a perfectly germane analogy to one of the all-time great basketball players and the saying that has followed him since college: shooters shoot.
NOTE: Stephen Curry: Underrated is now streaming on Apple TV+.
Directed by: Peter Nicks.