Haunted Mansion (2023) review
Dir. Justin Simien

By: Steve Pulaski
Rating: ★★½
In a sea of Disney classics that had nothing to benefit from a remake, the Mouse House shouldn't be chastised for taking another stab at a second attempt at a film adaptation of the long-running Disneyland ride. I was kinder to the silly, superfluous Eddie Murphy horror-comedy than most, but admittedly, unlike the ride, it's cheap and rather flimsily conceived.
Now, Dear White People director Justin Simien takes a stab at expanding The Haunted Mansion into a feature film, which ups the production values and reboots the supernatural story with a slightly older audience in mind. It finds itself functioning in that awkward, liminal space for films of its ilk insofar that it might be too heavy narratively for the youngsters and ultimately too juvenile for the adults. Its crafty, spooky production design and recognizable cast no less manages to be effective while the aforementioned story makes a valiant attempt to resonate with some pleasantly surprising emotional heft.
When we first meet Ben Matthias (LaKeith Stanfield), he is young and aspirational as he embarks on a career as an astrophysicist. However, when his wife dies, he checks out on life, and overtakes her position as a tour guide of a ghost tour. Enter Father Kent (Owen Wilson), a priest who tells Ben he should visit a young mother and her son who have recently moved into a house they believe is haunted by various spirits. The money motivates Ben to visit the home, and he thinks he can pretend to snap a few photos, give a poppycock analysis that there are no ghosts present, and run off with the bag. What he doesn't know is that once you encounter the ghosts, they won't leave you alone.
Simien's Haunted Mansion immediately differentiates itself from Rob Minkoff's 2003 film by offering melancholic undertones into the mix. Early in the film, we see Ben and his girlfriend-then-wife Alyssa (Charity Jordan) taking a tour of New Orleans' historical district. The scene that follows has a hungover Ben lackadaisically guiding a group of tourists through the city and expounding upon his nihilistic belief that we're all "just dirt." Right away, we know grief is the underlying theme, as it's been for so many films this year.
Once Ben realizes he cannot escape the clutches of these ghosts, he doubles back to the home of Gabbie (Rosario Dawson) and her son Travis (Chase W. Dillon, who looks like a young version of Eddie Murphy at some angles). The three decide to recruit an eccentric psychic named Harriet (Tiffany Haddish) for help, and then eventually, a college professor (Danny DeVito) whose book on hauntings sold a remarkable nine copies!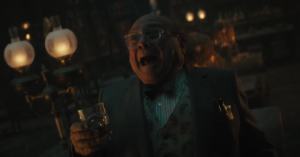 Simien's love for New Orleans — a city I hope to visit for the first time later this year — permeates this picture, with loving and appropriately spooky shots of the city's paranormal side, a credit to cinematographer Jeffrey Waldron too. Katie Dippold's screenplay makes sure to punctuate the film's darker subtext with bits of humor. Most of it lands, and most of it lands thanks to Dawson's excellent deadpan and DeVito's authenticity in being his most authentic self.
Even Jared Leto — who is the only one formally credited as "the Hatbox Ghost" in the opening titles — an actor I've struggled to embrace over the years, functions well as the animatronic ghoul from the Disneyland attraction. He is a CGI creation here, but his thunderous vocal tone do their part in amplifying the haunted house vibes for which this film strives.
LaKeith Stanfield as the lead here presents something of a quandary. He's an understated presence by his very nature, and is even moreso here given his character is still in mourning over the loss of his wife. It's the strange case where an actor excels in the more emotional moments of the picture, but fails to exude warmth and connection in other scenes. He's straight to a fault. One of the pleasures of Minkoff's film was seeing Eddie Murphy's reactive and expressive responses to the ghosts that plagued him and his family. Stanfield is too stoic for that level of emotion.
Haunted Mansion is unlikely to leave a significant impression on many. It reminds me of when Scary Stories to Tell in the Dark was released in the dead of August years back. Why release a film of this nature in the midst of a long hot summer when there's a whole season dedicated to this very genre? It's an improvement on the previous film, but it's also more evidence that adapting a roughly seven-minute ride into a full-length feature leads to some cobwebs forming on the sum of its parts.
NOTE: Haunted Mansion is now playing exclusively in theaters.
My review of The Haunted Mansion (2003)
Starring: LaKeith Stanfield, Tiffany Haddish, Rosario Dawson, Owen Wilson, Danny DeVito, Jamie Lee Curtis, Dan Levy, Jared Leto, Jo Koy, Winona Ryder, and Steve Zissis. Directed by: Justin Simien.