Teenage Mutant Ninja Turtles: Mutant Mayhem (2023) review
Dir. Jeff Rowe

By: Steve Pulaski
Rating: ★★★
Of all the properties that get a reboot/makeover every 5-10 years, who would've thought it'd be Teenage Mutant Ninja Turtles? I thought the same when the 2007 animated reboot was released and had the same sentiment when the Michael Bay-produced films were released in the last decade. Now, I'm experiencing Déjà vu all over again with the release of Teenage Mutant Ninja Turtles: Mutant Mayhem, the seventh theatrical film of the series, and the fourth reboot if you're keeping score.
While some executives would preach the gospel that American audiences have an insatiable appetite for Ninja Turtles as the reason we've gotten so many films featuring the reptilian quartet, I think it's more the case that while the Turtles remain eminently popular, there's little pressure for screenwriters to remain loyal to the source material. As long as you feature all four Turtles, throw in a quality villain, and of course some pizza, the rest of the blanks can be filled in rather freely, without the daunting task of trying to remain faithful to specific comic issues fans know like the back of their hands.
Mutant Mayhem is the brainchild of several noteworthy individuals, including the longtime screenwriting duo of Seth Rogen and Evan Goldberg (Superbad) and director/co-writer Jeff Rowe (The Mitchells vs. The Machines). It also takes a page out of the Spider-Verse playbook in that it oozes (pun intended) kinetic movement and a flurry of different visual styles. The animation often cycles between comic book-inspired panel art and that of claymation. The Turtles themselves have a squishy texture to them, and everything from puddles to pizza to the ooze of the sewers looks gooey and tangible. In a year rife with visually appealing animation, Mutant Mayhem is able to hang with the big dogs in that department.
Somewhat disappointing is despite the fact that Rowe, Rogen, Goldberg, and fellow writers Dan Hernandez and Benji Samit still subject us to an origins story. The film opens with a scientist named Baxter Stockman (voiced by Giancarlo Esposito), who creates that ooze that turns creatures into mutants. A raid on Baxter's lair results in the ooze being spilled into the sewers, which then turns four unassuming turtles into Leonardo (Nicolas Cantu), Donatello (Micah Abbey), Michelangelo (Shamon Brown Jr.), and Raphael (Brady Noon).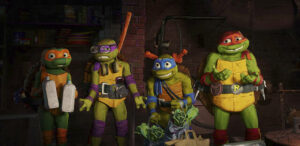 As is the case with every Turtles installment thus far, a rat named Splinter (Jackie Chan) serves as their father figure. He's overprotective of his boys, constantly ordering them to stay away from humans who want to milk them (it's one of the film's running jokes). Flashback reveals that Splinter did once try to introduce himself and the Turtles to humans, but after the earnest attempt didn't go so well, they were all relegated to live underground.
Enter Superfly (Ice Cube), another mutant who has assembled an army of misfit cretins — including Genghis Frog (Hannibal Buress), Leatherhead (Rose Byrne), Rocksteady (John Cena), Wingnut (Natasia Demetriou), Ray Fillet (Post Malone), Bebop (Seth Rogen), and Mondo Gecko (Paul Rudd) — to exact revenge on the world that both created and shunned them. Meanwhile, the Turtles meet April (Ayo Edebiri), a high school girl and aspiring journalist who is their liaison into the real-world.
The talented team of animators work overtime in making all of these characters distinctive looking. Furthermore, it's important to note that the voices in Mutant Mayhem weren't recorded individually. In contrast to most animated productions, the actors recorded their roles in groups in order to achieve an improvisational energy. The result is deeply felt, never moreso than when the four Turtles are interacting and riffing with one another. The conversation, personal jabs, and random exclamations all feel off-the-cuff, and the young voice actors achieve a rare chemistry through just their voices. This is a practice more animated films need to play with down the road.
The writers do play a dangerous game when it comes to how carelessly they throw modern references into the dialog. Even in a world where pop culture permeates so much of our daily lives, it's almost surreal to hear the Turtles say lines like "Drake is GOAT-ed" and how they'd like Guy Fieri to take them to Flavortown. An early scene has the Turtles disobeying Shredder's orders and sneaking into to the drive-in theater, away from human contact, to watch Ferris Bueller's Day Off. Raphael wishes that one day him and his brothers would become beloved like Ferris Bueller. Thankfully, these references never get ubiquitous to the point where they marginalize the cast themselves. In some ways, it comes across as a conversation Abbey, Brown Jr, Cantu, and Noon probably had between recording sessions.
Maybe most importantly, it wouldn't work if it wasn't as funny and zippy as it is. At approximately 90 minutes sans the credits (and the stinger midway through), Teenage Mutant Ninja Turtles: Mutant Mayhem serves as more than just an excuse to take refugee in an air conditioned theater during the dog days of summer. It's high energy, dynamic voice acting, and soundtrack — brimming with original compositions from Trent Reznor and Atticus Ross as well as both classic and contemporary hip-hop — work overtime in assuring yet another outing with the Turtles has reason to exist.
NOTE: Teenage Mutant Ninja Turtles: Mutant Mayhem is now playing exclusively in theaters.
Voiced by: Micah Abbey, Shamon Brown Jr, Nicolas Cantu, Brady Noon, Ayo Edebiri, Jackie Chan, Ice Cube, Hannibal Buress, Rose Byrne, John Cena, Natasia Demetriou, Giancarlo Esposito, Post Malone, Seth Rogen, Paul Rudd, and Maya Rudolph. Directed by: Jeff Rowe.