Love, Charlie: The Rise and Fall of Chef Charlie Trotter (2021) review
Dir. Rebecca Halpern

By: Steve Pulaski
Rating: ★★★
For 25 years, Charlie Trotter's in Lincoln Park was consistently ranked as one of the best restaurants on the planet. Its namesake became one of the first celebrity chefs alongside Emeril Lagasse and Wolfgang Puck, with a line of cookbooks that showcased dishes in intimate closeup. Chefs like Grant Achatz, who worked under Trotter, went on to build their own culinary empires. Achatz's work with molecular gastronomy became the ethos for Alinea, Chicago's only three-star restaurant, according to the Michelin Guide.
All of this and more is covered in Love, Charlie: The Rise and Fall of Chef Charlie Trotter, a documentary on Charlie Trotter's fascinating life and complicated legacy. Like most chefs, Trotter's temper was well-documented, and famously parodied by the man himself in My Best Friend's Wedding. Several culinary luminaries, including Achatz and Carrie Nahabedian, recall the often hostile and nervous work environment Trotter cultivated. In the same breath, however, they're quick to praise his many achievements as well as his contributions in making Chicago a premier destination for fine dining in America, namely in the degustation space.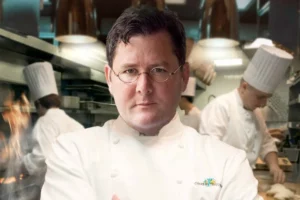 Directed by Rebecca Halpern, Love, Charlie has an intimately personal touch as it includes many hand-written, private letters Trotter wrote to his friends and first wife, Lisa Ehrlich (one of the main voices in the doc). Although Trotter died in 2013, the insertion of these personal scribblings makes him feel like an active contributor to the film. Friends remark how Trotter used to fill up every morsel of white-space on a post-card or letter. Ehrlich made a habit of saving them, for she felt one day they'd contribute to telling the story of the man he was. This is that story, and it's worthy of being told.
Halpern's documentary devotes itself to telling said story of Trotter in linear fashion. A Chicago native who bolted to Madison for college, Trotter was always a deep-thinker and curious individual. He became known for driving a tiny car around campus and blasting Ayn Rand cassettes on its speakers. He studied politics; Ehrlich believed he'd become a politician. Instead, some odd jobs at themed restaurants and a stint at a California culinary school led him to the life of a chef. With his father, Bob, as his partner, he opened Charlie Trotter's in Chicago's Lincoln Park neighborhood.
Love, Charlie shows the restaurant's instant and sustained success. In the 90s, during its heyday, it was once heralded as the best restaurant in the entire world. When Europe's Michelin Guide crossed over to the states, however, in the early 2010s, Charlie Trotter's was only awarded two out of a possible three stars. Achatz's Alinea, by this point stiff and modern competition, got three.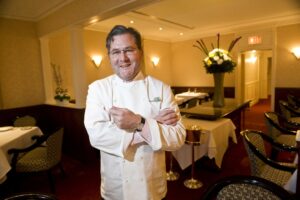 The film is careful not to romanticize Trotter's kitchen tirades and short fuse as a necessary evil. Before his death, Charlie's father wrote him a long letter about ways he could improve the restaurant by improving the morale of his chefs. He didn't take that advice. Many of his chefs remember the callous and sometimes disturbing way he used to tear them down. At one point, his chefs organized a class action lawsuit against him over unpaid overtime wages. "Anyone who took the money was dead to him," one of his friends reveals.
Ultimately, there's a price to pay for greatness and the tireless pursuit of it. The price Charlie paid was a lot of alienated parties, premature exhaustion and anhedonia, and a far-too-young death at 54-years-old, a year and a half after Charlie Trotter's closed. His last several months were burdened by public spectacles and a lawsuit over an allegedly counterfeit bottle of wine. His health worsened due to his refusal to go to a doctor, and he died without a second act in his career to show for it.
Late in the doc, Halpern lingers on a note Trotter left himself following the closure of his restaurant: "If you ever go through a recluse period, my friend, make the most of it." Love, Charlie: The Rise and Fall of Chef Charlie Trotter is a compelling look at a Chicago celebrity whose flame, you could argue, died out so fast that his contributions to the culinary arts weren't given enough time to be recognized as a result. If you think of Halpern's film as a puzzle of an enigmatic individual, you start to appreciate how all the lengthy letters and vintage photographs coalesce on a canvas as messy and as intricate as the man it's about.
NOTE: Love, Charlie: The Rise and Fall of Chef Charlie Trotter is now available to rent on Amazon Prime Video.
Directed by: Rebecca Halpern.