Destination NBA: A G League Odyssey (2023) review
Dir. Bryant Robinson and Liam Hughes

By: Steve Pulaski
Rating: ★★½
"No one in the United States picks up a basketball to play overseas," says the narrator in the first few seconds of the documentary Destination NBA: A G League Odyssey. "You wanna play in the NBA." Those words come from Gabe York, a career journeyman in the world of basketball. Undrafted out of Arizona in 2016, he's bounced around from Italy to German to France to Israel, and has been on a couple of different G League teams. The documentary finds him with the Indiana Pacers' G League affiliate in Fort Wayne. The few times he's suited up for the Pacers roster, he's played well off the bench.
Like everyone else in Destination NBA — a new documentary from Ringer Films and executive producer Bill Simmons — he's hoping that the G League is a launchpad to/back to the NBA. Over the course of two hours, the doc follows several different players. Some of them have played sparingly in the NBA over the years. Some are still wondering when/if they're going to be called up. Some, like Scoot Henderson, the third overall pick in the 2023 NBA Draft, used the league's Ignite team as an alternative to college. Needless to say, it doesn't work out that swimmingly for all of them.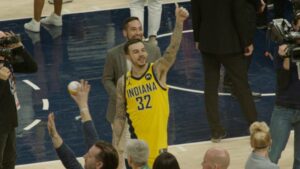 Henderson is an interesting case as he, along with Jalen Green, are the most notable players to choose Ignite over college and emerge as top draft picks. Henderson credits a lot of his success to his drive and teammate Eugene "Pooh" Jeter III, who just last year was the oldest player in the G League. Jeter gets some quality screentime in the film, and it's interesting to note he's since retired from playing and is now a player developmental coach for the Trail Blazers, where he'll be reunited with Henderson. There are some fairytale endings after all.
But for most of these dudes, the chances are admittedly slim. That doesn't make their stories any less compelling, however. Ryan Turell, who plays for the Motor City Cruise (Detroit Pistons' affiliate), is the first Orthodox Jew to play in the G League. Coming from a small, Jewish Division III college, he has a legion of fans. Turell even sports a yarmulke on the court, always remaining connected to his heritage. He's a lanky kid; a little clumsy on defense, but a scoring machine, routinely chucking up 50 points a night.
Another player is Mason Jones, who is the youngest of three. His older brother and sister were both McDonald's All-Americans. He claims "he was the fat kid trying to play at timeouts." He had brief stints with the Los Angeles Lakers, but is now playing for the Mexico City G League team. He marvels at Mexico City's passion for their basketball team, but wants brighter lights and is hoping he can be back under them sooner rather than later.
Others like Denzel Valentine, a mid-first round pick by the Chicago Bulls several years ago, is trying to make it back after being a beloved offensive force in his final year at Michigan State. Injuries and underperformance sent him all the way to the Maine Celtics, where the sun rarely shines, the cold air is biting, and the attention on the state's basketball team feels slight. Meanwhile, Trevelin Queen, who is York's teammate in Fort Wayne, was the league MVP a year prior. He's an offensive juggernaut, but his presence on the court limits some of York's opportunities to score. Every possession matters for these guys, who are unproven and are on shaky ground as they try and show the world they belong on a bigger stage.
Of course, it wouldn't be a G League documentary without a little love for Mac McClung in the form of a highlight reel. McClung won this year's NBA Dunk Contest, which had been waning in popularity for years. McClung isn't prominently featured in the documentary, but it's a reminder how some of these players, like Turell as well, have dedicated fanbases of their own, cheering them on as they pursue their dreams.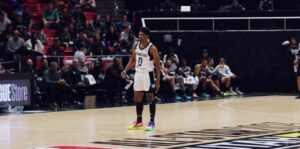 Interspliced between clips of G League action and peeks at these players' private lives are words of wisdom from G Leaguers who have been able to make it and remain on NBA rosters, such as Seth Curry (Steph's brother), Gary Payton II, and Spencer Dinwiddie. They're introduced via text that says how many G League games they played. Seth played over 100 at one point in his career, and he is open about how the self-doubt and mental toll is as real as an injury.
Like the Ringer Films/Simmons-produced Music Box series for HBO, Destination NBA is a handsome production with stellar visuals and crisp editing. But at 119 minutes, it's long in the tooth; even for those who pay more attention to the G League than average fans. This is a documentary that would be ideal at 90 minutes, for not long after the hour mark, the same platitudes from the players start to repeat themselves. Embrace the struggle. Be mentally tough. Trust God's plan. Give it your all every night. Don't listen to haters. By the third act, as compelling and as unique as each of these players' stories is, their statements drone on like white noise, even if in some ways they do bear repeating.
Furthermore, it would've been interesting to get NBA Commissioner Adam Silver or someone in the league's front office to iterate the importance of the G League. The NFL views college football as their minor league system, but with 53-man rosters, the league has a tendency to cannibalize its players, mainly quarterbacks (a shocking amount wash out of the NFL before seeing the field). The NBA is far from perfect and worthy of criticism, but their investment in the G League is commendable. To date, there are 30 teams, 28 of which are either single-affiliated or owned by an NBA team, as well as the aforementioned exhibition team known as NBA G League Ignite. The Trail Blazers' G League affiliate, the cleverly named Rip City Remix, begins play this upcoming season.
There might be a reason that Destination NBA: A G League Odyssey ends sans title cards denoting what happened to each player profiled. Gabe York and Trevelin Queen are free agents at this time. Ryan Turell remains with Motor City. Denzel Valentine is in Australia; Mason Jones is in Turkey. Many of their hoop dreams will continue, but the odds just got worse for many of them. Such is ball.
NOTE: Destination NBA: A G League Odyssey is now streaming exclusively on Amazon Prime Video.
Directed by: Bryant Robinson and Liam Hughes.