The Rugrats Movie (1998) review
Dir. Norton Virgien and Igor Kovalyov

By: Steve Pulaski
Rating: ★★½
Many ask me how I pick the movies I'm going to watch and review on any given week. I wish I could say I had a logical process. For example, my inspiration to rewatch and re-review the Rugrats movie trilogy was inspired by having MTV Classic on in the background one afternoon, seeing that enthusiastically weird music video for Backstreet and Mýa's song "Take Me There," and then making prompt adjustments to my movie-watching schedule.
If you grew up/were born in the 1990s, Rugrats was likely an indispensable part of your television diet. While not quite as intelligent as PBS' Arthur, the Nickelodeon series was all about viewing the world from the perspective of babies. This meant entire plots stemmed from complete misunderstandings — one episode almost exclusively revolves around the diaper-clad tots trying to figure out what a bowling alley is — and dialog was comprised of butchered words, which often served as punchlines for jokes (more on that later).
Released in 1998, The Rugrats Movie was the event of the Thanksgiving holiday for children that year. It became the first non-Disney animated film to gross over $100 million in the United States, and still holds a special place in the hearts of those who watched it when they were not much older than Tommy and the gang. Viewing it as an adult, it's still as lively as it ever was, heightened by infrequent but welcomed musical numbers, but its darker tone does unfortunately undermine some of the ingenuous qualities of the series itself.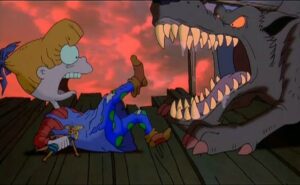 The film isn't beholden to any serious plot, but rather, a series of misadventures from three separate parties punctuated by cliffhangers. The film opens with a pregnant Didi Pickles (voiced by Melanie Chartoff) hosting a baby shower, where her son Tommy (E. G. Daily), Chuckie (Christine Cavanaugh), Phil and Lil (Kath Soucie), and Angelica (Cheryl Chase) all gather in anticipation for the arrival of Tommy's baby sister. When Angelica and her friend Susie (Cree Summer) gather to sing "a baby is a gift from a Bob" ("above" is a little too advanced for them to pronounce), the babies think they should raid the present table in search of one "from Bob" in order to find Tommy's "lost" sister. Bear with me here.
Just as they do that, Didi goes into labor, and out pops a baby boy instead. Didi and her husband Stu (Jack Riley) name him Dillon ("Dil" Pickles), and take their crying/screaming bundle of joy home, where he wails for a month straight, depriving everyone of rest and patience. Inventor Stu is working on his new creation, a Reptarwagon, which he is planning to ship to Tokyo. Instead, Tommy and the gang, along with Dil, climb in the wagon and launch themselves through the streets, down steep hills, and eventually in the thick of the woods where wolves are howling. The precarious situation leads to some great dialog such as this:
Phil: "He at that Little Red Riding Girl!"
Chuckie: "The wolf ate a girl?"
Phil: "They got her out."
Predictably, this sends the parents on a wild-goose chase to find their children while being accompanied by a frenzied media mob. Meanwhile, Angelica just wants her Cynthia doll back (Dil snatched it before the group took off in the Reptarwagon). She plays detective and gets Tommy's dog Spike to lead her on the babies' trail. While lost in the woods, the group comes face-to-face with monkeys from a derailed circus train and a mattress truck, proving no animal nor obstacle is off-limits.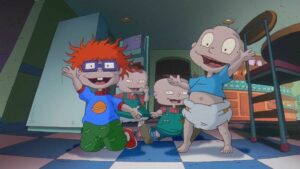 The core of the movie is Tommy learning to accept the role of being a model big brother for Dil, which is easier said than done. Dil annoys the entire group, and the animosity leads to resentment for Tommy for trying to look out for his baby brother amidst all the hazards of the woods. Particularly upset is Chuckie, who used to be Tommy's top priority before the newborn entered the mix.
Shockingly, there's a plethora of upsetting sequences in the film, many of which debatably too dark for young children. One of the biggest comes late (as late as can be for a 75-minute film) when the group abandons Tommy when he goes to look for Dil after he's kidnapped by the circus monkeys (again, please, bear with me here). Tommy eventually finds him and takes refuge inside a tree-trunk, but Dil drinks all of the remaining formula and hogs the blankie at bedtime. This scene should've been the moment when Tommy begins to accept Dil and accept his "sponsibility" bestowed upon him by his father. This does indeed happen, but not before Tommy nearly dumps a can of mashed bananas on Dil to encourage the monkeys to take him as their own.
Scenes like that disturb more than they humor, even if The Rugrats Movie does have those spirited little adult-oriented jokes sprinkled throughout. For one, there is a smarmy, opportunistic news anchor named Rex Pester who weasels his way into covering the story of the missing babies. But the abundance of peril in this story undermines the appeal of the series itself, which was observational as it captured the POV of the world from Tommy's eyes. Maybe one or two additional musical numbers would've helped lighten things up. Or perhaps an extended scene or two of Tommy, Chuckie, Phil, Lil, and Dill, I don't know, having fun in the woods or splashing in a stream?
One other fun aside about The Rugrats Movie: even if you don't elect to (re)watch it, I'd at least encourage perusing the credits. Shortly after Dil is born, there is a song performed by babies in the newborn ward of the "hopsickle." The voices of those babies? Just Lenny Kravitz, Iggy Pop, Patti Smith, Beck, Lou Rawls, and 3/4ths of The B-52's to name a few. Busta Rhymes supplies the voice of the talking Reptarwagon. Tim Curry is the aforementioned news anchor; David Spade and Whoopi Goldberg are park rangers. When you look at that lineup, no wonder we also got a music video as odd as this to serve as the signature song from the film itself.
NOTE: As of this writing, The Rugrats Movie is streaming for free on Pluto TV and on Paramount+ with a subscription.
My review of Rugrats in Paris: The Movie
My review of Rugrats Go Wild
Voiced by: E. G. Daily, Christine Cavanaugh, Kath Soucie, Cheryl Chase, Tara Charendoff, Jack Riley, Melanie Chartoff, Joe Alaskey, Tress MacNeille, Michael Bell, Tim Curry, David Spade, Whoopi Goldberg, Cree Summer, and Busta Rhymes. Directed by: Norton Virgien and Igor Kovalyov.