Back on the Strip (2023) review
Dir. Chris Spencer

By: Steve Pulaski
Rating: ★½
Let me paint this picture for you. It's Friday night, and my local theater has merely one showing of Back on the Strip on its opening weekend. It's 8:30pm, far later than the last start time of any of the other films showing in the same theater. I walked into the sparsely attended multiplex and requested a ticket. "Oh, I forgot we had that movie," said the one usher. "I didn't even know we show movies this late," said another. Now, imagine, if you can, a theater that has closed and locked up for the evening, but one film is still playing to empty seats. That was nearly the fate of Back on the Strip.
The fate of me, the moviegoer, was an experience both isolating and borderline excruciating. Back on the Strip boasts a noteworthy cast of A-list talent, who are saddled with a Z-grade script. The directorial debut of longtime actor/comedian Chris Spencer, this is a film that, despite its strong cast, feels destined to be relegated to the bowels of Tubi, where it will be played by unsuspecting people as a curiosity and more-than-likely shut off after barely 30 minutes.
Directed like an interchangeable cable show, further handicapped by lousy editing, the film revolves around Merlin (Spence Moore II), who has been trying to get his career as a magician off the ground. An embarrassing performance at the high school talent show in front of his crush, Robin (Raigan Harris), caused his pipedreams to stall. Tired of seeing him mope around the house, his mother (Tiffany Haddish) wants him to realize his potential, so she books him a one-way ticket from Los Angeles to Las Vegas where he can hopefully make it as an entertainer. After some bumps and bruises, he meets Luther (Wesley Snipes), the former ringleader of a male stripper group known as "The Chocolate Chips." Merlin's handsomeness and… equipment catch the grizzled vet's eye, so Luther takes him under his wing in hopes of reviving the group.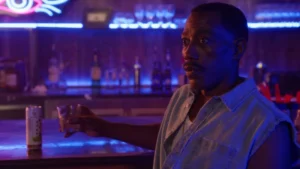 The other Chips have gone on to pursue different ventures since retiring from the stage. Desmond (Faizon Love), formerly known as "Da Body," his let himself go physically and currently works as a mechanic. Amos (J. B. Smoove) is now a preacher who still isn't afraid to show off his stripper moves in front of his congregation. Tyriq (Bill Bellamy) has settled down as a stay-at-home father with an MMA fighter wife, and Xander (Gary Owen), the only white member of the group, has gone on to be a doctor, blind to his own privilege.
Back on the Strip is jammed with plot. Long-stretches lose sight that this story, allegedly, is about Merlin finding his direction in life. In the midst of the Chips trying to regain their mojo, Merlin attempts to convince Robin that her cocky influencer fiancée (Ryan Alexander Holmes) isn't the man for her. Desmond's crush on Amos' wife reignites a beef between the two men that can't easily be squashed. Xander has to constantly defend his success in life not being attributable to his race, causing the group to argue for minutes at a time, while the Chips' pothead former manager (Colleen Camp) leers in the background as they practice.
If that doesn't sound overstuffed enough, Tiffany Haddish narrates the film from start-to-finish in what comes off as a belated attempt in post-production to add more zingers to a project concerningly light on laughs given the depth of the talent pool. Even Kevin Hart shows up for an early cameo. It was so forgettable, the credits had to remind me it happened.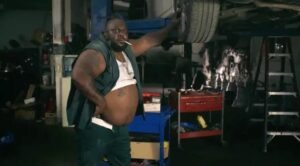 Back on the Strip has some life thanks to its performances. Wesley Snipes makes the most of the mentor role he's afforded with his character, and it's also pleasant to see Faizon Love — an actor too often relegated to being the butt of the joke — get ample screentime. Some of the biggest laughs in the movie come from him. Meanwhile, Smoove might not be as funny as he is when he's accompanied by Larry David and Jeff Garlin on Curb Your Enthusiasm, but his unquantifiable energy at least asserts that he's a lively screen presence, even if the script shortchanges his comedic prowess, like it does most everyone else.
Screenwriters Spencer and Eric Daniel absolutely overstuff this script to the point that the stripping scenes feel like afterthoughts. There is little in the way of compelling dance choreography, and Spencer's direction doesn't make great use of the ensemble nor the stage-business that comes with these shows. The joke is that these dudes are over-the-hill as entertainers, so they're uncoordinated and have difficultly keeping time with one another. Even when they're supposed to be polished by the end, they still feel off as a whole. It boils down to all Mikes and no magic.
So, on a Friday night, in a lonely, dark theater, I sat in almost complete silence watching a film that had some ambition but ultimately no great direction. Back on the Strip is in dire need of a couple rewrites and additional wit to constitute the time investment it demands, reminding once again how important quality and adequately paid writers are to creative projects big and small.
NOTE: Back on the Strip is now playing exclusively in theaters.
Starring: Spence Moore II, Wesley Snipes, Faizon Love, J. B. Smoove, Tiffany Haddish, Bill Bellamy, Gary Owen, Raigan Harris, Ryan Alexander Holmes, Colleen Camp, and Kevin Hart. Directed by: Chris Spencer.