My Big Fat Greek Wedding 3 (2023) review
Dir. Nia Vardalos

By: Steve Pulaski
Rating: ★★
I'm a bigger fan of sad endings than most. Because of that, I can't help but harbor the belief that Nia Vardalos missed the golden opportunity to call the first sequel to her runaway rom-com hit "My Big Fat Greek Anniversary." The third film could've been "My Big Fat Greek Divorce." Now, I'm sure the loyal fans of this series would've been heartbroken about the breakup of Toula and Ian, but what better way to underscore the messiness and unpredictability of life than by throwing audiences a complete curveball? Call it a "Greek tragedy."
The original My Big Fat Greek Wedding was such an unexpected smash that one of the most surprising facts about it was that it took 14 years for a sequel to follow. The original film revolved around the wedding of Toula (Vardalos) and Ian (John Corbett), while the sequel showed the re-wedding for Toula's parents, Maria (Lainie Kazan) and Gus (Michael Constantine). My Big Fat Greek Wedding 3 takes us on a trip to the Greek village where the now late Gus (Constantine died in 2021) grew up as an effort to reconnect to their heritage and strengthen their family bond.
My Big Fat Greek Wedding 3 is one of those travelogue movies in the same vein of an Adam Sandler/Happy Madison production where you get the sense the cast jumped at the opportunity to take an exotic vacation. Who can blame them? The problem is the experience isn't nearly as fun for us as it is the Portokalos family, and the frequent cutting and loose plot-threads squander the breezy comic potential of this threequel.
In true Greek fashion, the Portokalos travels to the homeland in a large pack: in attendance are Toula, Ian, their college-age daughter, Paris (Elena Kampouros), Toula's brother, Nick (Louis Mandylor), the inimitable Theia Voula (Andrea Martin), Theia Frieda (Maria Vacratsis), and Aristotle (Elias Kacavas), Paris' sorta guy-friend who Voula "coincidentally" employs as her assistant. Toula's mother and Gus' widow stays behind, as she's suffering from dementia, as do Cousins Nikki (Gia Cardies) and Angelo (Joey Fatone), They are under the assumption a massive reunion is to take place, until they arrive to find that Gus' village is tiny and there is no welcome committee other than a cranky old Greek lady.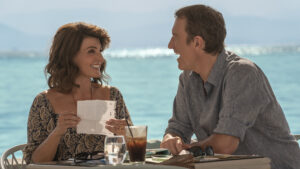 Toula and company try desperately to track down Gus' boyhood friends — the old-fashioned way, mind you, as if the internet and smartphones don't exist — while everyone else ventures off into their own half-baked subplots. Paris is close to flunking out of college, a secret she's keeping from her parents. Nick has a close-to-the-vest plan for his late father's ashes, in between inexplicably shaving and trimming his nose-hair every ten minutes. And Voula comes in clutch when she encourages Toula to day-drink her vision blurry. Strangely, writer/director Vardalos gives Ian little to do. He's left to aimlessly wandering the streets of Greece in search of some companions.
My Big Fat Greek Wedding 3 is a series of vignettes, some marginally funny, some redundant, and some downright strange. When the family arrives in Greece, they all bum-rush a beach and sprint into the water without removing a single article of clothing. There's another weird moment where Paris inadvertently stumbles upon a nude beach and takes a dip. Ian's roaming eventually leads to him befriending a monk, but the relationship proves to have little impact beyond a few exchanged niceties.
As the film goes on, even more age-old secrets are unearthed, and the family tries to find ways to coexist with one another despite the loss of their patriarch. Their unofficial tour guide is another random cousin they didn't know they had named Victory (Melina Kotselou), who teaches the family how to take selfies that make them look like supermodels. Vardalos tries to invite some conflict into the narrative, such as Paris failing and yet another situation of a Greek not marrying another Greek, but these conflicts are resolved about as quickly as they are introduced.
My Big Fat Greek Wedding 3 was shot on location in Corfu and Athens, and the scenery is drop-dead gorgeous. The soundtrack of traditional Greek music from the first film is replaced with a more modern score, which gives this film the look and feel of a contemporary sitcom. This is a series I've found difficult to completely embrace due to its reliance on repetitive jokes (Windex gags, broad situational comedy), so it's little surprise that the third film not only doubles down on the formula, but clubs it into submission to the point where even the light-hearted fun is too light to remember.
NOTE: My Big Fat Greek Wedding 3 is now playing exclusively in theaters.
My review of My Big Fat Greek Wedding
My review of My Big Fat Greek Wedding 2
Starring: Nia Vardalos, John Corbett, Louis Mandylor, Elena Kampouris, Andrea Martin, Lainie Kazan, Melina Kotselou, Gia Carides, Joey Fatone, Maria Vacratsis, and Elias Kacavas. Directed by: Nia Vardalos.