Peeping Tom (1960) review
Dir. Michael Powell

By: Steve Pulaski
Rating: ★★½
Part of me and my girlfriend's 30-movie Halloween marathon.
Peeping Tom might be one of the best films Alfred Hitchcock never made. Some would argue Rear Window, released six years prior in 1954, is the superior version of Michael Powell's film, as it too deals with the idea of voyeurism. I can't help but wonder if Hitchcock, such an established name in the era, made the exact same film as Powell did, would it have been met with the same level of scathing critical reception, so much so that theaters would yank it on the same day of its release?
It's all up for endless, unresolved debate. I don't think Peeping Tom is a masterpiece, but I find it intriguing due to its foundational contributions to the slasher genre as well as the implications its very construct suggests. By its very nature, a film involves a director telling his subjects what to do and say before filming them carrying out their duties while the director leers in the background. There is an inextricable element of voyeurism present in all films, and Powell mines Peeping Tom for those elements in sporadically gripping fashion.
The excellent Carl Boehm plays Mark Lewis, a man who has been chiseled into a handsome, manicured monster by way of his childhood. He's a hired hand on film sets who aspires to become a filmmaker himself. Helen (Anna Massey), the friendly girl who lives in his building, takes an interest in his work, prompting him to show her home-movies his father made. As you can assume, these aren't the cozy, grainy videos of little Mark opening Christmas presents. These are unsettling pictures. One shows Mark getting woken up by his father shining a flashlight in his eyes. Another shows dad dropping a live lizard onto Mark as he sleeps.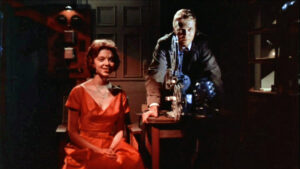 Mark's father was a psychologist who so desperately wanted to understand the concept of fear: how it manifested, how it arose, and more importantly, how it looked on a subject's face. His subject was always Mark, the guinea pig of his many experiments. For his birthday, Mark was given a camera by his father. Mark was reared in such a way that the camera has become an inextricable part of his life. Not only does he work around one, but he identifies arousal with the camera itself, as seen when Helen kisses him and he responds by making love with the device itself.
Oh yeah, Mark's camera is also the focal point when he moves in for a kill. His weapon is a tripod, with a knife attached to one leg. He lurches towards his victim, the tripod's knife pointed at their throats, his camera pointed at their face. These moments instill fear and dread to an immaculate degree; Brian Easdale's score crescendos at the right time to enhance these moments.
But between these moments of sheer terror and fright are a lot of talking. It's that dry, Transatlantic accent that eventually numbs the ears, especially when the previously heightened suspense flattens. It loosens the engagement of an otherwise handsomely made film that excels in acting, cinematography, and subtext — if you can remain attentive long enough to appreciate such attributes.
NOTE: As of this writing, Peeping Tom is streaming on Tubi, free of charge.
Starring: Carl Boehm, Moira Shearer, Anna Massey, and Maxine Audley. Directed by: Michael Powell.